Last updated on June 4th, 2023 at 04:57 am
Fashion over comfort or comfort over fashion? These are the most conflicting questions that come to our minds. Some of us prefer comfort, and some of us prefer fashion. But this also varies according to season and occasion.
For both fashion and comfort, raised surface fabrics play an essential role. Velvet, Sherpa, Corduroy, etc., fabrics are used to make fashionable clothing items, and Flannel, Peached, etc., fabrics are used for comfortable clothing items.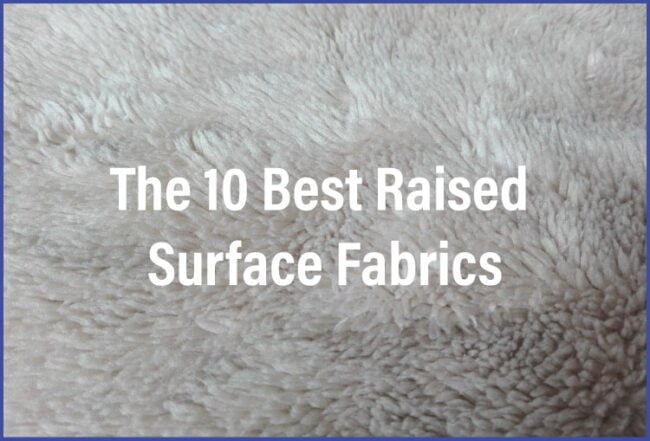 Definition of Raised Surface Fabrics
It is a particular type of fabric that has a smooth and intentionally raised fiber or yarn surface. Piling, Napping, or Tufting is done to raise the fabric surface. Some fabrics have upright loops or strands of yarn, and some have fuzzy piles. Processes involved to make the raised fabric surface are brushing, napping and shearing, etc.
You may also like: Top 20 Lightweight Fabrics
List of Raised Surface Fabrics
Chamois
Flannel
Velveteen
Chenille
Flocked
Terry Cloth
Peach Finished Fabric
Chamois
Chamois fabric is made from cotton. It has a plain weave that is manufactured to look act and look like chamois leather. Chamois is woven by using either a plain or twill weave. But weaves will always be hidden by napping on both sides.
Chamois leather is a unique product coming from animal skin. The word 'chamois' is derived from a sub-alpine species of antelope native to European mountain ranges. Usually, it pronounces as shammy or chammy. Chamois is referred to as chamois fabric, is more typically produced from domestic sheep or goats. Chamois fabric is similar to flannel. But it is softer, more durable, and more substantial than flannel. It is heavier and more tightly woven fabric before it is napped and brushed.
Flannel
Flannel fabric first originated in Wales in the 17th century and has been around since then. Back then, it was made from wool, but now this fabric is sometimes mixed with cotton and sometimes with silk. The softest and coziest funnel fabric available today is basically made of 100% cotton.
A funnel is basically a soft, medium-weight cotton fabric that has a hanging or fuzzy finish on one or both sides. The comfortable feeling of this fabric makes it suitable for keeping warm and comfortable for long periods of winter. It is often woven with patterns, especially for plaid and sheets, and is a favourite fabric for sheets during the winter.
Garments, blankets, bedsheets, and slippers are made from flannel. The phrase "flannel shirt" is frequently used interchangeably with the terms "plaid shirt" and "tartan shirt." However, the term "flannel" refers to the fabric, and not all plaid shirts are flannel.
Velvet
Velvet fabric was made in the first fourteenth century before the Silk Road in Europe in East Asia. Velvet fabrics are basically made with pure silk, which has made them incredibly popular. The unique manufacturing process of this fabric has made it more luxurious and visually pleasing than other silk products.
Velvet is a soft fabric commonly used in upholstery, intimate clothing, and other textile applications. Because it has been expensive to produce velvet textiles in the past, this fabric is often associated with the elite. Although modern velvet is made with inexpensive synthetic and high-quality materials, this unique fabric is still one of the soft and smooth fabrics.
Due to the unique visual appeal of velvet fabric, it is commonly used in home decor in applications such as curtains and pillow casting. In addition, velvet is sometimes used in bed. Velvet is much more common than men's clothing than women's clothing.
Velveteen
Velveteen, usually similar to cotton and velvet, has a dense and short pile surface and a smooth as well as softback fabric. It is made by the filling-pile method, where it is used as a plain or twill wave base. Velveteen has a smaller pile than velvet which makes the fabric physically lighter than velvet.
Velveteen fabric is basically made from velvet cotton and yarn only. The fabric back looks smooth and basic knit. The body of Velveteen fabric is more and less easily painted than velvet fabric.
Velveteen fabric usually provides more warmth than velvet fabric. Velveteen fabric is used to make women's and children's clothing as well as to make draggy and bedding.
Corduroy
Corduroy is considered a ripped and sturdy Fabric. Textile manufacturers continue to use a variety of fabrics to create this cloth. This fabric is known for its distinctive elongated shape, which can be woven in a range of widths by corduroy manufacturers.
Cotton is often used in corduroy fabrics. Corduroy, on the other hand, can be woven from a polyester-cotton blend or even 100% polyester. Textile makers occasionally manufacture corduroy with fur, but the ravages on woollen corduroy is not as noticeable as the ravages on corduroy made with other fabrics.
The corduroy is painted in a number of colors by the fabric maker, and one form of corduroy dies, resulting in irregular fading that is very appealing. Corduroy is regarded as a durable cloth. Trousers, coats, and tops will all be made out of corduroy.
Chenille
Chenille is a textured and comfortable fabric that is ideal for home decor. For a lovely 3-D effect, the channel uses silk thread sewn in tight loops over cotton or wool. Cotton is the most common material used in Chanel, but synthetic fibers can also be used, particularly for heavy-duty projects.
Chenille is a lightweight yarn and fabric made from a variety of materials. The threads are purposely stacked to create a fabric that resembles the caterpillar's fluffy exterior. Chenille is a knit cloth composed of cotton, silk, wool, and rayon, among other fabrics.
Chenille fabric is a common material for skin-friendly items such as blankets, towels, pillows, and warmth. Chanel is also appropriate for baby products such as blankets because of this lovely aspect. Chanel is a perfect choice for a range of fabric projects if softness is important to you.
Flocked
Flock is a term used to describe tiny fibers derived from cloth waste or rags. Flocked fabric is a fabric that has had flocking added to it with an adhesive, either all over or in a pattern. The substrate fabric is coated with aqua-based acrylic or polyurethane and polyvinylchloride adhesives to create flocked fabrics.
Because of its moisture-retention properties, the substrate fabric is mainly polyester/cotton-mixed fibers. Flocked fabrics have a warm appearance and a comfortable handle, and flocked fabrics are created using specific effects. Since flocked fabrics are comfortable and fluffy, they are commonly used in outwear and home upholstery.
Sherpa
Sherpa fabrics are usually made of cotton, polyester synthetic fiber, or a combination of cotton and synthetic fiber. Pseudo-sheepskin or pseudo shearing are other names for Sherpa cloth. Sherpa is a much more affordable alternative to pure wool or fur than it is to pure wool or hair.
However, it seems to be almost as important as the real thing. There are two sides to this fabric. The stitched woolly side has a fluffy and bumpy feel similar to genuine fleece, while the flat knit shell is smooth. They combine to create a warm and robust Sherpa fiber.
Sherpa fabric is often used to line outerwear such as coats and jackets. This fabric is also suitable for baby blankets. Babies need to be kept warm and safe at all times, particularly when the weather turns cold. As a result, baby blankets with ultra-cozy Sherpa lining make a lot of sense.
Terry Cloth
Terry cloth is a fabric made up of several protruding thread loops that can absorb a lot of water. Weaving or knitting may be used to make it. Terrycloth is made on looms with two longitudinal warp beams from which the filler or weft is fired laterally.
Terry cloth is long-lasting, soft, and absorbent, making it suitable for a wide range of applications. In terms of how it's made, terry cloth is a one-of-a-kind fabric. Cotton terry cloth is made entirely of cotton fibers. Since it is so easy to wear, it is commonly used to make clothing such as sweaters and nightgowns.
Terry fabric is widely used to make long-sleeved shirts and T-shirts that are ideal for wearing in the spring, early summer, and early fall seasons. Terry fabric can be used to make bathrobes, "no-bake" diapers, and baby suits, among other things. Underwear, outerwear, and decorations are all popular uses for jacquard terry cloth.
Peach Finished Fabric
A fabric that has been processed to make it fluffy and smooth is known as peached fabric. This fabric is made of 100% polyester and is light-medium in weight. Its polyester microfibers are rubbed to produce a suede-like feel with slight ribbing, a gloss finish, and raw edges. The drape of the cloth is graceful and fluid.
Peached fabric is often used in household textiles such as simple tablecloths and napkins because it keeps its form well and is comfortable to the touch. This fabric can also be used to make kitchen curtains. Peached fabric is suitable for golfing shirts, casual suits, and undergarments when it comes to clothes.