Last updated on August 5th, 2023 at 12:04 am
Definition of Velvet Fabric
Velvet is a cloth with a deep fur-like surface. It is made from silk with a close, shay pile. A silken textile fabric has a short, densely piled surface. The peculiar properties of velvet are its splendid yet softened depth of dyed color; it is immediately conspicuous as a fit material for royal or state ceremonies. Italian velvets were the most magnificent, most effectively treated for ornamentation by varying colors of pile or length of the pile-double fur or by brocading with plain uncut pile with a gold tissue ground.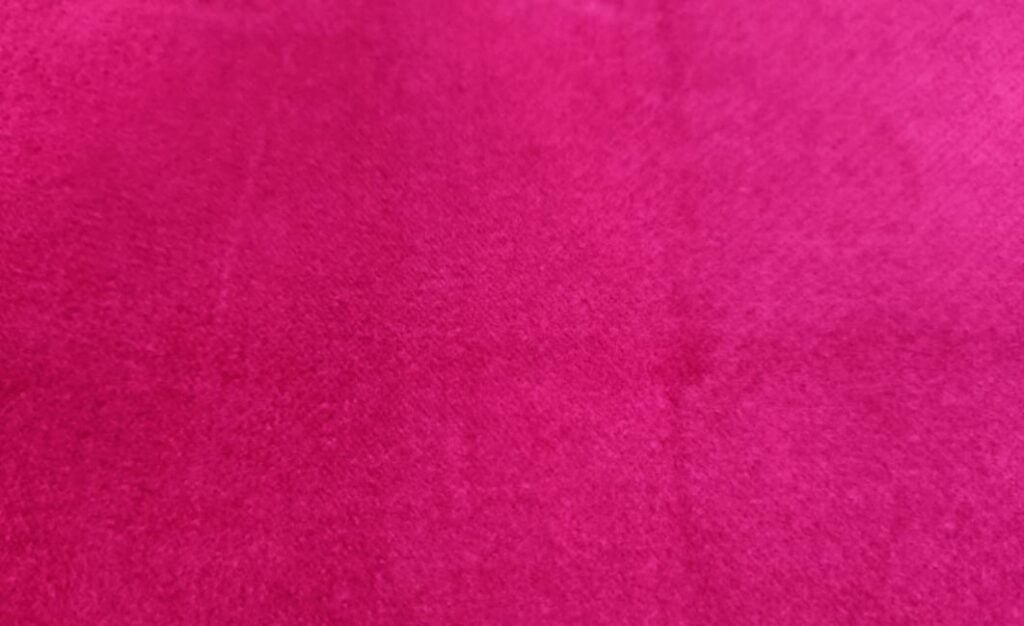 A broad term for all warp piled fabrics except plus and terry 2-warps, 2-wefts and 1-extra which makes the pile. Fabrics woven double face to face and cut apart while still on the loom which moves to and fro like a shuttle.
Chiffon – velvet – all silk – 1.02m. Light weight soft finished taffeta.
Costume – velvet – wide velveteen – thick pile – highly mercerized – 0.91m.
Lyon's – velvet – shaped pile – 0.45m – 0.9m.
Panne – Lighter velvet with pile laid flat, in one direction. It is also rich looking velvet with the pile pressed down in one direction, by pressing the fabric over rollers and subjecting it to steam and pressure. This gives a satin appearance. If the rollers are embossed and imprint a pattern on panne, it is called velvet.
Rayon – velvet – also called transparent velvet – may be with rayon with silk or nylon or acetate – 0.99m.
Piled Carpet (Velvet Rugs)
The foundation is a warp of strong (cotton, woolen, silk, hemp) threads – the number of which is regulated by the breadth and fine or coarse quality of its pile. Short lengths of colored fibres (wool, silk, camel-hair or goat-hair) are knotted onto each warp thread in such a manner that the two ends of each twist or tuft of the colored yarn project in front.
Across the width of the warp and above the range of these tufts – a weft thread is made to run. Then another line of tufts is knotted and again above them, another weft thread is run across the warp and so on. These rows of tufts and wefts, as made, are then compressed together by a comb like instrument, thus producing a compact textile with tufted surface or pile. The projecting tufts are then carefully clipped so as to have an even surface. The traditional knots for making piled fabrics are:
Chiordes or Turkish knot.
Sehna or Persian knot.
Warp-Wiled Fabrics
Unlike the normal fabrics where warp and weft threads are used in longitudinal and transverse parallel lines, in piled fabrics the portions of weft and warp are made to assume a vertical position which is responsible for the tufts or piled appearance. In this manner the fabrics are known as:
Warp – piled fabrics – velvets and plushes.
Weft – piled fabrics – velveteen and chenille.
Warp – piled fabrics have at least 2 series of warp threads to one of weft. Both velvets and plushes are single and double – woven both ground and pile warps are intersected with weft in velvets but at intervals 2 or 3 picks of pile threads are lifted over at the outer extremity.
Definition of Velveteen Fabric
A cotton cloth made in imitation of velvets. It is a kind of Fustian made of twilled cotton with a pile of the same material; woven singly with weft forming pile.
A kind of velvet made of cotton or cotton and silk mixed. A kind of fustian having a rib of velvet pile alternating with plain depressions.It is weft – piled fabric called Fustian. It is a velveteen weave, made of cotton or rayon. A fabric having an all over, short, closely set pile woven flat with 2 sets of weft yarns – one weaving with warp (the ground weave) while the other weaves into warp at intervals (as satin weave) and then floats over a number of the warp yarns. These floating weft yarns are cut and brushed to form a pile.
Uses: Dresses, coats, suits etc. 
Weft Piled Fabrics
Here, there are 2 series of weft threads – one of which is made to intersect with warp to form a firm ground structure while the other though bound to the ground structure at intervals, is cut and made to rise vertically so that the fibres open out.