Last updated on August 4th, 2023 at 09:58 pm
The screen printing technique is widely used because of its versatility among the various standard printing techniques. It typically transfers print paste onto multiple surfaces, such as fabrics, paper, glass, and plastic. It is also known as silk screen printing or serigraphy.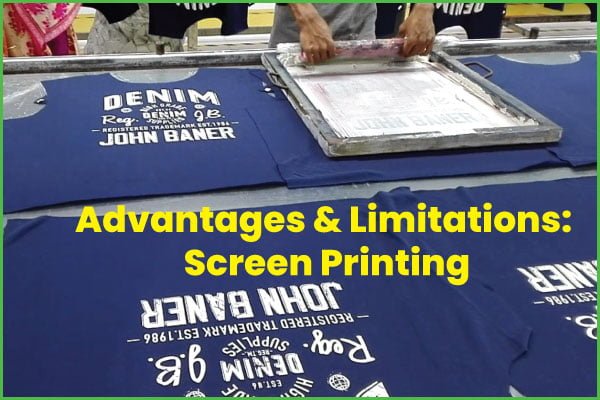 The screen printing process consists of forcing of a viscous print paste through open areas of the screen with a squeeze. There are mainly three types of screen printing methods:
Hand screen printing.
Semi-automatic screen printing.
Fully automatic screen printing → Flat & Rotary
At present in great demand being the most logical development of the stenciling process.
Advantages
Compared with other processes screen printing has the following advantages:
It requires relatively cheap equipment.
Very few preliminaries.
It is very economical for short runs of suitable subjects and so widely used for show cards, posters etc.
It permits printing on almost any surface.
Inks used can be oil colors, water paints or lacquers etc. This permits the process to be used for producing any effect most delicate of pastel shades or glossy weather proof colors, so heavy that they stand out in visible relief.
Areas of far greater size can be stenciled. Frames 1.27m X 1.52m (50" X 60") are frequently used for textile printing.
Surface to be printed need not be flat.
Limitations
Limitations of the processes are:
It is not suitable for fine detailed reproductions.
Delicate gradations (half-tones) are rather difficult.
It is unsuitable for very long runs.
Stencils have a limited durability.
It is a relatively slow printing process.