Last updated on June 6th, 2023 at 04:54 pm
If it's a rainy day and you are wet, then after returning to your sweet home the first thing you need is obviously a towel to pamper your body. Or, suppose you are working in the kitchen, then the most needed tool is the towel to dry your dishes or to serve the foods. Isn't it? Of course, yes. But the uses of towel are not limited to kitchen or bathroom as we use it in our day-to-day life for various purposes. So, you should know the details like Raw Materials, Types, Sizes and End Uses to make practical, effective and smart use of it.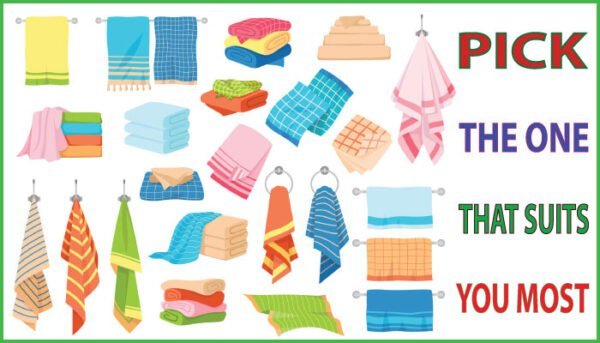 Different Types of Raw Materials Used for Towels
A variety of raw materials may be used to make towels but the following raw materials are most commonly used.
Cotton
All the raw materials that are used to make towels, the first name that comes is cotton. Everybody prefer it as it is a natural product. It is free of chemicals when it is an organic cotton. And also, unlike any synthetic fibre, it is more absorbent.  It is a breathable material too as the fibres allow air to pass through. Cotton is also comfortable as it does not irritate the skin. Cotton is mostly used as bath towel for its excellent absorbency.
Cotton Polyester Blend
Cotton polyester blend is mostly used raw material to make towels after cotton. These are gorgeous in appearance. For its good colorfastness properties, you don't need to worry about fading or damaging the color. It has also good absorbency power and breathability. Its hand feel is so good and more durable than any other towels due to its blended composition. Cotton Polyester Blend is mostly used for hand towel and bath towel.
Lyocell
It is a soft raw material which is obtained from sustainable wood sources. It is used for making premium quality towels. Due to special properties, it is so soft and gentle on the skin. It has also good absorbency power like cotton. Sometimes cotton-lyocell blend is also used for making towels.
Linen
Originally linen is the first raw material which was used to make towels and till now it is widely used. Naturally it has some built-in properties like anti-microbial and anti-static properties. It is also durable & long lasting and dries rapidly. Like as cotton it is an ultimate eco-friendly towel. It takes tiny space in your bathroom and absorbs moisture faster than other towels. It is used to make tea, spa, bathroom and kitchen towels.
Bamboo
It is an another raw material which is also used to make towels. Towels made from bamboo are soft and silky. Due to its softness and silkiness, luxurious kitchen and bath towels are made from it. The best feature of this towel is its absorbency. In addition, it has natural moisture wicking properties. 
Synthetic Microfibers
Synthetic Microfibers are made from polyesters or polyamides or from their blends. These have finer diameter compared to silk. These are compact & lightweight and also have good absorbency power. These also have quick drying property. So, towels made of synthetic microfibers are ideal for backpackers, hikers, gymnasts or for using on the beach.
Different Types of Towel
Depending on the end use following are the most commonly used towels.
Wash Cloth
The tiny towels which are used washing your skin are called wash cloth. In one word washcloth is like a smaller towel. It is the smallest towel among all. Its dimension is 12 x 12 inches or 13 x 13 inches. As we care about the skin and it stays in contact with the skin, we should be aware about the raw materials from which it is made. Besides the raw materials should be soft and have the ability to loosen up dirt, toxins, old skin cells and any debris from the skin. So, when you buy wash cloth sets should be made of 100% cotton, cotton polyester blend or bamboo.
Fingertip Towel
A fingertip towel is a small-sized towel which is used to dry hands and 'fingertips' quickly. It is smaller than a hand towel but greater than a wash cloth. It is 11 inches by 18 inches in dimension. It has both decorative and functional properties. But often it is used for decorative purposes. It is mainly used in the guest bathrooms but you can also use it in the kitchen. Fingertip Towels made of different types of raw materials are available in the market. But the most commonly used are made of cotton, linen, bamboo and synthetic microfibers. They also come in a variety of different colors, patterns and designs.
Hand Towel
Hand towel is also a small-sized towel which is used to dry off hands after washing. It is commonly found draped over a ring or bar attached to the wall of every bathrooms or basins. It is (15-18) inches x (27-32) inches in dimension. For maintaining a proper hygiene, you should choose the proper one considering the raw materials. Cotton, cotton polyester blend or linen will be the best choice for hand towel.
Bath Towel
We do believe that a comfortable bathing experience largely depends on the towel which we use after taking the shower. So, you could get a bad experience when you use the wrong one. So, you should have the proper idea about the bath towel. It is a typical towel that gets decorated on towel racks, often in a double or triple fold in the bath room. Though the sizes vary from manufacturer to manufacture, the standard side is 28" X 55". You can easily dry up your body after a bath but you can't wrap around your adult body. Bath towels can be made of different types of raw materials like cotton, bamboo, cotton polyester blend and linen.
Bath Sheets
Bath sheet is a towel which is bigger than bath towel. You will get enough area to wrap around your body. It is larger in size and also have good absorbency. It is 35 inches to 60 inches in dimension. When your bath towel is not enough to cover you then bath sheet comes into work. Women like to wrap their body when they do their hair or make them up. Men also wrap their waist when they shave. So, bath sheets could be the best choice. You can prefer cotton bath sheet when you want to buy it.
Face Towel
A face towel is like as wash cloth which is used to dry off your face. It is square in dimension and smaller in size. You can also use it for cleaning your face and remove your make up. If you care about your skin then it is better to know something more about the face towels. Firstly, you should look for its physical characteristics like softness & absorbency and Secondly, its fibre composition. In this case face towels made of cotton, bamboo or synthetic microfibres could be the best choice.
Kitchen Towel
By the definition kitchen towel is a towel which is used in the kitchen like other kitchen tools. Sometimes we call it dish towel or chef towel. Its durability is better than any other towel. It is made intended for some fairly heavy uses and often very stylish & also come in a variety of colors and textures for different purposes. You can also use them to décor your kitchen. Cotton or linen would be the best choice for kitchen towel.
Spa Towel
The towel which is used during spa is called spa towel. It is too soft and absorbent which gives you a soft light feel during a Spa. As one towel is used again and again by washing, it should be bleach proof otherwise it will not be durable.
Gym Towel 
A gym towel is a towel which is used in the gym or during workout to wipe sweat. And so sometimes it is called sweat towel or workout towel. It helps you to clean your body and make you cool. Cotton is the most commonly used but linen, bamboo and microfibre gym towels are also available.
Beach Towel
Beach towels are specially manufactured for a day long time use. These are thin and used on the sand or on the concrete beside a pool to lie down. These are colorful in appearance and dry quickly in the sun. It is an essential accessory to get sun bath on the beach. Sometimes it is also used to wrap the body. Cotton, synthetic micrifibres or linen would be the best choice as beach towel.
Pet Towel
It is used to dry your favorite pet like cat or dog after bath. It is lightweight and easy to carry. Often your pet gets wet and if you do not dry it timely then bad odor may come from their body. To avoid this condition, you need a good pet towel to dry them off. Synthetic microfibre pet towel would be the best choice in this case. It will help you to keep your pet warm and cozy.
Foot Towel
It is a small and rectangle towel which is used for drying feet after getting out of the bathtub or bathroom. It is a special designed towel having different appearance in face and back side. Its face side is softer than normal rug, carpet or mat and back side is designed in such a way that it has a fixative surface to gripe the floor. A decorative foot towel can enhance the decoration of your bathroom.
Paper Towel
It is an absorbent and disposable towel made from paper. It can be found in both roll or pre-cut and pre-folded layers form. Unlike other towels, it is disposable and intended to be used only once. As we use it for one time, is often considered more hygienic than any other towel. It can be used in the kitchen or in the washroom too.
Tea Towel
A tea towel is a variation of kitchen towel made of cotton or linen. Originally it was used at tea ceremonies in 18th century but now a day it is used in the kitchen around the globe. It is normally used to cover warm baked goods.