Last updated on October 8th, 2023 at 11:30 am
In recent years, apparel consumption has expanded along with income, which is supposed to continue. Since the first pair of Jeans developed in America about one and half-century ago, denim wear has won popularity worldwide. As a result, jeans wear is one of the most prominent apparel items in the world apparel stores. Young people, as well as older people, now have an extraordinary intensity for denim cloth. Trouser, skirt, jacket made of denim can be found in thousands of stores and street markets in most countries.
Millions of jeans are manufactured in America, Europe, and Asian countries for local and foreign markets. Today jeans are available in many colors and patterns. Young people like to mix and match colors and sizes to create diverse looks. Globally, denim designers are experimenting with fabric and garments to add worth to their garments.
Definition of Denim and Jeans
According to Textile Terms and Definition published by Textile Institute, "Denim is traditionally a 3/1 warp-faced twill fabric made from the yarn-dyed warp and undyed weft yarn, and Jean is a 2/1 warp-faced twill fabric used chiefly for overalls or casual wear".
According to Encyclopedia of Textile Finishing edited by Prof. Dr. Hans-Karl Rouette published by Springer, "Denim is a firm 2/1 or 3/1 cotton twill-weave fabric (workwear twill) with a dyed blue warp and raw white weft. The warp is sometimes dyed during sizing".
"Jeans Originally an American term (now international) derived from Genes (cloth from Genoa). The term was coined in the USA to describe tight-fitting trousers made of cotton twill, usually woven with a dark blue dyed warp and undyed weft, stitched on seams and pockets, and having copper rivets here and there. As a rule, blue jeans are dyed with indigo and thus have limited colorfastness to rubbing and washing".
Traditionally, denim means sturdy, indigo-dyed cotton fabric woven with a dyed warp yarn and natural fill yarn available in various weights and qualities used to make pants, skirts, jackets, shirts, shorts, etc., and jeans are pants made from denim.
World Denim Market
The world market is likely to grow continuously for the next few years. However, supply is growing at a faster pace.
World Jeans market – 64.5 billion U.S. dollars in 2022
Expected to become 95 billion U.S. dollars by 2030
Global demand growing at 5%, supply at 8%
Global denim fabric production in 2006 was 2.7 billion meters only
Over 50% of this fabric production is based in Asia with Bangladesh, China, Pakistan, India, and Turkey.
70% of the world's jeans consumption is in the EU, USA, and China.
Denim Export to the USA
The USA is the most critical market for denim jeans exporters around the world. Any change in demand in the USA affects many exporters worldwide. With the recession has hit the USA, the demand for most textile and related products had taken a hit. Luxury goods imports had been particularly hit. However, if we see the trend of this product imports over last 2-3 years, we find that it has been mostly positive and quite promising in the current economic scenario. The year 2019 has seen a marked increase of over 15% in imports of these items into the USA as compared to the previous year with Men's/Boys and Women/Girls jeans showing a vast improvement in imports over the same period the previous year.
You may like also: 5 Key Difference Between Denim and Jeans
Yarn Requirements
Warp yarns for bottom-weight jeans typically range in size from the Ne 4.0 to Ne 12.5/1. More delicate yarns are used for lighter-weight chambray shirting fabrics and lighter-weight jeans, vests, dresses, and skirts. These yarns may range in count from Ne 12.5 to Ne 30. 
Process Flowchart of Denim Manufacturing
Denim manufacturing is a more complex manufacturing process compared to other fabrics. It has several routes to manufacture. This manufacturing system's most distinguishing feature is its dyeing, a unique process specializing in denim. Dyeing may be achieved in different forms like rope form, sheet form, or perforated beam wound form. Each process requires a separate preparation process, especially the warping process.
You may like also: Printing on Denim Fabric
Moreover, sheet dyeing or slasher dyeing can be executed in different dyeing machines, e.g., continuous and combined sheet dyeing-sizing machine, loop dyeing machine. All these processes have both merits and demerits. Manufacturers should choose their production line considering these to get the optimum output.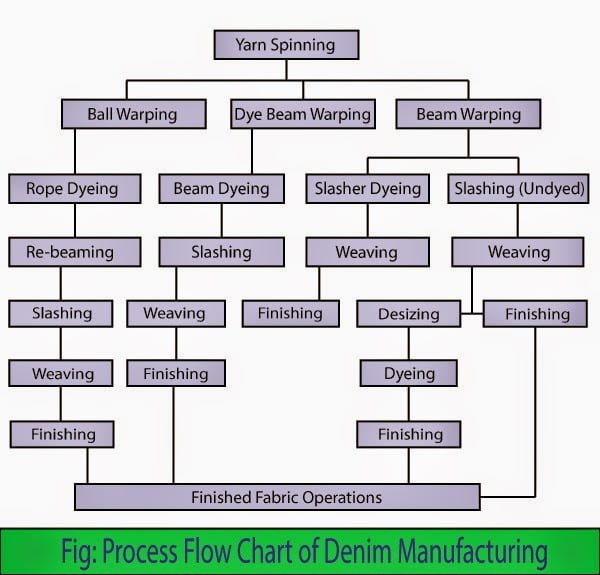 Dyeing
The dyeing process in denim manufacturing is the most crucial in the production sequence. Once, the dyeing in this manufacturing was only indigo dyes based due to its blue appearance. Up to the '70s, most of the dyeing was indigo-based. Then sulfur dyes, especially the sulfur black, were introduced. Sulfur dyes are used for a pure black shade of denim or the different shade effect before or after indigo dyeing. Today the dyeing is not limited to blue and black instead. It is now vastly diversified in different shades produced using reactive and other dyes classes through their popularity and production are not comparable with blue and black shade-based denim. Like the shades, the machinery of dyeing has different ranges. There are three general types of dyeing ranges.
Rope dyeing range
Open warp/Slasher dyeing range
Loop dyeing range
Sizing
Sizing is a process in which the threads of a warp are treated with sizing assistance to increase wear resistance. Sizing consists of impregnating the yarn with particular substances on the yarn surface a film to improve yarn smoothness, tenacity, and elasticity. The yarn can stand without problems with the tensions and the rubbing caused by weaving. There is not just one sizing recipe that is valid for all processes; on the contrary, the sizing methods change depending on the type of weaving machine used, on the yarn type and count, on the technician's experience and skill, but above all on the kind of material in progress. 
Weaving
Traditional denim fabrics are woven by the interlacement of indigo-dyed warp and grey weft. The sequence or order of interlacement of warp and weft may be varied to produce different weave designs. Although the traditional fabric is a 3/1 RHT warp-faced fabric, various fabrics are made with different weave designs, such as 2/1 twill weave, broken twill, zig-zag twill, reverse twill, etc. Today, denim fabrics are also manufactured with fancy designs to meet the latest fashion. These fabrics are typically made of a weight range of 3.5 to 16.5 oz/yd2 though Japan has recently developed 21 oz/yd2.
The classical denim fabrics are made with open-end rotor yarn in both warp and weft direction. However, ring yarn, ply yarn, filament yarn, lycra core yarn, slub yarn are extensively used to achieve some special effect, lusture, smoothness, and comfort in denim products.
The properties of this finished fabric largely depend upon the fabric construction. The warp and weft count influence several fabric properties such as weight, fabric tightness, cover, drape, hand, tensile strength, tear strength, and other fabric properties. All these parameters influence the durability and comfort of garments.
Traditionally, these fabrics are manufactured for a long time in rapier and projectile looms. But with the development of air-jet weaving technology, most of the fabrics are manufactured in air-jet looms. The modern air-jet looms are equipped with many computer-controlled attachments, which ensures faultless denim at a high production rate. The robust and reinforced frame structure and perfect balancing of modern air-jet loom allow high production speed and optimum denim quality with less vibration.
Finishing
Denim finishing is effortless, usually consisting of a pad applying a finish formula, drying, and then sanforizing. However, control of denim finishing is more complicated since it is not customarily desized, scoured, or mercerized as other cotton fabrics typically are. These other fabric preparation steps serve to clean and stabilize the fabric. If these steps also pretreated denim, denim finishing would be much less demanding.