Last updated on August 29th, 2023 at 12:31 am
Primary Motions
In order to interlace warp and weft threads to produce fabric on any type of weaving machine, three operations are necessary:
Shedding
Separating the warp threads, which run down the fabric, into two layers to form a tunnel known as the shed.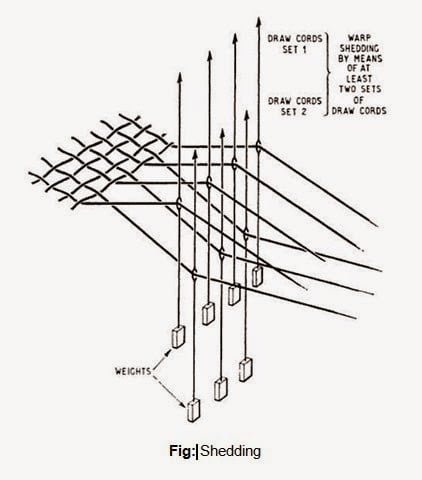 Picking
Passing the weft thread, which traverses across the fabric, through the shed.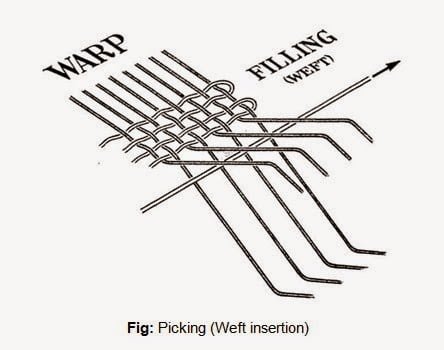 Beating-up
Pushing the newly inserted length of weft, known as the pick, into the already woven fabric at a point known as the fell.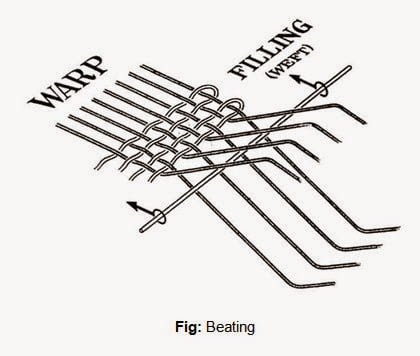 These three operations are often called the primary motions of weaving and must occur in a given sequence, but their precise timing in relation to one another is also of extreme importance and will be considered in detail later.
Secondary Motions
Two additional operations are essential if weaving is to be continuous:
Warp Control (or let-off)
This motion delivers warp to die weaving area at the required rate and at a suitable constant tension by unwinding if from a flanged tube known as the weaver's beam.
Cloth Control (or take-up)
This motion withdraws fabrics from the weaving area at the constant rate that will give the required pick-spacing and then winds it onto a roller.
Auxiliary Functions
In addition to the five basic motions of a loom there are many other mechanisms on weaving machines to accomplish other functions. These include:
A drop wire assembly, one wire for warp yarn, to stop the machine when a warp end is slack or broken
A tension sensing and compensating whip roll assembly to maintain tension in warp sheet
A mechanism to stop the machine when a filling yarn breaks
Automatic pick finding device reduces machine downtimes in case of filling yarn breakages
Filling feeders to control tension on each pick
Pick mixers to blend alternate picks from two or more packages
Filling selection mechanism for feeding multi-type filling patterns
Filling selvage devices such as trimmers, tuckers, holders and special weave harnesses for selvage warp ends
Filling replenishment system to provide un-interrupted filling insertion by switching from a depleted to a full package
A temple assembly on each selvage to keep fabric width at the beat-up as near the width of the warp in the reed as possible
Sensors to stop the machine in the event of mechanical failure
A centralized lubrication control and dispensing system
A reversing mechanism to avoid bad start ups after a machine stop
A color coded light signal device to indicate the type of machine stop from a distance
A production recording system
You may also like: A Guide to Different Types of Fabric Selvage