Last updated on September 6th, 2023 at 11:33 am
There are mainly three types of fabric such as woven, knitted, and non-woven. Multi-component or bonded fabrics fall into the third category. These fabrics are produced by bonding two or more layers of woven or knitted fabrics or fibre layers by loose stitching or by adhesive bonding. These are special types of fabric for special purposes. In this article, we will know about these special types of fabric. 
Multi-component fabric
A multi-component fabric is one in which at least two layers of material or fabric have been combined to produce a new product with properties significantly different from its original components. This process may intimately join the components to produce a material from which it is difficult to separate them. It may be a loosely joined material in which the components retain their original forms. The primary multi-component fabrics are bonded fabrics, laminated fabrics, foam-backed fabrics, and quilted fabrics. These are used to produce outerwear, household products, linings, handbags, etc.
Bonded fabric
A bonded fabric is a layered structure in which a face or shell of the fabric is joined to a backing fabric with an adhesive that does not significantly add to the combined fabrics' thickness. Such structures are used for design interest as well as fabric stabilization. Some of the artificial leather products could be classified as bonded fabrics.   
The bonding may be done with an aqueous acrylic adhesive, a latex adhesive such as an acrylate, vinyl chloride or vinyl acetate, or a thermosetting resin. The bonded product's end-use performance depends on the strength of the bond formed between the two fabric layers. In some instances, lining fabric is bonded to a face fabric to simplify garment construction. Scrim fabric such as tricot knits and gauze are also bonded to face fabrics to provide stability to the face fabric. This process has been used on loosely woven mohair fabrics and fabrics constructed from bulky novelty yarns to prevent yarn slippage and fabric distortion.
Fabric to fabric bonding
When two layers of fabric are joined, the purpose is to provide more excellent stability and body to the face fabric or create a self-lined fabric. The under layer in bonded fabrics is often (knitted, tricot or jersey) used because they have good flexibility, are relatively inexpensive, and slide readily, making them easy to don over other garments. For the most part, fabrics used in bonding are less expensive and lower-quality fabrics.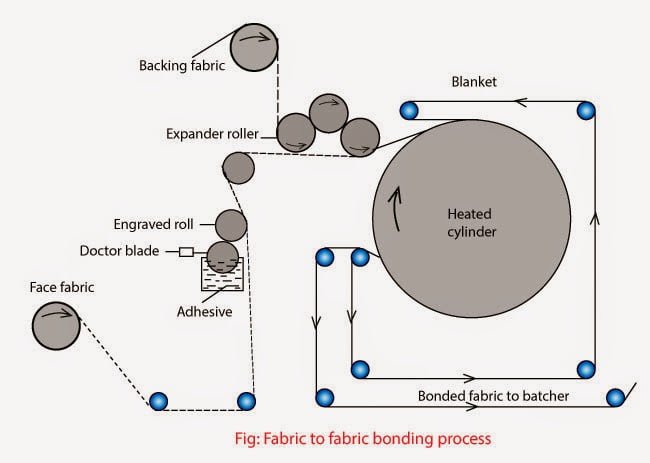 Two methods can be used for attaching fabric to fabric. The wet-adhesive method places an adhesive material on the back of the face fabric. Together, the fabrics are passed between heated rollers that can activate and set the adhesive.
The second method is known as the flame-foam method. A thin layer of polyurethane foam is melted slightly by passing it over a flame. The two fabric layers are sandwiched around the foam, which then dries, forming the bond between the two layers of fabric. Ideally, the layer of foam should be so thin that it virtually disappears. The foam in the finished fabric is about 0.01 inches thick. However, the foam adds body to the fabric and produces a somewhat stiffer fabric than does the wet-adhesive method. It is preferable that the flame foam method not be used with open-weave fabrics because of the possibility that some of the foam may appear on the surface of the fabric.
You may also like: What are Stitched Double Cloths? Classification of Stitched Double Cloths