Last updated on September 7th, 2023 at 12:15 am
Main Features of Denim Fabrics
Typical denim fabrics are woven from coarse, indigo-dyed cotton yarn. They are hard wearing, high density fabrics with a high mass per unit area. Today, more denim is produced in the world than any other type of cloth. Its long term popularity has made it a fashion fabric in casual wear.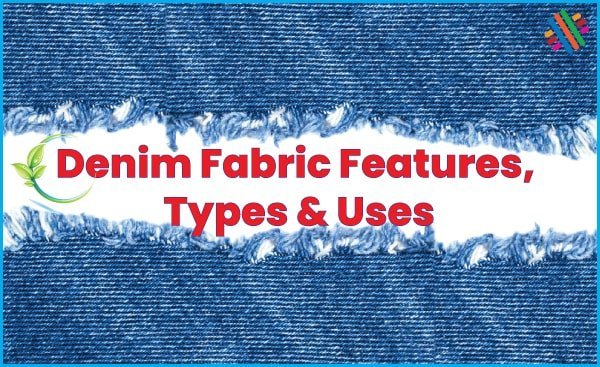 It is a cotton or cotton-polyester blend, durable heavy weight twill weave, and yarn-dyed fabric. 
Usually the warp is colored and weft is white.
It is often left-hand twill with a blue (indigo) warp white weft for use in apparel in a variety of weights.
It is warp-faced twill, the colored warp yarns predominate on the face and the white weft yarns on the back.
It is available in several weights, ranging from 203.46 gm/m2(6 oz/yd2) to 474.74 gm/m2 (14 6 oz/yd2) or more in a 2/1 or 3/1 interlacing pattern.
It may be napped, printed, made with spandex or other stretch yarns, or otherwise modified for fashion.
Raw Materials of Denim Fabrics
To produce good quality denim, the conditions have to be optimal regarding the quality of all the raw materials and yarn used. For raw cotton and the carded OE (rotor) or ring spun yarns made from it, the quality criteria are as follows:
Minimum staple length: 2.7 cm.
Proportion of short fibres (less than 12 mm long): under 40%.
Micronaire value: 4.0 to 4.5
The uster values for strength and elongation, for the evenness CV and imperfections must conform at least to the 25% plot.
The usual count range of denim warp yarns is 50 to 90 tex and weft yarns is 75 to 120 tex; finer yarns as fine as 25 tex in twill or plain weave are often used in denim shirts.
Twist factor: 4.5 to 5.0 for warp yarns, 4.2 for weft yarns.
Low yarn hairiness.
Yarn strength and uniformity.
Types of Denim
Demand for fashion variants of classic denim will continue to grow. The most popular variants are:
Stone-washed and double stone-washed denims.
Chambrays.
Fancy multi-color denims.
Denim with metal-effects yarns.
Elastic denims.
Printed denims.
Jacquard-patterned denims.
Denims with fancy yarns.
Lightweight chambrays are used for shirts and blouses. Heavy, classic denims are made up into trousers or coats. Besides classic indigo blue, the fabric is dyed in other fashion shades and colors, the most popular being black denim. The fabrics are graded in clearly defined classes by weight, e.g. light denim 10 to 12 oz/sq. yd. or below it, heavy denim 14 to 16 oz/sq. yd. At present time, the following denim fabrics with their specific commercial name are widely produced in the denim industry in Bangladesh.
Basic or regular denim 3/1.
Ring denim 2/1, there are 7, 9, 12 count of yarn used.
Slub denim.
Cross hatch denim.
Stretch denim – weft yarn (elastomer).
Poly denim – polyester used in weft.
End uses of Denim Fabric
In modern world, the apparels made from denim have become very popular among wearing. Denim goods are now being used among almost all type of people. Denim wears crosses the line of fashion boundary. It may be used in various ways as follows:
Baby wear, men's trouser, shirts, ladies wear are also made from denim fabric, and day by day, its acceptability is increasing among consumers.
In the past, it was used by workers as a safety wear. Now it is used for making decorative cap, and ladies hand bag, school and college bag, and travel bag.
Denim is used for jacket, pant, shirt, denim wine bags, denim pencil case, denim apron, denim pillows, denim quilt etc.
So we can say that, range of denim apparels are widening day by day.
You may also like: 10 Types of Curtain Fabrics to Match Your Curtain