Last updated on October 7th, 2023 at 11:41 pm
Acid dye is a dye used to color protein based fibres like wool, silk etc. in acidic medium. This dye is also used to color synthetic fibre like nylon but not used to color cellulosic fibre like cotton or linen. This dye is so called because it requires an acidic medium to fix the color effectively.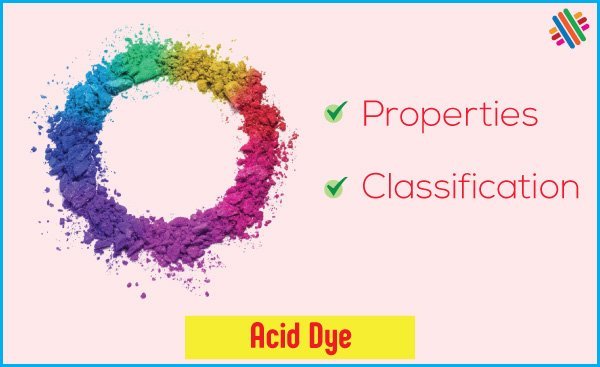 Properties of Acid Dye
This dye is normally soluble in water.
Most of the dyes bear sodium salt of sulphonic acid and carboxylic acid.
Dyeing process is normally done in acid medium.
Protein fibre like silk, wool and polyamide fibre like nylon etc. are most suitable for dyeing with acid dye.
These dyestuffs give varieties of color shade.
Color fastness property is good.
Classification of Acid Dye
According to Chemical Structure
According to chemical structure analysis we may classify this dye as following ten:
Nitro
Nitroso
Mono Azo
Diazo
Triphenyl methane
Xanthan
Azin
Quinaline
Ketorenine
Anthraquinone
According to Application
Strong (Class – 1)
Weak (Class – 2)
Neutral (Class – 3)
Properties of Strong Acid Dye
Dye leveling property is very good.
Strong acids are generally used in this bath.
Its light fastness property is excellent but wet fastness property is not so good.
Here we always have to maintain the PH value 2-3.
Ex: Lissmine green
Properties of Weak Acid Dye
Dye leveling property is moderate.
Weak acid is used in the dyeing bath.
PH value is maintained 5.2 – 6.2.
Washing fastness property is good.
It can be used for cellulosic fibre dyeing.
Ex: Solway blue – B.N.S
Properties of Neutral Acid Dye
Dye leveling power is very poor. So, its usage is very rare.
Neutral medium is used for dyeing.
PH value around 7.
Light fastness property is good.
Washing fastness property is also good.
Ex: Coomassic navy blue – 2RNS
You may also like: Notes on Reactive Dye