Last updated on October 8th, 2023 at 11:03 pm
This is a derivative of twill weave. Diamond design is developed on the basis of pointed draft principle. It is build-up by the combination of vertical and horizontal zig-zag weave. The repeat size of this design is also calculated from the regular or base twill design. In this case the number of both warp and weft yarns in this weave are double of the number of warp and weft yarn of base twill respectively. For example, if the repeat size of basic regular twill is 4 X 4, than the repeat size of this design is 8 X 8. It is a reversible design. So it may be divided into two equal parts in both vertical and horizontal axis. Pointed or V-drafting system is used to produce this design.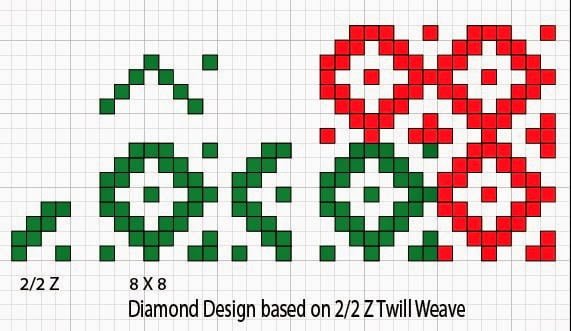 Construction Principle of Diamond Design
There are several systems to build up this design. At first select the repeat size according to the basic twill. Then repeat size is divided into four quadrants. Now the basic twill is put in every quadrant by the change of direction of twill line in this way that the opposite twill line of every twill should be parallel and they produce an angle at the changing point. Both sides of some diamond designs are not equal although they are developed on the same basic twill. It depends on the construction principle.
End Uses
It is used to design Towel fabric structure. 
Used in the design of bed cover and pillow cover.  
Also used in table cloth design.
You may also like: Huck a Back and Mock Leno Weaves