Last updated on August 25th, 2023 at 09:04 pm
Huck a Back Weave
The huck a back weaves are basically toweling fabrics. They are generally associated with honey comb fabrics and hence known as honey comb effects. They are constructed by alternately combining a floating with a plain weave. Interestingly, a number of weaves are derived from these weaves. Huck a back weaves are suitable for producing thick and heavy textures. One of the well known heavier varieties of this class is the "Grecians". The design of huck a back weaves permits stripe and check effects to be brought out in the fabrics.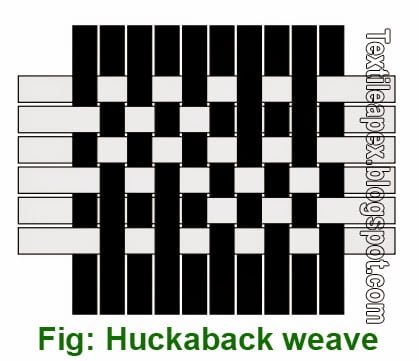 Main Features
These weaves are generally applied in the manufacture of non-pile towels. The main features of this weave are as follows:
This weave is characterized by a rough surface, which is produced by floating threads in groups arranged on a plain weave basis.
A more balanced huckaback is produced if the weave-repeat size is twice an odd number (I.e. 2 X 5 = 10; repeat size = 10 ends X 10 picks), but it is by no means impossible to produce the weave on a repeat which is complete on twice an even number of threads.
With these constructions hardwearing and extremely thick, moisture absorbing fabrics are produced.
Groups of plain weaves are exchanged with groups of one end plain weave and one end floating. To achieve a more prominent raised effect in the area where the threads are floating correct denting plays an important part. Whenever possible the long floating ends should be drawn into the same dent.
10 X 10 is the widely used repeat size.
This weave can be divided diagonally into equal two parts.
Construction Principle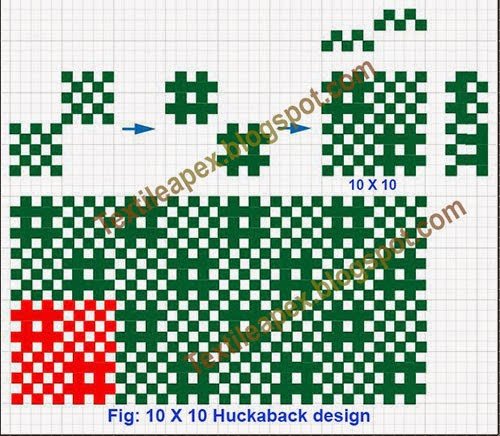 The following figure shows the stages in constructing the huck a back weave –
Mark out the repeat size, divide into quarters and fill in plain weave in two opposite ones as shown at first.
Fill in a motif in the other two quarters, which is preferably produced by taking plain weave and adding or removing some lifts, as at second one; care should be taken to ensure that the motif and the plain weave bind together effectively.
The final weave is produced by combining first and second one.
Drafting System
Different drafting systems are used to produce this fabric. The draft which is generally used is so arranged that the odd number threads are carried by the two front heald-shafts and the even number threads by the back two heald-shafts.
End Uses
Linen and cotton yarns are commonly used, and in coarser qualities they are particularly suitable for hand towels, glass cloths, roller towels and quilting. Shirting, dress wear and table linen are produced in the finer qualities.
Mock Leno Weaves
Mock lenos, also known as imitation lenos are a variety of weaves of ordinary construction which produce effects that are similar in appearance to the gauze or leno styles obtained with the aid of doup mounting. These weaves are generally produced in combination with plain, twill, satin or other simple weaves or even with brocade figuring, to produce striped fabrics, which bear a very close resemblance to true leno fabrics.
Main Features
This weave is also referred to as imitation gauze weave. The main features of this weave are as follows:
It is an open perforated weave like as leno fabrics.
It is produced in the ordinary way without special leno shafts.
The similarity of this weave to the huckaback is quite obvious, but the method of denting is different, as it is necessary to encourage thread grouping.
The weave is arranged in groups of equal or unequal sizes. Threads working in plain weave alternate with threads floating on the face or back of the fabric. The ends from each individual group are whenever possible drawn into same dent; this bunches the floating ends together and causes a slight gap or opening in the fabric giving an appearance similar to a gauze or leno weave, hence the name 'mock leno'.
Even number repeat size is normally used to produce this weave.
This weave can also be divided diagonally into two equal parts.
The smallest repeat size of this weave is 6X6.
Construction Principle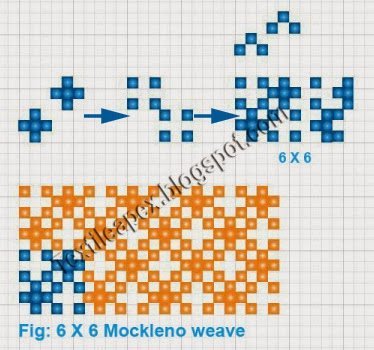 The stages in producing the weave are illustrated by the following figure –
Mark out the repeat size, divide into quarters and fill a small motif in opposite quarters, as in the first step.
Completely reverse this motif in the two remaining quarters, by substituting warp lifts for weft lifts and vice versa, as in second step.
Combine first and second steps to give the final weave.
End Uses
Mock leno find uses in canvas cloths, cheap fabrics for window curtains, light dress fabrics, blouses, aprons etc. In many cases, they are generally employed in combination with other weaves.