Last updated on August 12th, 2023 at 08:46 pm
Introduction
A soft fiber, most likely, is essential and a king fiber. The cotton plant (Gossypium harbasium), grows in tropical and subtropical regions. It has a universal textile use and also in the production of paper and plastics. The plant originated from India to Europe the Arabs; hence, the name is cotton (Qutun). It is a vegetable seed fibre consisting of about 90 percent cellulose-a poly-beta-de-glucose, containing a tiny percentage of wax, proteins, and Petites. The fibre shrub grows to about 1.22 to 1.52m (4' to 5') in height. The fibres are separated from the seed by ginning and packed into bales for spinning.
You may like also: All the Natural Cellulose Fibres
Clothing made from cotton is soft and durable. It is also a breathable product. As cotton originated from nature, you may feel a natural feeling when you wear it.
Definition of Cotton
Cotton is a natural cellulosic cream-white fluffy staple fibre that grows inside a protective shell (ball-shaped) around the seeds of a cotton plant. It is one of the most economically cultivated crops used to make comparatively inexpensive products. Its dye-ability is very good and can absorb different types of dyes, is repeatedly washable and can absorb high temperatures. Products made of cotton are comfortable to wear as they can easily absorb and release moisture compared to other fibres. Cotton can be blended with other fibre like polyester, viscose, elastane, etc., to make better-performing clothing. For example, it is mixed with polyester to make non-iron shirts.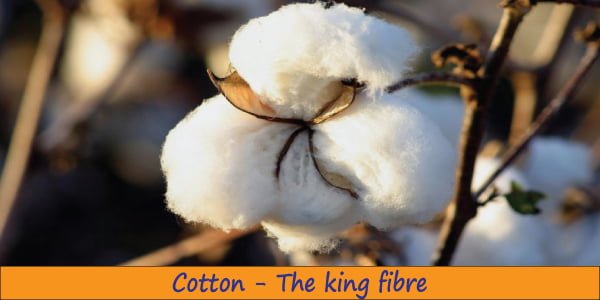 Types of Cotton
There are nearly 20 different species of cotton plants. All these grow in tropical and subtropical regions; those in the tropics are perennials, while those in the temperate areas are annuals.
The followings are economically important (recorded in order of importance):
American Upland – fibre length 0.02 to 0.04m (3/4" to 1.5").
Asiatic – fibre length 0.02 to 0.03m (3/8" to 1").
Sea Island – fibre length 0.04 to 0.06m (13/8" to 2.5").
Egyptian – fibre length 0.04 (1.25" to 1.75").
Peruvian – fibre length 0.03 to 0.04m (1" to 1.5").
Brazilian – fibre length 0.03 to 0.04m (1" to 1.5").
Colored – experimental stage.
You may like also: What is Nylon Fibre | History Of Nylon Fibre
American Upland
This cotton is now grown in almost all cotton-growing countries in the world, making nearly 2/3 rd of the total crop. The blossoms are cream white, and bolls contain 4 to 5 tufts, so they have strong fibre. Fibre is white, and the seed is covered with fuzz. It grows to about 0.90 to 1.22m (2.5 to 4') in height.
Asiatic (two varieties)
Grown in India, Persia, China, and U.S.S.R., These varieties are slightly inferior to the American Upland variety. Indian cotton is coarse, and its fibres vary from 3/8" to 1" in length.
Sea Island
The flowers are brilliant yellow, and the lint is light brown. This fibre is used to manufacture superior or fine goods and is more expensive than other kinds. Now, this is also growing in West Indies.
Egyptian (or Karnak)
It produces silky fibres of about 0.05m long. The flowers are golden yellow, and the fibre color is cream brown. They are used extensively in manufacturing underwear, hosiery, and threads. In addition, it has long been preferred to manufacture fine cloths since this is considered superior because of its extra-long staple or fibre length. Recently, some cotton growers in the U.S.A. have produced a new variety of cotton, which equals the Egyptian Karnak. This hybrid or strain, called Pimas S.1, has an extra-long uniform fibre length and better fibre strength, as spinning tests have proved.
Peruvian
Produces rough fibres which appear something like wool—used in the woolen/cotton blends, especially for cheaper woolen goods, underwear, and hosiery. However, some new varieties of this cotton are promising and are generally coming into more use.
Brazilian
This is a perennial variety and need not be cultivated every year. The fibres are white and silky but lack in "twist," which is common in most cotton. Length is usually the same as Peruvian. Seeds have very little fuzz. In quality, this is slightly inferior to the American Upland variety.
Colored
Colored cotton has been a subject of research by workers and breeders for a long time. Natural freak colors appear sometimes but are fugitive and fade out on exposure and therefore are of little importance. It is still in the experimental research stage.
End-uses of Cotton
Starting from the sewing thread, it is used to make a variety of products like T-shirts, denim, towels, underwear, blouses etc.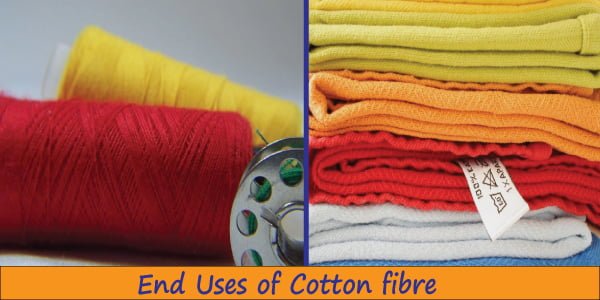 The most important uses of cotton are:
Automobile-tops.
Bandages.
Canvas.
Cheese-cloth.
Fish-nets.
Book-bindings.
Carpets.
Cloth-bags.
Coverlets.
Curtains.
Ducks.
Filter cloth.
Friction-tapes.
Fabrics.
Furniture covers.
Handkerchiefs.
Hosiery.
Lace.
Mosquito-curtains.
Paper.
Safety bags.
Sheetings.
Shirts.
Shoe-laces.
Tapes.
Terry-cloth.
Threads.
Toweling.
Typewriter-ribbons.
Umbrella-cloth.
Wallcoverings.
Yarns.
This king fibre is today the most important fibre and a chief source of men's clothing, as nearly 75% of the world's population wears cotton clothes.