Last updated on August 11th, 2023 at 12:15 am
Yarn is a material made from staple fibre or continuous filaments used to make fabrics, sweaters, scarfs, and sewing garments. Knitting and weaving factories depend on yarn to produce textiles. Sweater factories also totally depend on yarns to make sweaters. Besides, in our daily life, it has a variety of uses like sewing, crocheting, etc. Yarns can be made from cotton, polyester, silk, nylon, wool, etc. Yarn can also be blended by using blended fibres like we can use 70% polyester and 30% cotton to make PC yarns.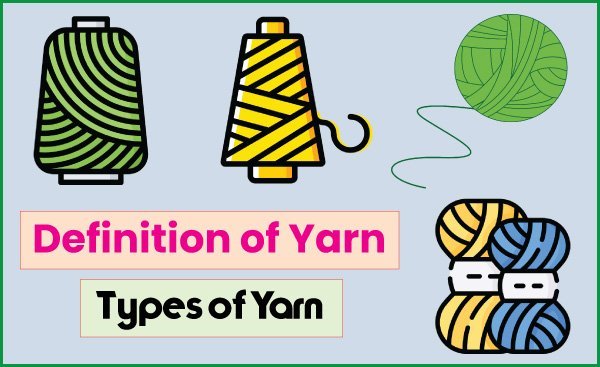 When we use staple fibres to make yarn, then it is called staple spun yarn. When we use continuous filaments to make yarn, then it is called continuous filament yarn.
Definition of Yarn
Yarn is an assembly of fibres that are laid or twisted together to form a continuous strand. Yarns may be made from either staple fibres or filament fibres. Staple fibres are twisted into yarns, and filament fibres need little or no twist to hold them together in a yarn.  
Classification of Yarns
Yarn can be classified as follows:
Carded or Carded yarn.
Combed yarn.
Semi-combed yarn.
Carded Yarn
It is an inferior quality of yarn. In processing this yarn, no comber is used. It contains more short fibres and naps. It is used to make coarser count yarn. It has a great use on denim industries to make denim fabrics. 
Combed Yarn
It is a superior quality of yarn. Comber is used to manufacturing combed yarn. So this yarn contains almost no naps or short fibres. It is used to make finer count yarn. It has a variety of use in the knitting and non-denim fabric manufacturing industries. 
Semi Combed Yarn
It is a medium-quality yarn. It is manufactured by mixing some combed slivers. For example, 50% combed sliver means eight slivers, four carded, and four combed slivers mixed at the post comb draw frame to produce this type of yarn.
You may also like: Different Types of Thread Packages