Last updated on October 1st, 2023 at 10:00 am
Definition of Twist
The process by which fibres are arranged around the axis of yarn is called yarn twist. It imparts strength to the yarn.
Higher the twist more the yarn strength, till optimum twist is reached. But due to property of 'fabric assistance' even less than optimum twist will produce fabrics of maximum strength.
It also costs money. The circular threads in cloth become elliptical in shape due to flattening. High twisted thread resists flattening, size penetration and their covering power is reached. Spun threads are invariably irregular and hairy and both these specialties help to hide minor weaving faults.
A cotton fibre has about 50 crimps per cm which help a lot in spinning. Voil and crepe threads are purposely hard twisted for producing an open structure cloth. In voil it is 25-30 TPI and in crepe 40-60 TPI. Crepe threads are twisted to a degree when no compactness occurs on further twisting. On wetting, threads swell and contract, producing a low profiled wavy structure. Only hydrophilic fibres swell. Silk and viscose are the best crepers. Yarn's irregularity may be short, medium or long term, depending upon whether it is 10, 100, or 1000 times, the average fibre length.
Twist in Yarns
All staple threads need to be twisted in direct proportion to the square root of thread count.
It varies according to the type of spinning machinery used and end use of the thread. Filling or weft threads are generally given lower twist than warp, as they do not bear shedding and other tensions or reed friction.
Knitting yarns are softly twisted and a few yarns used in suiting's, in worsted, higher twist is imparted to yarns to reduce fabric's fuzziness.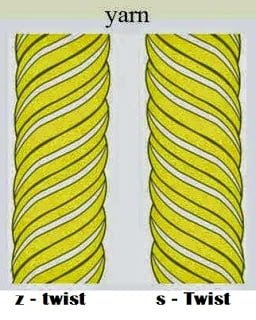 Pot spun threads need more twist than ring or flyer spun threads. Up to a certain stage, twist beyond which a reduction in strength takes place. As it costs money and reduces production; yarns are seldom-twisted full. Due to the property of "Fabric assistance" a cloth woven with lesser twisted yarns or threads, is as strong as that woven with optimum twisted threads. But voil and crepe threads are purposely hard twisted. Threads needed for knitting or weaving women's wear are soft twisted.
It is then is termed soft, medium, medium hard or hard. For crepon or sheersucker effect and for cord effect, threads are made hard twisted. It can be S, left handed (regular or open hand) or Z right handed (reverse or cross hand).
A hard twisted thread becomes wiry, resists liquid penetration and flattens with difficulty. It also acquires a certain amount of elasticity and a tendency to snarl and resist change. An mf yarn is as strong without twisted condition as in twisted condition. It disturbs parallel configuration of monofilaments and their load sharing capacity. A certain amount of twist helps in weaving of mf yarns. Terms, twist per meter and twist per inch are used in continuous filaments and staple spun yarns respectively. A certain amount of lengthwise contraction occurs in yarns with increase in twist, but the amount is quite small. Yarns for American Georgette are given up to 3500 TPM. Polyester filament such as 75/34/0 and 150/30/0 are used as filling in shirting's and suiting's without twist.
You may also like: Fancy Yarn: Different Structures and Formations [Images]