Last updated on September 30th, 2023 at 11:47 pm
Definition of Fashion
We may define fashion in many ways. The definitions of fashion are mentioned as follows: 
It is a conception of what is currently appropriate.
It adoption is a process of social acceptance by which a new style or product is adopted by the consumer after commercial introduction by the designer or the manufacturer.
It is what which is most appropriate and suitable.
It is a prevailing costume or style of etiquettes, procedures etc.
It is the conventional usage in dress manner.
Each and every part of dress co-relates to female's body-some parts of body always appear and others disappear in different fashions. Fashion has sex impulses.
It is a manifestation of a collective behavior and it as such represents the population.
It is a form of ugliness so intolerable that we have to alter it every six months – Oscar Wilde.
It wears out more apparels than the man – Shakespeare.
It is, which is as old as time and as new as tomorrow, is one of the most powerful forces in our lives. It influences what we wear, the way we talk, the food we eat, the way we look, how and where we travel, what we look and what we listen to.
It is what leads us to discard a product that is still useful but is no longer in. It is also what sometimes makes us wear more cloths than we actually need and sometimes less than what is needed. To be out of it to be out of world.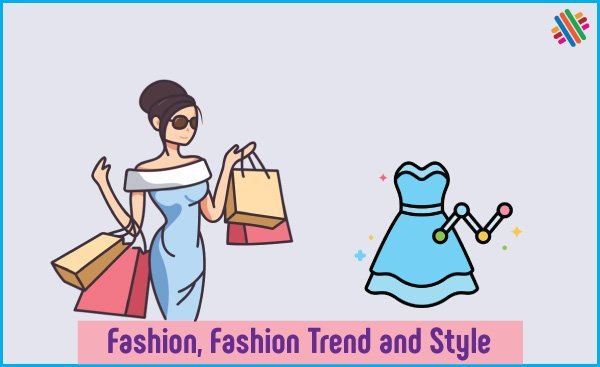 Definition of Fashion Trend
Fashions move in a direction e.g. skirt lengths may move from calf length to knee from one season to the next or, short jackets may gradually be gaining more acceptance than hip length styles. The change from one season to another may be slight but it generally has a direction. The ability to recognize the direction or that trend is vital for fashion forecasters or predictors.
Since these people must work far ahead of 'consumer buying periods', much of their success depends on their ability to read the signs and recognize the incoming and outgoing trends in fashion.
These are often used to describe styles that are gaining acceptance. The definition of fashion uses the word 'prevailing' or a given period of time if it ignores this element of fashion; it's like looking at a still photograph in place of motion picture. A famous put it, 'It is a social phenomenon which reflects the same continuing changes that is rides to through any given age.' Changes in fashion correspond with subtle and often hidden network or forces that operate on a society. In this sense, fashion is a symbol.
Definition of Style
The term fashion and style are often confused by many people to say that's the style, when they really mean fashion. A style is a type of product that has one or more specific features or characteristics that distinguishes it and makes different from other products of the same type, e.g. a crew neckline is a style and turtle neck is another style. Within a specific style, there can be many variations in trimmings, textures and decorations or other details, e.g. a cardigan sweater is a distinctive style but individual variations could include different kinds of nets, embroideries, pockets or necklines. These individual interpretations or versions of the same style are called designs. Each design is different from others in details.
You may also like: Fashion Apparel Categories