Last updated on October 1st, 2023 at 10:28 am
Water Jet Loom
An effort to achieve:   
Higher meters per loom per hour 
Faultless fabric
Reduction in weight of weft carrier
Reduction in cost of weaving
Reduction in noise level to 90 Dba
Weaving machine makers produced gripper shuttle and rapier machines belonging to second generation of shuttle loom. But in both machines, something solid enters shed and yarn is suddenly accelerated to very high velocity-stretching tender yarns undesirably.
Then third generation of Air Jet and Water Jet looms when fibre spun as well as hydrophobic filament weft was carried on a hydraulic soft cushion.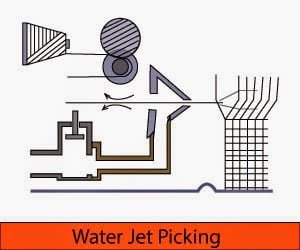 The other methods for higher production were:
Adoption of multi-width weaving.
Making weaving process non-intermittent such as in multi-phase weaving machines.
Reduction in down time i.e. continuity in warp supply without stoppage for package change.
Specialties of Water Jet loom
Water is ejected under pressure from nozzles at picking side and pushes pick through shed length.
Yarns coated with protecting water repellent sizes cannot be woven successfully as no size covers whole yarn length completely.
Feel of sarees and dress materials is simply super – because 'O' twist textured yarns elasticity is preserved in toto.
Zero twist textured polyester or nylon needs to be sized – preferably on end to end sizing machines with PVA base sizes.
Used water is purified and re-circulated.
Each loom has its own water tank and small pump.
A 90 in. loom hardly consumes about 1.5 liters of water per day.
A fixed hardness and temperature of water is a must, as viscosity fluctuation disturbs picking energy.
Normal looms are two nozzle type, but latest machines are four nozzle and multicolored.
A revolving synchronized cam compresses a spring and controls piston strokes inside a pump cylinder. Thus, picking force of jet is directly proportional to pistons stroke length.
Water is accelerated to required force inside the pump cylinder and the emerging jet force can thus be altered as needed, for a weft count and machine width, as well as its ppm.
It takes a parabolic path – the force of gravity pulls it down and disintegrates.
Atmosphere must be free from fluff and dirt, to allow water molecules to move freely.
Through jet velocity diminishes as reed width increases; wet weft clings to reed and does not contract.
Resultant – filling velocity is negative due to retardation.
Vr = Vp – Vu
Where, Vr is resultant weft velocity.
Vu and Vp are initial and final weft speeds.
Picking Force
It depends upon:
Pump pressures.
Volume of water ejected stroke. 
Nozzle shape and cross-section. 
Friction between water and weft yarn. 

A weaver can operate picking manually with the help of a foot pedal. In case of a pick break the electronic mechanism stops machine in open shed and the break can be easily mended.
Start/stop, slow/forward and reverse is controlled by push buttons.
Warp let-off mechanism is electronically controlled.
Basic frame structure of an Air and a Water-jet are almost identical and a Water-jet can be converted into an Air-jet machine.
Picking units are placed separately and looms parts are made of corrosion free materials.
Each pick is withdrawn and measured by a constant diameter monitoring device before presenting it for picking. Thus weft unwinding tension from supply package is minimum and constant.
Hairy weft, blocks nozzle hole should be avoided.
Each pick uses 0.5 ml to 2.5 ml of water as per machine width.
Water pressure is about 220 KN/m2.
Selvedge in fringed and catch cords are thicker than body warp ends.
Weft waste is about 1.75 to 2.5% depends upon the weft. Catch cords are drawn from separate pulleys and do not pass through reed. After 2 to 3 mm from selvedges, free pick ends are firmly secured by strong leno ends.
There are few suction slots over breast roll for sucking-off excess water.
In pure PE fabrics selvedges can be heat fused.
You may also like – An overview of weft insertion element of Air Jet