Last updated on August 18th, 2023 at 10:23 pm
Definition of Loom
Loom is a machine or device which is used to produce woven fabric by interlacement of warp and weft yarn. Ginning, opening, cleaning, carding, combing, drawing, spinning, winding, warping, sizing, beaming are the process prior to weaving. All these process converge on loom.
Classification of Loom
Hand loom
Primitive or power loom.
Pit loom:

Through shuttle loom.
Fly shuttle loom.

Frame loom:

Through shuttle.
Fly shuttle.

Chittranjan loom.
Hattersley loom.
Power loom
Conventional power loom:

Simple.
Automatic.

Modern loom:

Jet loom.
Rapier loom.
Multiphase loom.

Jet loom:

Rapier loom:

Single.
Double.

Multiphase loom:

Plain.
Circular.
Different Parts of a Loom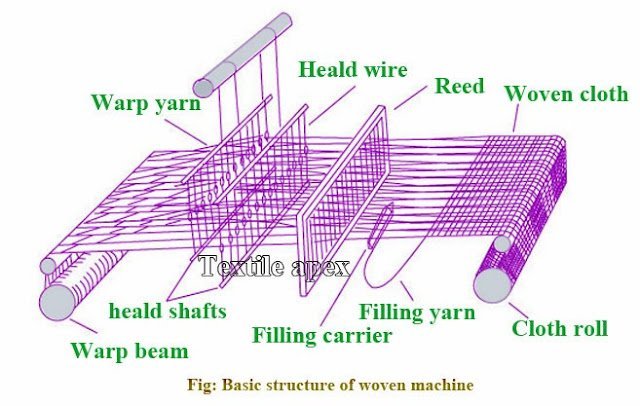 Short Description of Loom is Given Below
Heald/Heddle
Wire or cords with eyelets that hold warp yarns in a place.
Heald shaft/Harness
A wood or metal frame that holds the headl/heddles in position in the loom during weaving. It is usually more than one.
Shuttle
This is a vehicle for weft & passes through the divided warp for the interlacement of the warp & weft.
Shuttle box
Compartment of each end of the sley of a shuttle loom used to retain the shuttle between picking motion.
Picker
It is a piece of leather or other metal placed in grooves or on a spindle inside a shuttle box.
Beams
A cylindrical body with end flanges on which a multiple of warp ends is wound in such way to permit the removal of these yarns as a warp sheet.
Front rest
It is a fixed roller placed in front of the loom above the cloth beam & act as a guide for the cloth to wind on to the cloth beam.
Lease rods
The division of warp yarn into one & one, two & two, & so on is termed as lease. The two rods passed between the two successive divisions of warp yarns are called lease rods.
Slay
It is the portion of loom that carries the reed and oscillates between the harness & the fell of the cloth.
Reed
A comb like wire or device used to separate yarns on a loom & to beat up the filling during weaving.
Treadle
The treadle is a paddle or lever under a loom with which a thread is connected by means of cords.
Temple
Roller device on a loom that hold the cloth at a proper width to prevent it from being drawn in too much by the filling.