Last updated on August 29th, 2023 at 11:33 pm
Main Features of Flocked Fabrics
A surface effect that is similar to a nap or a pile may be created by flocking, a process in which short fibres are "glued" onto the surface of fabrics by an adhesive material. If the adhesive coats the entire surface of the fabric, the flocking will cover the entire surface of the fabric, but if the adhesive is printed onto the fabric in a pattern of some short, the flock will adhere only in the printed areas. All-over flocked fabrics may have suede like appearance.
Short lengths of fibre flocking can be made from any generic fibre type. Rayon is often used for flocking. Nylon may be selected for situations that require good abrasion resistance.
Fibres for flocking are made from bundle of tow fibre (continuous filament fibres without twist). The tow is fed through a finish removal bath and then onto a bank of cutters that cut flock of the desired length. The fibres maybe dyed before they are attached to the fabric, or the completed fabric may be dyed.
Application of Flock to Fabrics
The flock is applied to the fabric is one of two methods. The mechanical flocking process sifts loose flock onto the surface of the fabric to be coated. A series of beaters agitate the fabric, causing most of the fibres to be set in an upright position, with one end of each fibre "locked" into the adhesive.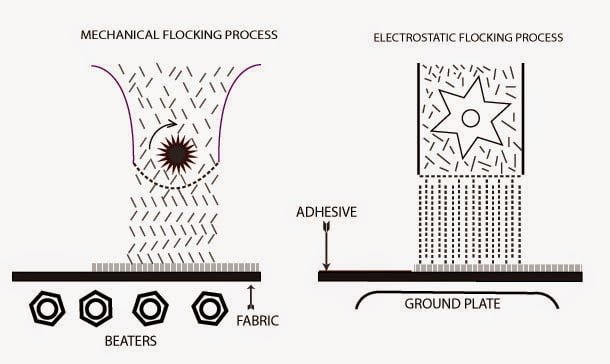 The second method causes the fibres to be attached in an upright position by passing them through an electrostatic field. The fibres pick up the electric charge and align themselves vertically. One end penetrates into the adhesive, and the flok is formed. Electrostatic flocking ensures more complete vertical positioning, and the resultant fabrics are of better quality. It is a more costly process. When buying fabrics, a consumer cannot tell which process was used.
Durability of Flocked Fabrics
The durability of flocked fabrics depends largely on the adhesives that hold the flock firmly during either laundering or dry cleaning. In some cases, flock may be removed by dry-cleaning solvents. Permanent care labels should tell the consumers how to handle flocked fabrics. A second factor in the durability of flocked fabrics has to do with the fibre from which the flock has been made.
You may also like: Roller Printing Process