Last updated on June 11th, 2023 at 06:14 am
Can you think a day without clothing? Of course the answer is no. you can't imagine the civilized world without clothing. Clothing plays an emergent role in your day to day life.
The base part of your clothing is fabric. To make and fabricate your full garment some auxiliary materials are needed like trims or trimmings and accessories. So you should know about fabric, trims and accessories for better understanding.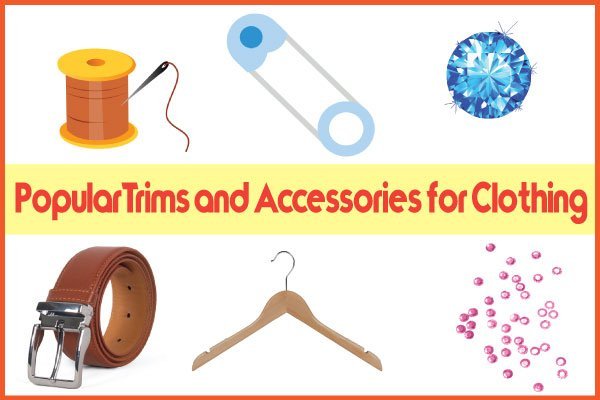 Definition of Fabric
Fabric is a type of textile product which is made from yarn by interloping or by interlacement. There are mainly three types of fabrics. They are woven, knitted and non-woven.
Definition of Trimmings
Trimmings are the materials which directly piece together with your clothing products. Trimmings have both functional and aesthetic properties. So you can't think of your fabrication of your clothing without trimmings. Trimmings can be attached with garments by sewing, gluing, pressing or heat setting. sewing thread, zipper, button etc. are some examples of trimming.
Definition of Accessories
Accessories are the materials which are used to give a finishing touch to your clothing products. These are generally used to finish, decorate, pricing & packing the clothing. Accessories don't have the functional properties but have the aesthetic properties. Hanger, polybag, carton etc. are some examples of accessories. From the definition, hope that you got the basic differential ideas about trims and accessories. But to clarify your confusion go through the afterward differences.
5 Key differences between trimmings and accessories
Trimmings are readily attached with your clothing products but accessories are not readily attached with your clothing products.
Trimmings have both functional and non-functional properties but accessories have only non-functional properties.
Without trimmings you can't think about your clothing products but without accessories you can go through it.
Trimmings are used to complete your clothing products and accessories are used to finish and pack your clothing products.
Button, zipper, rivet, lining, lace etc. are some examples of trimmings and polybag, safety pin, belts, scotch tape, carton etc. are some examples of accessories.
List of different types of Trims and Accessories
Sewing Thread
Button
Zipper
Lining
Interlining
Snap Button
Hasps and Slider
Embroidery
Applique
Beads
Glitter
Rhinestones
Sequins
Drawstring
Waist ties
Bows
Fringe
Pom Pom
Tassel
Labels
Patch
Hook and Loop
Eyelet or Grommet
Hook and Eye
Padding
Elastic
Twill tape
Rib
Belt
Hanger
Safety pin
Scotch tape
Polybag
Carton
Sewing Thread
Sewing thread is a mandatory trim for clothing products which ensures the functional properties of clothing products by securing the seams. Sewing thread is not used for knitting or weaving. It can be made of staple fibre or continuous filaments by twisting. Sewing thread can be made from both natural and synthetic fibre. Polyester sewing thread is the most commonly used sewing thread.

Button
A small disk or knob sewn onto a garment, used for decoration or to fasten the garment by being pushed through a hole made for the specific purpose. Button is the most popular among the fasteners. Generally, it is made of plastic but other materials like metal or wood are also used. You may choose different types of buttons for your clothing like plastic button, metal button, wooden button, fabric button, toggle button etc.
Zipper
Zipper is a slide fastener consisting of interlocking elements each attached to one of the opposing edges of two tapes and a movable part called a 'slider' that spans the interlocking elements, which when moved in one direction causes the elements as one tape to interlock with the elements on the other tape and when moved in the opposite direction causes the elements to disengage. There are mainly two types of zipper: concealed zipper and continuous zipper. Zipper plays an important role as a clothing accessory.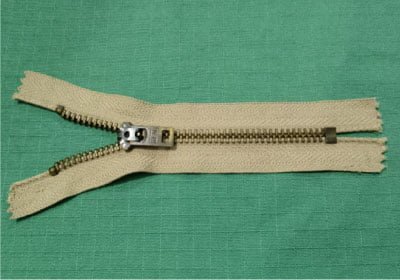 Lining
Lining is one type of fabric which is used inside the garment. Lining may be woven or knitted fabric. Generally, smooth and lustrous fabrics are used as lining. Linings are joined by sewing with the main body fabric. Lining is mainly used to give comfort to wearer. If you talk about outerwear, then you can't think about it without lining.

Interlining
Interlining is a textile material which is used between two layers of fabric in garment. It is basically used between shell fabric and lining. Interlining is used as reinforcement in the garment. It also controls the shape of the garment. It improves the clothing performance. So interlining is necessary for every garment.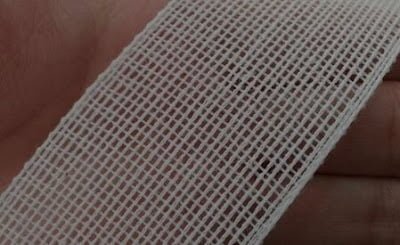 Snap Button
Snap button is a pair of interlocking discs made of metal or plastic, commonly used in place of buttons to fasten clothing. If you are a teen, then it would be your favorite way of closing skirts, shirts or pants by just applying snap buttons instead of normal button. There are two types of snap buttons and they are pressing studs with two parts to sew as buttons and rivets studs in plastic or metal with three/four parts that are needed to be used with riveting tools.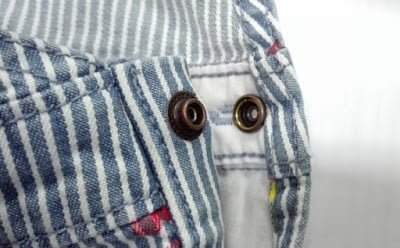 Hasps and Slider
Hasp and Slider is a metal fastening mechanism used on the shoulder strap to adjust length of the strap by the slider and attached by the hasp to a button fixed to the overall bib. Hasp and Slider is mostly found on baby clothing products. Hasp and Slider give a cool looking to the baby clothing products.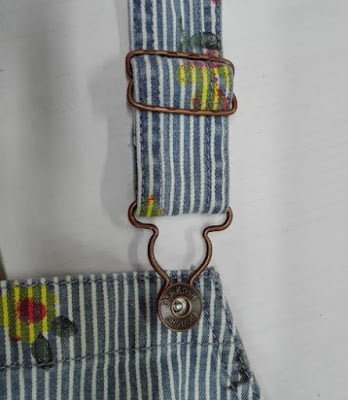 Embroidery
The art or process of forming decorative designs with hand or machine needle work is called embroidery. Embroidery is a very popular way of fabric surface decoration to make beautiful pattern on the garment. It can be done both manually or by machine method.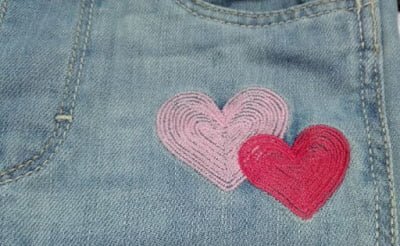 Applique
An applique is an ornamental needlework in which pieces of fabric are attached onto another fabric to form patterns. There are three types of applique application. They are by machine, hand and fusing. There are also different types of applique like smooth edge applique, raw edge applique, decoration stitch applique, felt applique etc.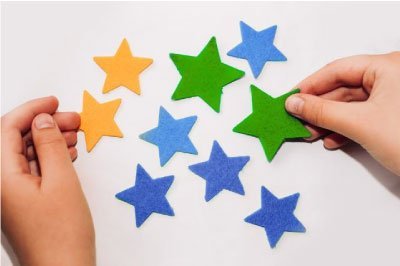 Beads
A small piece of plastic or similar material typically rounded and perforated for threading with others as a necklace or for sewing onto fabric. There are different types of beads you may choose for your clothing like seed beads, cylinder beads, crystal beads, ceramic beads, glass beads, wooden beads etc.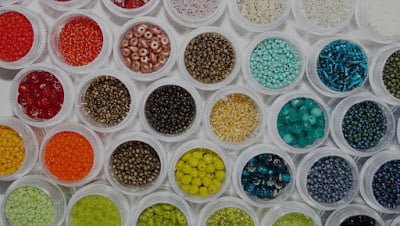 Glitter
Glitter is an accumulation of tiny, colored, reflective particles that comes in a variety of shapes, which reflect light at different angles, causing the surface sparkle or shimmer. The most common application process of glitter on to the textile or garments or clothing products is glitter printing by adhesive.
Rhinestones
It is an imitation stone of high luster made from glass, plate or gem quartz used in costume jewelry and to decorate cloths. If you pay your attention to clothing or bags, you will find different types of rhinestones like flat back hot-fix rhinestones, glue on flat back rhinestones, sew on rhinestones etc. To decorate or to make a fashionable product for babies or women, rhinestone plays an important role as a trim.
Sequins
Sequin is a small plate of shining metal or plastic used for ornamentation, especially on garments. Sequins may come in different types of colors. They are also classified into four main types: metal, hologram, pearl & coated. Sequin is the most eye catching among all the trims.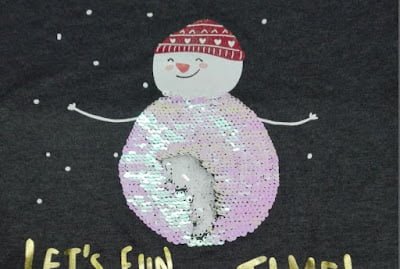 Drawstring
Any close fitting surround and non-surround retractable cord, ribbon or tape of any textile or non-textile material with two loose ends. Drawstrings are pulled together and used to adjust the size of the garment opening. There are different types of drawstrings like knotted drawstring, thick flat drawstrings, continuous loop drawstrings etc.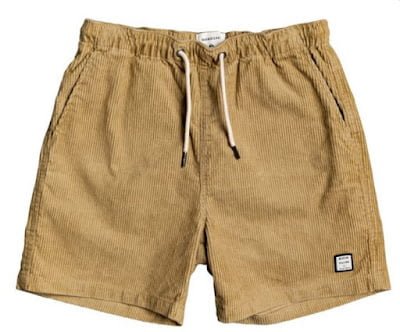 Waist Ties
A piece of string or cord made from any material used for fastening or to adjust the size of the garment.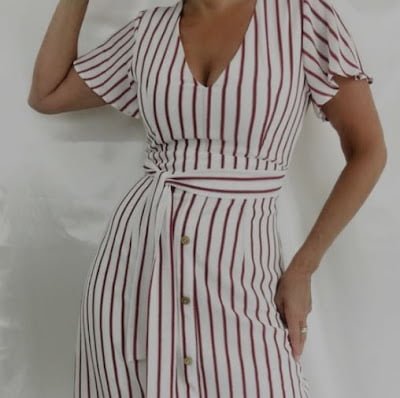 Bows
A knot tied with two loops and two loose ends, used especially for tying laces and decorative ribbons. There may be different types of bow knots like skinny bow knots, thin bow knots, normal bow knots, butterfly bow knots, diamond bow knots etc. There are also different types of bow like simple fabric bow, stacked ribbon bow, winged bow, easy buckle bow, ribbon bow etc.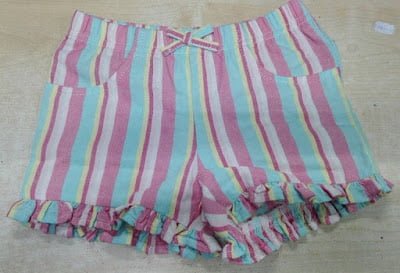 Fringe
An ornamental border of threads left loose with no knots or single assembly point. Fringe is typically constructed with yarn or thread and is integrated into trim tape or embroidery artwork. You may find different types of fringes in shops readily to be attached but you may also make it by yourself. Loop fringe, brush fringe, bullion fringe, self-fabric fringe, tassel fringe, layered fringe, knit fringe etc. are different types of fringe.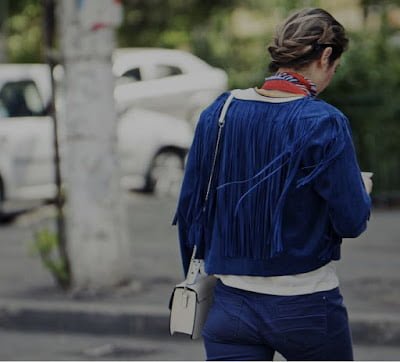 Pom Pom
Pom pom is an ornamental ball or tuft used on clothing, caps or costumes. You may find pom pom in many colors, varieties and sizes which are made from different types of materials like cotton, wool, thread, glitters etc.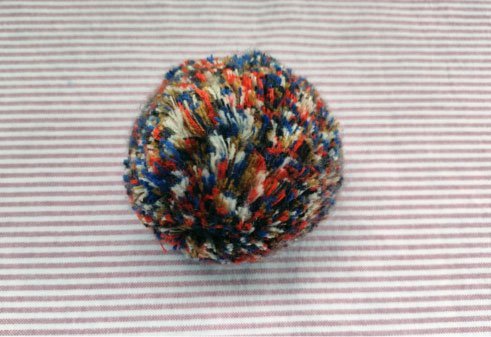 Tassel
Tassel is an ornamentation consisting of gathered yarn or thread which includes a solid, bulky knot or assembly point connecting to a cord.
Labels
Labels don't play functional role but give basic ideas about the garment products to customers like size, fibre composition, brand name, care instructions etc. There are different types of garment labels like brand label, size label, care label etc.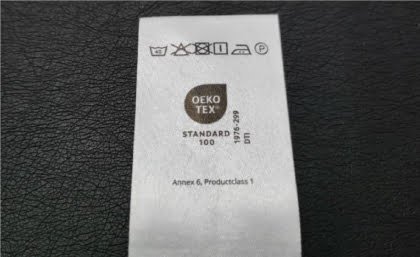 Patch
Patch is a kind of trim made from fabric, leather or other materials which is attached on to the garment by sewing or heat transfer. The idea of patches on cloth was a very unique, famous and attractive idea that lasted for a long time and till now patches bear some unique meaning of different brands. Patches are generally used on jeans and tops items. Custom embroidered patch, printed patch, PVC patch, woven patch, leather patch are some examples of patch.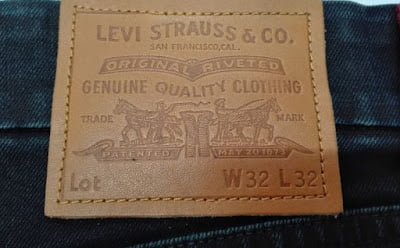 Hook and Loop
Hook and Loop fastener is a trim made of two thin plastic strip sheets one covered with tiny flexible hook and another with loops, which cling together when pressed together and can be separated when pulled out. Hook and loop fastener is a such kind of trim that you will get fun when pressed together or pulling out. It also saves our valuable times. You can find different types of hook and loop fasteners in the market like woven, knitted, non-woven or high-tech hooks (HTH).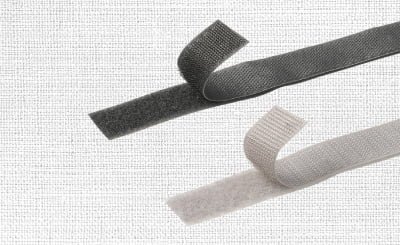 Eyelet or Grommet
Eyelet or Grommet is a two part piece of hardware made from metal or other material that are pressed together to hold or reinforce the
pre-punched hole in a garment. It allows draw cords to go through. It is a necessary trim for hoodie items.
Hook and Eye
Hook and eye closure is an absolute and simple method of fastening clothing parts together. Different sizes of hook and eye from very small to large are available. It is mainly used where there is less stress. In non-woven pants hook and loop is the main fastener.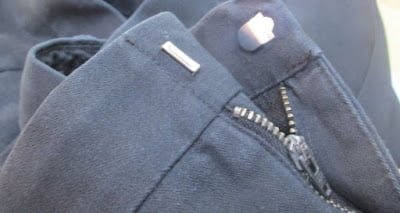 Padding
Padding is a thin soft material which is used inside clothing products. It is generally used in jackets, bras or other outer-wears. It is generally made of synthetic fibre like polyester.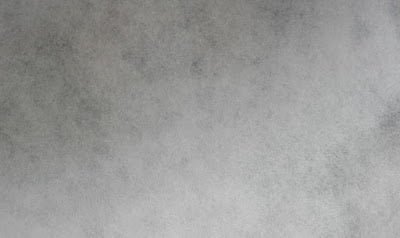 Elastic
Elastic was a great invention for the clothing industry. Elastic makes the garments more comfortable to the wearers. Elastic is a necessary trim for undergarments. It is made of rubber or elastic cores that are wrapped in polyester, nylon or cotton fibre and then knitted, woven or braided. There are different types of elastic like braided elastic, knitted elastic, woven elastic, lingerie elastic etc.

Lace Fabric
Lace is a sensual fabric made from yarn or thread in an arbitrary web like pattern by manually or by machine. Originally silver, gold, silk or linen threads were used but now a day cotton thread is mostly used. Synthetic fibre lace is also available.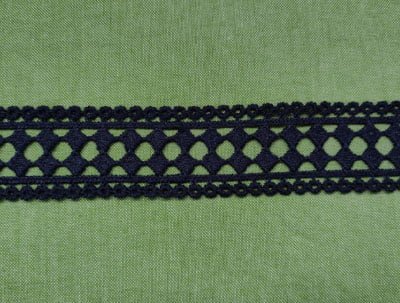 Twill Tape
Twill tape is a woven fabric trim which construction is like herring bone twill. Twill tape can be made from both natural fibres like cotton, linen etc. and synthetic fibres like polyester. Twill tape is used in sewing seams to give reinforcement.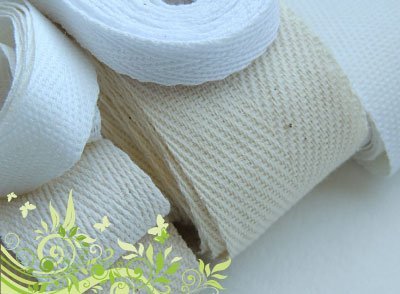 Rib
Double knit or rib fabric is the second family of knit structures. Two sets of needles are used to make this rib structure. Rib fabric has similar looking in face and back side. It is a heavier fabric. Rib fabric is mostly used as a fabric trim. It is used in making collar, cuffs etc.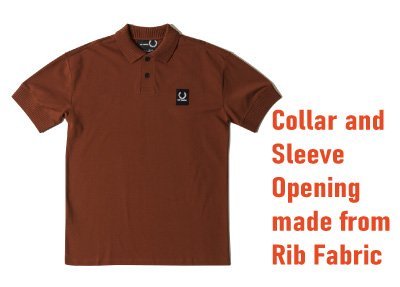 Belt
A strip of flexible leather or textile material which is worn around the waist and secured with a fastening mechanism like buckle is termed as belt. There are different types of belts like buckle belt, suspender belt, metal belt, hip belt, yoke belt etc. Belt is an important accessory to a fashion sensible person.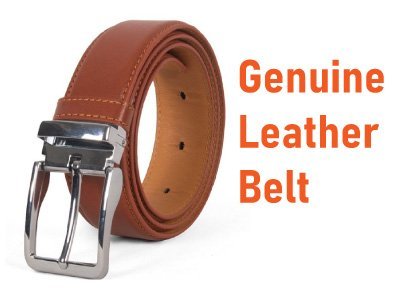 Hanger
Clothing hanger is also an important tool to keep the products wrinkle free and to get easy access. It is designed as a human shoulder to facilitate the hanging of your favorite coats, jackets, shirts or sweaters. Different types of hangers like wood hanger, wire hanger, plastic hanger, collapsible hanger etc. are available in the market.
Safety Pin
Safety pin is like as a regular pin which includes a light spring mechanism and a hook. The hook ties and unties the pin and also covers the end of the pin to protect the user from the sharp point. Safety pins are generally used to bind the pieces of fabric or clothing together. Stainless steel, nickel plated steel, brass etc. pins are available in the market.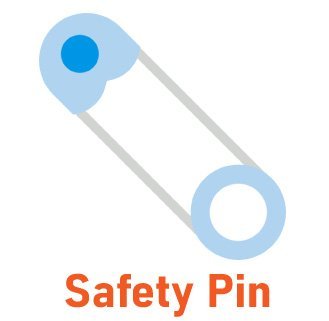 Scotch Tape
Scotch tape is a colorless or colored adhesive tape made of synthetic substance that is sold in rolls. It is used to pack and carton the clothing products.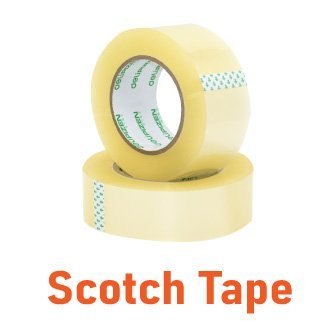 Polybag
A plastic bag is also known as polybag is a type of cell made of thin and flexible plastic film. Textile or garment items are kept by wrapping with polybags to keep the items intact and dust or moisture free. Polybag plays an important role in the textile and clothing industry. Different types of polybags are available in the market like polybag with flap, polybag with button, self-sealing polybag, zip lock polybag, plain polybag etc.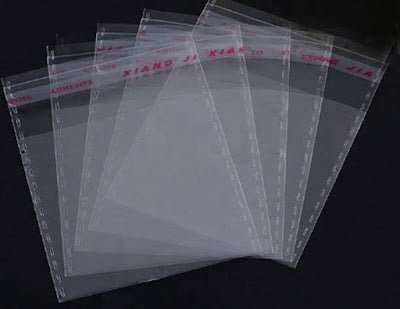 Carton
Carton can be defined as a container or box generally made of paper board. It is the main tool of packaging the clothing products when to export.