Last updated on August 22nd, 2023 at 12:10 pm
Can you think about your favorite bag or your favorite lined jacket without a zipper? Of course, the answer is nope! There is no better tool than a zipper for an easy opening or closing. Zipper plays a vital role in our day-to-day life. Different types and colors of zippers are available for different purposes.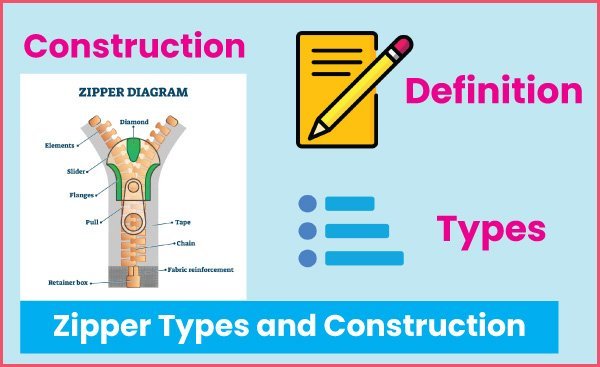 The discovery of the zipper was a breakthrough in fashion history. The fashion designers got an arbitrary path to create a new design. The invention of the zipper made life easier. Although slide fasteners, as they were then called, were introduced in 1912, it took about another 20 years before they started to be used for men's and women's clothing. Since then, zippers have become one of the most widely used closure methods the clothing industry utilizes. Apart from their practical purposes, zips are also used for decorative effects or as design features. 
Definition of Zipper
A zipper is a fastening or unfastening device that is used to open or close parts of clothing or other articles. It consists of a slider with a tab, facilitating the opening or closing of two interlocking teeth or coil connected to a fabric tape strip.
In making trousers, shirts and jackets, zip or zipper is an essential component used to open or close the garment's opening.
Anatomy of Zipper
Sometimes you become embarrassed about the different parts as you don't know all about it. So here is the anatomy of a zipper for your clarification. A regular zip has the following components in its construction. 
Tape
Zipper tape is the fabric band at the edge of the zipper which holds the coils or teeth and allows you to sew zips onto the articles. Most zip tapes are made from 100% polyester, which produces a solid and lightweight tape that does not shrink. Knitted zip tapes are soft and pliable and are mostly used for garments made from knitted fabrics. 
Chain
This element is also referred to as the teeth or scoops and is made from metal or plastic materials. Metal scoops are stamped out of brass or aluminium and then clamped onto the tape's beaded edge. Alternatively, continuous mono-filament coils made from nylon or polyester are woven directly into the tape edge. Zips with coiled chains are lighter and more resilient than those with metal chains.
Slider
The slider's function is to engage or disengage the opposite sides of the chain when moving up and down. The slider can be non-locking or can have a built-in or semi or fully-automatic locking action. An automatic locking slider is very dependable, although it is bulkier than the other two types.
Top and Bottom Stop
These prevent the loss of the slider caused by excessive up or downshift. For zips whose top ends are caught in the waistband seaming, the head stops are often dispensed with as the stitching serves as stops. The bottom stop prevents the zip from being opened to the lower end of the tape, thus jamming the slider.
Pull Tab
This enables the consumer to easily move the slider in the desired direction. Tabs are produced in a great variety of shapes and finishes and are frequently used for decorative purposes.
Types of Zipper
There are several types of zips available, enabling the designer to select a zip that is the most suitable for a particular garment or end-use. Some of the more commonly used zips are given here.
Regular Type
They are used in different lengths for skirts, dresses and other articles of clothing. This zip is usually inserted into a seam, and whilst the zip is concealed, the setting stitching shows on the outside of the garment. A half-pressure foot is used to set this zipping, enabling the operator to sew close to the chain.
Invisible Type
So-called because the zip and its setting stitching cannot be seen on the right side of the opening. The insertion of this zip requires a particular type of pressure foot and the setting operation itself is shorter and more accessible than for a regular zip.
Separated Type
This type of zipping is utilized when the garment can be worn either closed or fully opened. Some typical applications of separated zips are for parka jackets and zip-out linings.
Continuous Type
Used for men's trousers and all jeans categories, continuous zips with an average length of 50m are wound onto reels with the metal chain closed or separated into left-right sides. This permits each side of the zip to be set onto the respective panels before the crotch seam is closed. The slider and bottom stop are fitted utilizing small mechanical devices located in suitable positions along the production line.
Continuous metal zips are cheaper in use than those made to specific lengths. They can be cut to the exact measurements required, and there is no need to maintain regular stocks of different sizes or odds and ends bound to accumulate. 
You may also like: Popular Trims and Accessories of your Clothing