Last updated on September 29th, 2023 at 10:05 pm
We always care about the quality, style and brand value of our outer garments but what about our undergarments? It's wise to have quality undergarments than outer garments.
Underwear or undergarment or undies are those products which are worn next to skin under the other clothing. They have both functional and aesthetic properties. They increase confidence among men and women. During sports time they play a very important role.
Underwear comes in a variety of color and style. There are different types of men's and women's underwear. Brief, boxer, boxer brief etc. are known as men's underwear and hipster, tanga, thong etc. are known as women's underwear.
Men's Underwear
The undergarments which are worn by men are known as men's undergarments. Brief and boxer are the most commonly used undergarments by men. Most of the men choose one style for undergarments and settle on it for lifetime whatever the activity is. Some men find comfort and security in briefs and some are interested in freedom with boxers.
Briefs are ideal for all tight fittings but are old fashioned. Boxers are loose, airy and also ideal for sleeping. But boxers have tendency to bunch up underneath clothing and also not supportive for physical activities.
Quality, comfort and longevity of a men's undergarment depends on the raw materials used to make it. Various kinds of raw materials like cotton, cotton blends, linen, polyester, viscose, lycra etc. are used to make men's undergarment.
Cotton is the most popular raw material to make undergarments. Cotton is absorbent, breathable and available too. Most of the men look for cotton undergarments.
Women's Underwear
The underwear worn by the women next to skin beneath outer garments are called women's underwear. There may be various types of women's underwear but specifically we will discuss about panties. Panties are the legless undergarments worn by women and girls.
There are various types of panties available according to color and design. Thong, tanga, hipster, bikini, g-string, v-string, boy-short etc. are some common types of women's panties. A good quality panty seems like second skin and the wearer would feel that she is not wearing anything.
The main raw material of panty is also cotton due softness and breathability. Besides silk, polyester, nylon, viscose, lycra etc. are used as raw materials for making panties. Every woman or girl prefer how light-weight they are with the thin waist and leg elastic.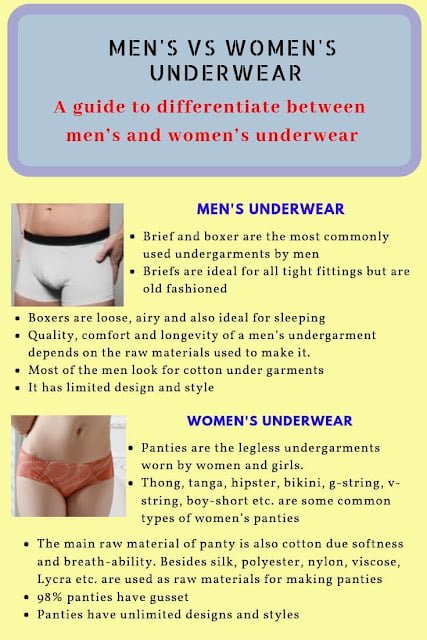 Importance of Wearing Underwear
In our day to day life, underwear plays a very important role. It increases the beauty and fitness. It has health benefits too. Now we will discuss about the importance of wearing underwear as below:
It gives sexy feel.
It keeps outerwear fresh and clean.
It provides comfort.
It protects us from being exposed.
It protects us from crotch rot.
It insulates our private parts from the elements.
It protects men's penis from denim chafing it.
It provides protection from extra movement of penis during walking, jogging or running.
It is very important to wear during women's periods to support sanitary napkins.
It gives confidence.
It protects genitals from getting stuck in pant zipper.
It helps to avoid skin infections and irritations.
Difference between Men's and Women's Underwear
Men's and women's underwear have a lot of differences on the basis of color, style and structure. Now we will dig out the differences as follow:
Conclusion
Both men's and women's undies are important for their functions though it seems that women's undies are more comfortable due to light weight, softness and breathability.
References:
Quora.com
gentlemansgazette.com