Hello, beautiful ladies! Today, we will discuss a unique clothing item close to your heart – Bras! Isn't it? More or less, all of you have experienced a struggle to find the perfect fit. You faced the struggle but you didn't think about the importance of a perfect fit. In this article we will discuss all the matters. Go through this article to get all the ideas.
What is a Bra?
A bra is an integral piece of inner item that provides support, shape, and comfort to your beautiful breasts. These come is various styles like balconettes, pushup, racerback, sports, maternity, padded, front closure, Plunge etc. The reason behind so many styles and colors are that you can find the perfect one. Cotton and spandex blend give you comfort. Nylon and polyester provide you with durability and enhance aesthetic appeal.
How to Find the Right Bra Size
The most important part is to find a fit size for you. First, determine your bra size. All of you are familiar with sizes like A, B, C or D. So you will go to the outlets and buy any one of these sizes. So simple! But it's not. It involves two measurements. The first one is the band size, and the second one is the cup size.
To measure the band size, wrap a measurement tape firmly around your ribcage just below your breasts. Then, make a round figure considering the nearest number. This way, you will get your band size.
After that, you need to measure your cup size. So, you have to measure the fullest part of your breasts. It's so important to remember that, the tape is not too tight or too loose. Finally, subtract your band size from this measure to find your cup size.
Different Types of Bras for Different Body Types
It's time to pick a perfect style after determining the correct size. There are hundreds of styles available. But the top 28 types are selected for you in this article.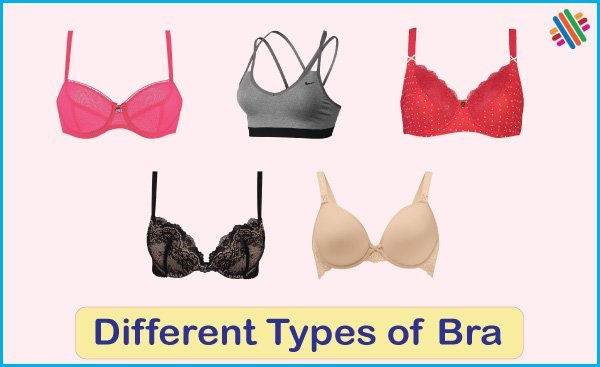 Some of us have a small height, some are medium, and some are tall. Also, some are thin, and some are fatty. So, our bodies have different shapes and sizes. So, the bras are designed to suit various body types and outfit requirements. Here are some popular types of bras and their key features:
T-shirt: This one is seamless. It's specially designed to be invisible under tight-fitting clothes.
Push-up: Some women have small-sized breasts, but they want to be more attractive. Then, the push-up bra is a perfect choice.
Sports: It's a well-structured bra with stretchy materials. It provides maximum support and minimizes movement during exercise. So, health-conscious and sports lovers can pick this one.
Strapless: This is ideal for shoulder-bearing outfits and features no shoulder straps.
Balconette: This one enhances your natural shape and provides a lifted appearance.
Picking up the correct bra style is as essential as finding the perfect size. So, trail some styles and sizes randomly. According to your body shape, pick which ones work best for you.
Choosing the Right Bra for Different Occasions
Now you know your ideal size. You've also learned about the perfect style. Now it's time to consider the occasion you need a bra. Different occasions require different outfits. And different outfits require different bras. So, it would be best to have various options in your lingerie drawer. Here are some guidelines for choosing the right one for different occasions:
Everyday bras: These are for your day-to-day activities. These provide comfort and support without sacrificing style.
Special occasion bras: When it's a special occasion, you try to dress up something special. So opt for a bra that offers a little more glamour. These may have laces or embellishments.
Workout bras: These are specially designed to minimize bounce and discomfort. So, if you are going for a run or exercising in the gym, this one is a great option.
Strapless bras: Sometimes, you try off-shoulder or strapless outfits. So, these outfits require strapless bras. In this case, you must choose a well-fitting bra so that it stays in place and provides enough support.
Tips for Maintenance and Care
It's not just about wearing and keeping into your wardrobe or just through it. You need to ensure that your innerwear lasts longer and continue to provide support. So it's essential to take care of the items. Here are some tips for bra maintenance and care: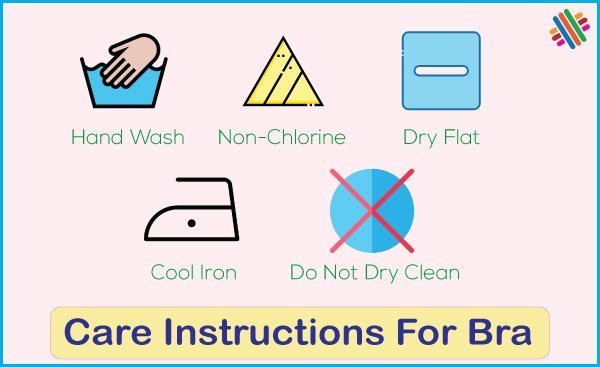 Hand wash: Avoid machine washing as it can damage the delicate fabrics and metal wire of your bras.
Use mild detergent: Harsh detergents can cause damage to the elastic of your bras. So, choose a liquid, lingerie-specific detergent like Persil.
Non-Chlorine Bleach: Use only non-chlorine when needed.
Dry them flat: Avoid hanging your bras to dry, as this can stretch them out. Instead, lay them flat on a towel or drying rack.
Cool Iron: Cool Iron if needed. Do not iron on decoration.
Dry Clean: Do not dry clean your bra. It is not recommended.
Rotation: Wearing the same bra every day can cause it to wear out quickly. Rotate between different bras to extend their lifespan.
I hope your items will stay in excellent condition if you follow the above instructions. Instead, you may also follow the care label attached with the product. Hope that, it will continue to provide the support and comfort for you.
15 Benefits of Wearing a Well-Fitting Bra
Wearing the right bra is essential for many reasons. But the top 15 are stated below for your consideration:
Proper Breast Support
A well-fitted item offers the right support and stability. It prevents excessive movement of the breasts. It is especially essential during high-impact activities like exercising and running. It helps to reduce strain on the ligaments and tissues. It thus contributes to the overall health of the breasts.
Preventing Sagging and Discomfort
The right one can help minimize the effects of gravity on your breasts. Thus, it reduces the risk of sagging and discomfort you feel. Adequate support also promotes better blood circulation. Therefore, it prevents discomfort caused by excessive pressure on the breasts.
Reduce Pain
Furthermore, wearing the right one can significantly reduce back and shoulder pain.
Nice Posture
The item that fits appropriately can align the shoulders. This way, it promotes better posture. It helps to distribute the weight of the breasts evenly. It also prevents slouching and strain on the back muscles.
Reduce Skin Irritation and Chafing
Skin irritation and chafing occur due to friction between the bra and the skin. So wearing the right one can minimize the problem.
Avoiding Common Skin Problems
Ill-fitting items, especially those with rough seams or too-tight bands, can cause skin irritation, redness, and rashes. By wearing the right ones and choosing suitable materials like cotton, these common problems can be avoided.
Boost self-confidence
A well-fitted bra can significantly boost self-confidence. It is essential for happiness and satisfaction.
Security
A bra that provides proper support and comfort makes you feel secure. This sense improves your self-image. It also helps us to think more positively.
Reduce Stress
In addition, wearing the right one can reduce stress. Ultimately improving daily comfort and well-being.
Reduce Cost
Choosing to wear well-fitted items can ultimately reduce long-term costs. Poor-quality bras require frequent replacement.
Reduce Waste
The items that do not fit properly or are of poor quality might be discarded more frequently. Thus, it increases the environmental waste. By wearing well-fitted bras with better longevity, you can minimize the contribution to environmental destruction.
Making the Environment Eco-friendly
Opting for high-quality items with a better fit and construction indicates a conscious effort to reduce environmental impact. By choosing products with sustainable materials like organic cotton and longer lifespans, you can contribute to an eco-friendlier approach to lingerie consumption.
Appearance
A well-fitting item can enhance the way your clothing fits and looks. It can provide a smoother silhouette, reduce bulges, and prevent nipples from showing through clothing.
Enhance Natural Shape
Wearing the right one is not just about aesthetic appeal. It's about prioritizing your fitness. A well-fitted item can help you to enhance your natural shape.
Support Larger Cup Sizes
Some of you have larger cup sizes. Then, it is essential to have the perfect size. It will provide you with all-day-long comfort and support.
Conclusion
Finding the perfect bra size and style may require trial and error. But the effort is necessary for you. Remember, confidence starts from your mind and well dress up. A well-fitting bra is the foundation for feeling fantastic every day. So, investing in the right bra will be a great option.
You may also like: An overview of Pantyhose