Last updated on August 25th, 2023 at 07:36 pm
Definition of Lining
Garments lining have functional and consumer appeal objectives and this section will examine the principles involved, starting with the material itself.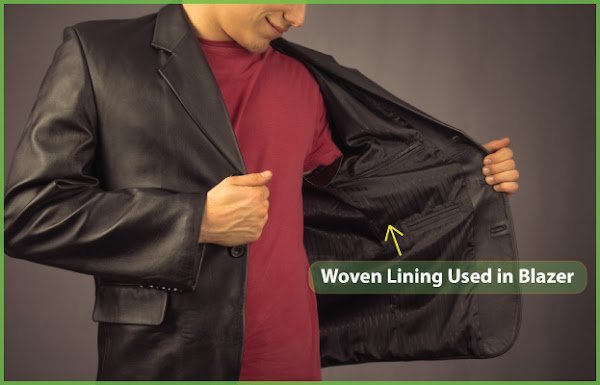 Linings are generally a functional part of a garment, an accessory. They are available as warp knits but they are predominately woven are made from polyester, polyamide, viscose for use where a slippery material is required and from cotton and wool mixtures where decoration or warm handle required. Lining material can be used for small parts – pockets and for complete garments, either fully bagged out. It can be used in coat, jacket and raincoats, body and sleeve, for ladies items such as blouse, frock etc.
Objects of Lining
To maintain the shape of garments.
To improve hang and comfort by allowing it to slide over other garments.
To add insulation.
To cover the inside of a garment of complicated construction to make it neat.
They are selected to match the garments to be unobtrusive.
To add the design of garments.
Difference Between Lining and Interlining
| | |
| --- | --- |
| Lining | Interlining |
| It is used inside of garments or garment components. | It is used between two layers of fabric. |
| It is attached by sewing. | It is attached by sewing or applying heat and pressure. |
| Finishing is not necessary. | Sometimes finishing is necessary to improve its properties. E.g., shrink resist finish or crease resist finish. |
| No coating is used. | Coating is used. |
| It is used in coat, rain coat, over coat, pocket flap, kids garments, jacket etc. | It is mainly used in collar, cuff, and front of jacket, waist band, and front part of coat. |
| No classification. | It is two types: Sewn interlining and Fusible interlining. |
| It is used to increase the comfort of garment. | It is used to support, reinforce and control areas of garments and to retain actual shape. |
Fibre Types and Properties of Lining
Today natural fibres are rarely used to construct linings due to high cost and some difficulties with imparting a suitable finish to fabrics. Synthetic fibres are now the most widely accepted for garment linings, and the following describes the main properties of those which have the most widespread use in the clothing industry.
Viscose
Viscose is made from cellulose which is derived from wood pulp, and like most other synthetic fibres, it goes through a number of chemical and mechanical processes until the filaments are ready for spinning into yarns. Linings constructed from viscose fibres have strength, luster, softness and affinity for dyes.
Rayon
Originally rayon was produced as a cheap substitute for silk and the fibres were known as 'artificial silk'. Rayon linings have similar properties to those of viscose but are somewhat weaker.
Polyamide
Derived from nylon, polyamide produces linings with excellent tensile strength and a relatively high degree of elasticity, and it takes dye-stuffs very well. A drawback with polyamide linings is that some solvents used for dry cleaning can have a detrimental effect on the fabric.
Polyester
Polyester fibres are closely related to polyamides and linings made from polyester fibres have many similar properties. The first polyester linings had a tendency to soften when pressed with a hot iron, but fibres with a high melting point have since been developed and these withstand regular pressing temperatures.
Other than some polyamide linings, none of the linings made from these synthetic fibres are harmed by dry cleaning and they can be safely pressed up to a temperature of 170o C. Although some warp knitted linings are available, weaving is the predominant method of construction and three of the basic weaves are shown in the fig.
Function and Consumer Appeal of Lining
Functions of Lining
Garment linings have a number of functional purposes besides their main one which is to cover all or part of the interior surface of a garment. These other functions include:
As linings have a sheer surface, putting on or taking off the garment is a smooth and simple action.
Linings help to preserve the shape of skirts and trousers made from loosely constructed or stretchy materials.
Garments such as dresses, skirts and trousers, made from diaphanous materials, sometimes need 'cover up' areas. Linings do this job well.
Some types of outerwear materials have a tendency to cling to the body and this can spoil the silhouette of the garment. A layer of lining between the body of the wearer and the top cloth will usually eliminate this problem.
Linings are often used to assist in the formation of design features on garments. For example, the difference in lengths between the body shell and the body lining creates the blouson effect. The same principle is also used to create an 'overhang' look on puffed sleeves.
Consumer Appeal of Lining
An important factor of consumer appeal is to present a garment whose inside has an attractive appearance. The surface and luster properties of the lining have a considerable influence on this, and those properties for linings most widely used are:
Taffeta
A crisp fabric woven with a faint warp pattern which produces a shiny surface. These linings are generally piece-dyed which helps to soften them and make them able to withstand normal washing and dry-cleaning process.
Crepe
Made from specially processed yarns, mostly viscose acetate, the finished surface of this lining has a minute and uniformly crinkled appearance.
Satin (sateen)
This lining is characterized by a smooth and highly lustrous surface and a dull back. Satin is the name of a weave pattern and all-cotton fabrics that were once constructed with this weave pattern were called sateen.
Color also plays an important role and linings with a woven, printed or embossed pattern can give an extra fillip to a garment. Some large companies incorporate their logo in the weave pattern of their linings.
The Selection of Linings
This is not a simple matter because the properties of different linings overlap to a considerable extent and usually there is little difference in their prices. Apart from considering price, the designer should always work with reputable suppliers who can supply particle proof of the specific properties of their linings. Failing that, a sample length should be requested for trying out in the factory. Very cheap linings should be avoided if possible because if they do not cost much it is likely they are not much of a lining either.
Making up and Testing of Linings
Lining materials fray easily and should be assembled on a four-thread safety stitch machine. Although thread consumption is greater than on a regular sewing machine, the seam produced is superior.
Irrespective of whether linings are pressed or not before setting, all vertical seam inlays should be pressed to one side. Apart from making the pressers work a little easier when finishing the garment, this helps to prevent 'seam-grin' which could happen if the seam is left to find its own lay direction, or even worse, if the seam is pressed open.
Where the body linings are pressed as one unit with the cloth, the shrinkage factors of the cloth and linings should be checked to verify that the two materials have compatible shrinkage in the width and the length. If the discrepancy is substantial, it would be worth substituting a different lining because working with linings which have excessive shrinkage could lead to complications during production and finishing.
The most practical test for a lined wash and wear garment is to wash a garment, using the correct program, in a domestic washing machine and check the outcome after the garment has been dried and pressed.
Although pinking is sometimes used to finish the hems of skirt seat linings and knee-length trouser linings, these hems will eventually start to fray after moderate wear and cleaning. Consideration should be given to finishing these linings with a double-turn hem in order to prevent fraying and consumer dissatisfaction.
Fleece and quilted linings should be assembled with a five-thread safety stitch machine having a wide bight. The seam produced is stronger and has more extensibility than with a four-thread machine – two properties essential for this types of linings.
Lining Component Patterns
Grain line markings are as necessary for linings as they are for top cloth and fusible. They should match the grain lines of the relative cloth components, although this can be ignored for components such as sleeve linings and linings for skirts and trousers, which are sometimes cut across the piece instead of in the length.
Linings rarely have a pile direction and the up and down arrangement of the components for one size is a standard procedure in the industry. However, it is always safer to check this, especially with sateen, patterned or brush finished linings. If the lining does have a definite direction, this has to be indicated on the pattern.
The number of nips on lining patterns should be kept to the minimum because every nip is a potential weak spot on the seams. In addition, if the nips fray out before sewing, the assembly operator will have to skirt round the frayed areas by sewing, wider seams than those called for.
Despite the fact that linings are sometimes referred to as secondary material, they have an important functional and consumer appeal role. Therefore the selection, patterns, cuttings and making-up of linings should receive the same levels of treatment as those accorded to the top cloth.
You may also like: What is Fusible Interlining | Construction of Fusible Interlining