Last updated on September 8th, 2023 at 12:33 am
Definition of Interlining
Interlining is one kind of accessories used between two fabric layers in garments to support, reinforce, and control areas of garments and retain actual shape. It may be applied to base fabric by sewing and bonding.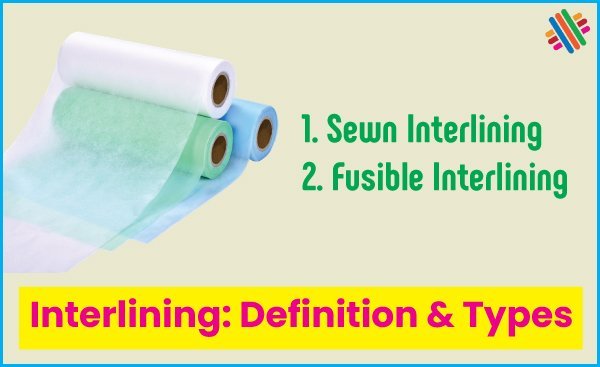 The fabrics used as interlining are made of cotton, nylon, polyester, wool, and viscose. Sometimes finishing is necessary to improve its properties, i.e., shrinkage resists finish, crease resists finish.
You May Like also: 35 Types of popular Trims and Accessories for your Clothing
Types of Interlining
There are two types of interlining as follows
Sewn interlining or non-fusible interlining and
Fusible interlining
Sewn Interlining
The interlining can be fixed with the garments component by sewing, which is termed as sewn interlining. For the preparation of stitched interlining, a piece of fabric is treated with starch and allowed to dry, and finally sewn with the main fabric.
Advantages
To make flame retardant garments.
Simple and easy technique.
No elaborate machine is required.
Possible to use in steel or re-rolling or highly heated industry.
Disadvantages
Quality is not good.
Not suitable for large production.
Not available in the market, so we need to prepare it.
More time required.
High workload and labor cost.
Fusible Interlining
The interlining, which could be fixed with the garment components by applying heat and pressure for a specific time, is called fusible interlining.
For fusing recommended temperature is 1650 to 1700 C. Fusing time is 2 to 20 seconds, and pressure depends on the fusing technique.
Advantages
Appearance, shape, and quality are the same as others.
Available in the market.
Cheap.
Fusing time is less.
Labor cost is low.
Production is high.
Overall performance is better than non-fusible interlining.
Easy technique and no need of especially skilled operator.
Fusible interlining is used as a work aid.
Disadvantages
High temperature is required.
Special care is needed during attaching interlining.
You may also like: An Overview of Garments Lining [A to Z]