Last updated on September 24th, 2023 at 12:26 am
Introduction
The machine which produces stitch by interlacing of threads is called lock stitch machine. This machine produces durables and is very popular in garment industry.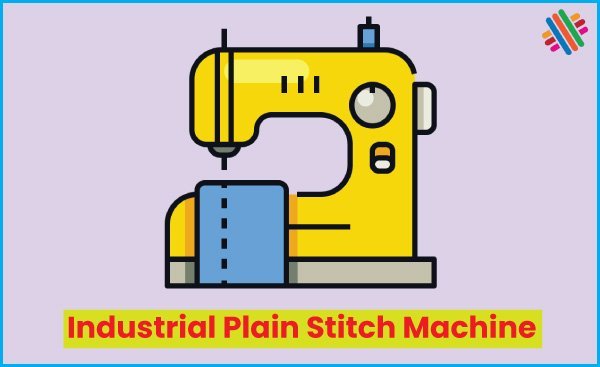 Features
Stitch is produced by interlocking.
Bobbin and bobbin case are present.
Threads are supplied from cone.
It has only one needle.
It has different type of feed mechanism.
Adjustment Point and Main Parts
Thread
Tensioner
Needle
Stitch density
Bobbin
Pressure feed
Needle bar
Feed dog
Pressure feed guide
Needle plate or throught plate
Spindle
Bobbin case
Bobbin
Rotary hook
Back stitch level
Stitch density regulator
Bobbin winding
Paddle
Pressure feed 
Pressure feed lever
Side plate
M/C Pulley
Needle

Needle butt  
Needle shank  
Needle eye  
Needle scarf  
Needle tip
Function
For sewing light or heavy fabric i. e. all kinds of plain sewing.
Maintenance
Maintenance can be of different types. But following types are important in this aspect:
Routine Maintenance
Lubrication and regular inspection is the constituent of routine maintenance. Lubrication ensures long life and safe working of all equipment's. Inspection tries to detect faults in equipment so that repairs and replacements may be undertaken at the right time.
Scheduled Maintenance
This type of maintenance provides for inspection, overhaul lubrication and servicing of the machine at predetermined dates. Overhauling of the machine, cleaning of all components is normally done in this manner. It involves opening of the machine into its smallest components and carry out lubrication.   
Setting
The setting of the lock stitch machine is of imminence importance. Following Setting points needs to be ensured before running the machine.
Stitch density controller: It controls the no of stitches per inch. Before starting the machine, stitches per inch is determined by rotating the knob and fixing it at the desired position.
Motor: Motor rpm decides the speed of the machine,. The rpm is controlled by tightening or loosing the belt over machine and motor pulley.
Needle: Needle undergoes accurate setting to ensure proper sewing. Needle is attached by means of a screw which needs to be tightened enough to produce easy sewing. Again the needle size is also important from fabric point of view.
Pressure foot: The type of pressure foot to be used and its proper setting is important, which is ensured by proper attachment with the moor through machine pulley.
Feed dog: It is often found that due to random working the feed dog is subjected to be loose which may cause accident also. Thus the dog must be set properly with the screw.  
Replacement
The replacement is revealed when the retention of equipment is no more remains an economical proposition. A replacement is affected when the equipment is subjected to compete breakage which cannot be used even after repair or it has crossed its expire date. Needle, pressure foot, feed dog etc. undergo frequent replacement.
Precaution
Following precaution must be followed when repair, setting maintenance or replacement is carried out in the lock stitch machine.
All repair and maintenance work must be carried out by switching off the machine.
Right tools should be used at right place.
Skilled personnel should be involved for specialized job.
Careful handling of all the components is necessary.
The components should not be too tight or too lose.  
Conclusion
It can also be called plain stitch machine. Here different sizes of needles can be used as per requirements. This machine is mostly used in our garments industries.
You may also like: An Overview of Different Types of Sewing Thread