Last updated on November 28th, 2023 at 11:29 pm
T-Shirts are trendy now a day's among all classes of people. These are very elegant, classic, durable and easy to wear. Generally, these are made of 100% cotton but can be found in polyester or a polyester-cotton blend. It is worn by both men and women or boys and girls. Morally, it is favorite listed clothing for people of all age grades.
Its fabric is manufactured by the knitting action of the circular knitting machine. The T-shirt has short sleeves and no collar, weight is light, close-fitting and with a round neckline. It can be worn as an undershirt or outer garment.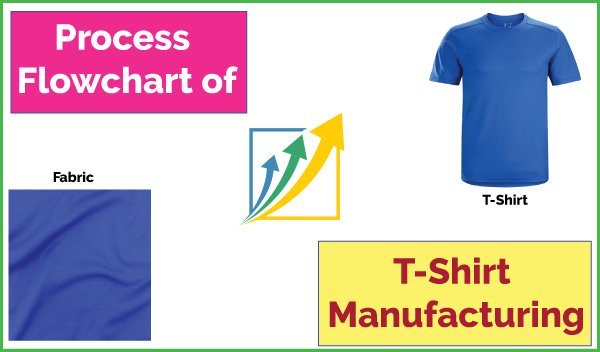 Different patterns and designs are available. It can be manufactured from dyed knit fabric or dyed yarn. In the case of dyed knit fabric, firstly, the raw fabric is produced from undyed yarn, and after manufacturing the fabric, the whole fabric roll is dyed in the knit dyeing machine. Then the T-shirt is made from the dyed fabric. And in case of dyed yarn, the fabric is manufactured with the defined pattern with dyed yarn, and then the T-shirt is made.
As we wear it in our daily life, our curious mind may want to know how a T-Shirt is manufactured. Now I'll describe the sequence of T-Shirt manufacturing in brief –
Process Flowchart of Making a T-shirt
Design and Development
↓
Fabric Sourcing
↓
Fabric Inspection
↓
Cutting
↓
Sorting and Bundling
↓
Sewing
↓
Labels, Tags, and Trims Attaching
↓
Quality Control
↓
Printing or Embroidery
↓
Finishing
↓
Final Inspection
↓
Folding and Packing
↓
Storage or Shipping
Design and Development
The merchandiser receives a design concept from the buyer or creates a new design in-house. The design may include graphic designs, logos, patterns, or any other artwork to be printed or embroidered on the t-shirts. Then the merchandiser makes the technical drawings and specifications when the buyer finalizes the design concept. These include measurements, color patterns, placement of artwork, and any other specific requirements. The merchandiser then produces the sample prototypes to visualize the design and ensure it meets the desired specifications. Finally, the prototypes are presented to the buyer for approval before proceeding to the next stage.
Fabric Sourcing
The merchandiser sources the fabric from suppliers or manufacturers based on desired characteristics such as fiber type, GSM, color, and texture. He considers factors like durability, comfort, and cost during fabric selection. Once the fabric is selected, the merchandiser places an order with the supplier. Fabric rolls are received and stored in large quantities in the manufacturing facility for production.
Fabric Inspection
To find defects, flaws, or inconsistencies in color or texture, the inspector carefully inspects each fabric roll. If any defective fabric is found is separated and discarded. He ensures that only desired quality fabric passes in the production process. This helps to maintain the quality standards of the t-shirts.
Cutting
All the fabric rolls are laid on the cutting table, and multiple layers are kept one above the other. Pattern templates are placed on top of the fabric layers. Then the fabric layers are cut along the outlines of the pattern templates. Automated or manually driven cutting machines are used to cut the fabric layers.
Sorting and Bundling
The cut fabric pieces are sorted and bundled based on their patterns, sizes, colors, and specifications. The bundles are labeled with relevant information such as size, color, order number, or any other identification required for easy identification and tracking.
Sewing
The fabric pieces are then fed into sewing machines, where proficient operators stitch them together according to the design and pattern. Sewing machines are set up with specific stitching techniques and thread colors. This step includes shoulder joining, top shoulder stitching, rib or neck joining with the body, top neck stitching, sleeve hemming, sleeve joining with the body, bottom hemming, and other required components.
Labels, Tags, and Trims Attaching
Labels with size information, brand logos, care instructions, fiber content, and other details are attached to the t-shirts. Labels and tags can be sewn onto the garment using a simple sewing machine, typically a straight or zigzag stitch. A tag or label may be folded in half and inserted between the garment layers before sewing, ensuring it is securely attached. Then different types of trims, such as buttons, zippers, patches, appliques, or other decorative elements, are added.
Quality Control
The online quality controller inspects the sewn t-shirts for any stitching errors, loose threads, or defects. If any issue is found, it is repaired to ensure the t-shirts meet the required quality standards. Also, random quality checking during production is a part of the quality control process.
Printing or Embroidery
The screens or patterns are prepared if the t-shirts require printing or embroidery. Hand or computerized screen-printing techniques are used for printing. Typically, computerized embroidery machines are used for embroidery.
Alongside traditional printing methods, print on demand services are increasingly popular for creating custom designs with flexibility and efficiency.
Finishing
If any extra thread or fabric remains after sewing and printing, it is carefully trimmed to give the t-shirts a clean and finished appearance. Steam or normal ironing is done to provide the t-shirts with a neat and professional look.
Final Inspection
A final inspection is done to ensure the absolute product quality. Any necessary corrections or touch-ups are made at this stage.
Folding and Packing
As per buyer requirements, the finished t-shirts are folded neatly according. Compact and presentable packaging is done for the consumers. The packaging materials include polybags, hangers, cardboard boxes, or other packaging materials suitable for shipping and storage.
Storage or Shipping
The t-shirts are packed before the shipment date and stored in a warehouse for inventory management. And then, necessary documentation, such as invoices, packing lists, shipping labels, etc., are prepared. The packaged t-shirts are then transported to their intended destinations, either to retail stores or using appropriate shipping methods under the supervision of a merchandiser.