Introduction
Clothing is the first concern we consider in our everyday life for fashion and style. We become confused about the dress to wear when we search for our wardrobe. Our dress is the primary tool to express ourselves and our culture.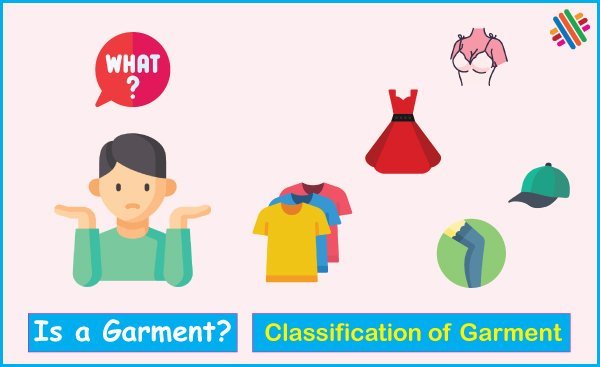 The concept of a garment is related to the term clothing. So, we can say a garment is a piece of clothing we wear on our body daily. It can be readymade or tailored. In this article, we will know the garment definition and classification.
Definition
A garment is a piece of clothing worn on our body, like t-shirt, pant, bra, stocking, etc. It protects us from external elements and bad weather. It has both functional and aesthetic properties.
Natural or synthetic, both fibres are used to make garments. It depends on the purpose and style. If the garment is made for the summer season, then cotton or linen is preferable. Again, if the garment is made for winter, then wool is preferable.
There are different types of apparel used for various purposes. For nursing purposes, the nursing apron is used. For school and colleges, their uniform is used. For defence forces, a special uniform is a must. The person who works in a workshop uses utilitywear. So, clothing has versatile purposes and end uses.
Classification
Garments can be classified based on various factors, like types of raw materials, seasons, purpose, manufacturing process, material sources, and gender. Let's dig into each classification in detail: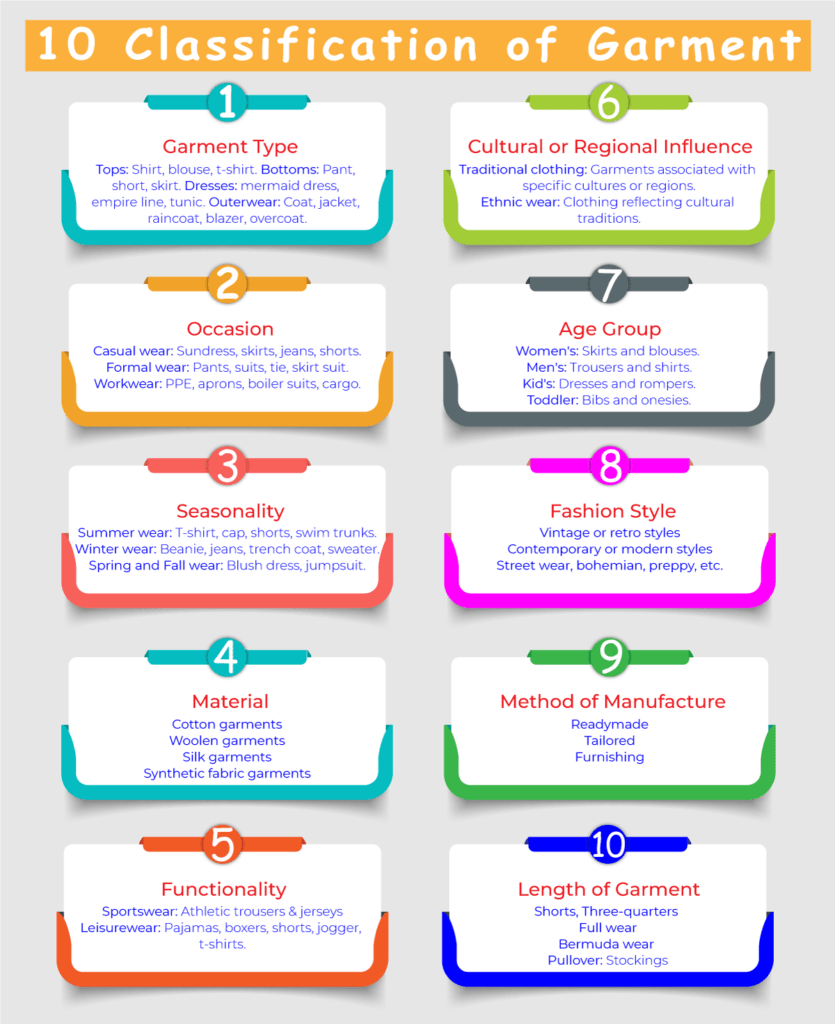 Type of Garment
Tops: Shirt, blouse, t-shirt, sweater, jacket, tank top, cardigan, blazer, bustier, camisole, cape, corset, etc.
Bottoms: Pant, short, skirt, trouser, jeans, Jumpsuit, legging, etc.
Dresses: It is a one-piece garment that cover both the upper and lower body. Aline, tent, yoke, empire line, tunic, princess seam, shirt waist, wrap around, baby doll, mermaid dress, etc.
Outerwear: Coat, jacket, raincoat, blazer, overcoat, pea coat, gown, hoodie, etc.
Activewear: Active wear garment is made for regular wear and physical activities. It provides comfort and flexibility. Sportswear, gym clothes, athletic gear, sports bra, tights, jogger, tank tops, etc.
Innerwear: Are designed for intimate and personal use. Undergarments like bras, underwear, lingerie, stocking, socks, etc.
Occasion
Casual wear: Everyday clothing for informal settings. Sundress, skirts, jeans, shorts, polo shirt, turtleneck, etc.
Formal wear: Attire for formal occasions, such as suits and evening gowns. Pants, suits, tie, skirt suit or suit dress.
Workwear: Clothes suitable for the workplace. These are designed for specific jobs or professions. PPE, aprons, boiler suits, cargo pants, etc.
Seasonality
Summer wear: Light and breathable fabrics are used to make summer wear. T-shirt, cap, shorts, swim trunks, bikini, One-piece bathing suit, tank top, singlet, etc.
Winter wear: Heavy and warm fabrics are used to make winter wear. Beanie, jeans, trench coat, sweater, jacket, scarf, long coat, cardigan, sock, etc.
Spring and Fall wear: Transitional clothing for milder temperatures. Blush dress, sweater dress, jumpsuit, etc.
Material
Cotton garments
Woolen garments
Silk garments
Synthetic fabric garments
Functionality
Sportswear: Sportswear like athletic trousers and jerseys, are designed for sports and physical activities. These provide comfort and flexibility.
Leisurewear: Comfortable clothing for relaxation and casual activities. Pajamas, boxers, shorts, jogger, t-shirts are the examples of leisurewear.
Cultural or Regional Influence
Traditional clothing: Garments associated with specific cultures or regions.
Ethnic wear: Clothing reflecting cultural traditions.
Age Group
Women's: Women's garments, like skirts and blouses, are specifically designed for female individuals.
Men's: Men's garments, like trousers and shirts, are designed for male individuals.
Kid's: Kid's garments, like dresses and rompers, are designed for young children.
Toddler: Toddler garments, like bibs and onesies, are designed for infants and toddlers.
Fashion & Style
Vintage or retro styles
Contemporary or modern styles
Street wear, bohemian, preppy, etc.
Method of Manufacture
Readymade: Readymade garments are mass-produced and readily available in standard sizes, suitable for immediate use.
Tailored: Tailored garments are custom-made according to individual measurements. These offer a precise and personalized fit.
Furnishing: Furnishing garments are automated, machine-produced items used for home decor, upholstery, and other non-apparel applications.
Length of Garment
Shorts: Shorts are shorter-length garments. These are typically worn as bottoms, providing freedom of movement and comfort.
Three-quarters: Three-quarter-length garments, like cargo pants, offer a versatile option between shorts and full-length pants.
Full wear: Full-length garments, such as pants, provide maximum coverage and protection for the legs.
Bermuda wear: Bermuda-length garments, like thigh-length shorts. These offer a stylish and modest option for warm weather.
Pullover: Pullover garments, like stockings. These are worn to cover the legs and provide warmth.
The Importance of Garment Design
Garment design ensures a garment's comfort, functionality, and aesthetic appeal. It incorporates various design factors, such as colour, texture, space, lines, pattern silhouette, shape, proportion, balance, emphasis, rhythm, and harmony. Each design element contributes to the garment's visual perception and psychological comfort.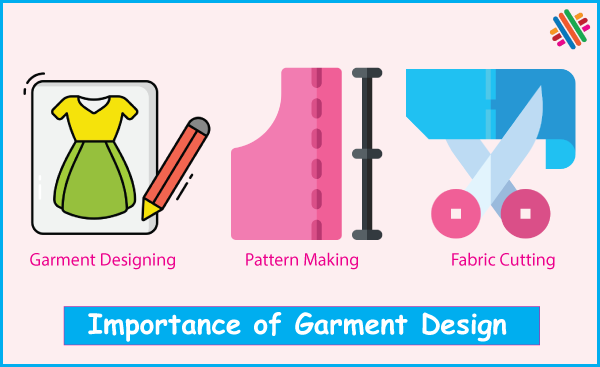 Illusion principles can be applied to flatter the wearer's figure in garment design. For example, the Muller-Lyer illusion, which creates an illusion of length, can be used to pattern design to elongate or shorten the perceived figure. In case of horizontal-vertical illusion, a vertical line appears longer than a horizontal line of the same length. It can create a lengthening effect in garment design. These design techniques help enhance the visual appeal and fit of the garment.
Moreover, garment design also influences the physiological comfort of fabrics and garments. Factors such as the amount of body surface area covered, the fit of the garment, wind penetration, and ventilation through openings affect moisture transfer and thermal insulation. Garment design can impact the micro-climate formed between the garment and the body, thereby influencing the clothing's moisture vapour resistance and thermal properties.
Conclusion
Hope that, through this article, you've learned what a garment is, its classification and the importance of garment design.