Last updated on September 23rd, 2023 at 10:52 am
Fancy yarn is a yarn that is used to enhance the beauty of apparel. Besides, it has functional properties too. Therefore, it is used in trims, clothing items, carpets, furnishing fabrics, and knitting industries. In this article we will learn about definition, properties and end uses of fancy yarn.
Definition of Fancy Yarn
"Fancy yarns" are those in which some deliberate decorative discontinuity or interruption is introduced, of either color or shape or both color and shape. This discontinuity is integrated to produce an enhanced aesthetic effect. In discussing fancy impact in the fabric, we must also include metallic yarn and yarns with a metallic formation. Therefore, we have included a short section about these yarns discussing fancy yarn structure. However, by strict terms of the definition, metallic may not be "fancy" since they may not indicate any visible discontinuity of either color or formation.
You may also like: A Guide to Denim, Drapery and Upholstery Yarns
Properties of Fancy Yarn
Fancy yarns usually have a base or core yarn which is a traditional plain yarn, and this yarn is combined with the consequence yarn.
The consequence yarn can be held in place with a binding yarn.
Fancy yarn can be made from staple or filament fibres.
They are deliberately produced to have a malformed or irregular structure.
There are many types of fancy, novelty, and decorative yarns. They can be produced in many ways:

Different colored fibre can be blended together then spun as one yarn.
Color can be applied by printing or dyeing pattern onto the yarn.
Sports of colored fibre can be twisted in with base yarn.
Two or more threads of different, softness, thickness, weight, color, or fibre content can be twisted  together.
Raised textured can be introduced by controlling the amount and direction of the twist.

Fancy yarns can be natural or man-made fibre or a combination of both fibres.
Uses of Fancy Yarn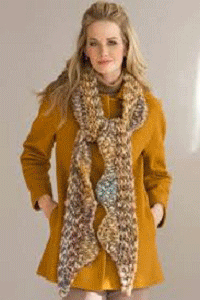 Fancy yarns are used in suiting, shirting, clothing material, upholstery, furnishing fabric & woolen tweeds.
They are also used in the knitting industry.
These are used for beauty & appeal enhancement of clothing items.
Using fancy yarns, the end product gets a boost in its visual appeal, which improves its sales realization.
These yarns can be used in power looms, handlooms, flat knitting, and all type of circular knitting machines.
These fancy yarns are synthesized on state-of-the-art hollowed fancy machines.
Also used to make carpets.
These are used to make different types of trims like lace fabric, twill tapes, ribbons etc.
These are used to make scarves, fancy hats, etc.
You may also like: Fibre Vs Yarn Vs Fabric: Find the Differences