Last updated on September 23rd, 2023 at 11:49 pm
Introduction
Static electricity can cause many processing problems for textile materials, especially those made form hydrophobic synthetic fibres. In most dry textile processes, fibres and fabrics move at high speeds over various surfaces which can generate electrostatic charging from frictional forces. This electrical charge can cause fibres and yarns to repel each other, leading to ballooning.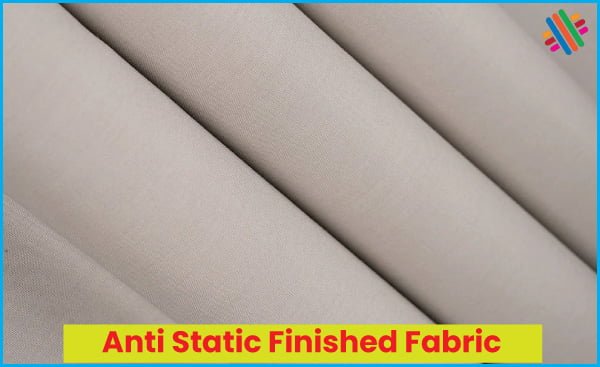 Fabrics and non-woven are also affected by static charges, causing materials handling problems. Consumers are well aware of the clinging of garments and the small electrical shocks caused by walking on carpets in low humidity conditions. Computers and other electronic equipment can be damaged by static discharges.
Definition
All synthetic fibres are treated with a finish very shortly after their exit from the spinnerets. This 'spin finish' contains lubricating oils and other components, including antistatic agents. The high speeds of modern fibre processing would not be possible without these finishes. Chemical processing aids in yarn making, knitting, weaving, and non-woven manufacturing and contains antistatic agents. Having accomplished their purpose, these processing aids are usually removed during fabric preparation. Non-durable antistatics are also applied to technical textiles that are neither washed nor shampooed, for example, textile filters, conveyor belts, transport bands, and driving cords.
Tribo Electro Series
Tribo electrification is the term used for electrical charges generated by frictional forces. Fibres can be ordered in a 'tribo electric series' such that, each fibre type becomes positively charged when rubbed with fibres below it in the series:
Positive end of series
Glass
Wool
Nylon-6
Nylon-6,6
Rayon
Cotton
Acetate
Hemp
Silk
Polyester
Acrylic, Polypropylene
PTFE
Negative end of series
Application
Although antistatic finishes applied after dyeing or printing is more common with hydrophobic fibres, fabrics made from cotton, rayon and wool may also be antistatic treated depending on the intended use. The textile products that are treated with antistatic finishes includes:    
Carpets for computer room.
Upholstery fabrics and airbags for automobiles.
Conveyor belts.
Filtration fabrics.
Airmail bags, parachutes.
Fabrics for hospital operating rooms and
Protective clothing for work with flammable gases, liquids and powdered solids.
Conductive fibres
Several methods have produced electrically conductive fibres – dispersing carbon particles or other antistatic agents in polymer melts before extrusion, depositing carbon or metallic (for example nano-sliver) coatings onto fibre surfaces (for example, Ni, CuS), incorporating hydrophilic co-monomers, and by fabricating fibres from stainless steel, aluminum or other metals. Although excellent durable control of static electricity is achieved by combining these fibres into fabrics during spinning, knitting, or weaving, these conductive fibres are always black or metallic in appearance. As a result, they can be easily seen in most textiles, even at low use levels (mostly .2 to 2% wt/wt). This drawback limits conductive fibres to industrial fabrics and specialized apparel and carpeting.
You may also like: An Overview of Water Resistant and Wind Resistant Clothing