Last updated on September 28th, 2023 at 11:18 pm
Denim Yarns
Denim yarns now cover a wide range of applications from traditional cotton "Jeans fabric" produced from Ne 5.6/1 to ladies fashion shirts produced from Ne 22/1 and finer. Denim was originally defined as woven, cotton, fabric produced from an indigo dyed warp and a natural-colored filling and most of the yarn counts fell between Ne 5.6 and 12/1.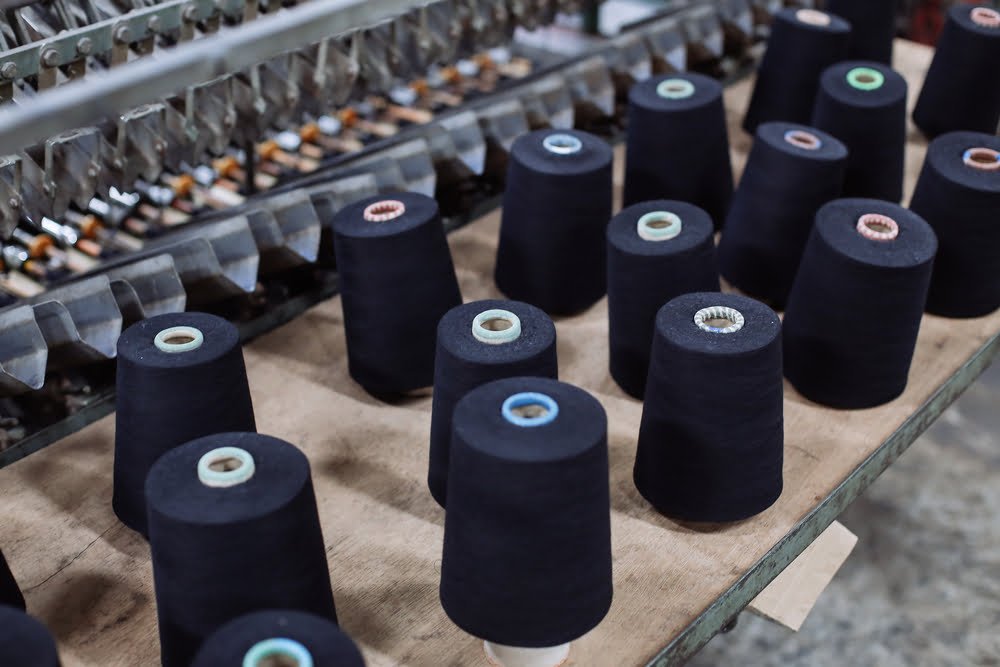 The warp yarns used for the indigo dyeing process and the subsequent re-beaming operation have to have a low "cling" tendency. This is not the case for filling yarns nor for yarns going into the natural warps or beam-dyed warps.
Many spinners choose to produce yarns that can be used for all applications, but the result maybe a compromise of the fabric appearance.
The filling yarn must be uniform in appearance from the inside of the package to the outside. There should be no rotor loading that changes the yarn hairiness from a clean to loaded condition. Filling variations are very obvious when used across a dyed warp and are considered as defects.
The warp yarn is not sensitive to slight yarn variations. In many instances, a "ring-like" uneven appearance is desired.
Rotors for coarse and medium count yarns have been developed with a wide-angle groove to minimize rotor loading and subsequent yarn variations. The D lll rotor is frequently used for spinning denim yarn. For cotton that is very abrasive, boron-treated steel with a diamond /nickel coating is recommended.
For rope dyeing warp yarns the following rotors are suggested:

Ne 5, 6/1 to 12/1 – rotor 48 D lll D at 50,000 to 65,000 rpm.
Ne 5.6/1 to 12/1 – rotor 40 D lll BD at 60,000 to 80,000 rpm.
Ne 6/1 to 12/1 – rotor 35 D lll BD at 75,000 to 90,000 rpm.

In some cases the D lll rotor is used for beam dyed warps and filling to simplify the logistics of the spinning plant.
Where a strong, lean yarn with low hairiness is needed for filling or beam dyeing, the 40 mm S D rotor is suggested.
Denim yarns are normally spun with grooved ceramic nozzles, depending upon the required yarn characteristics. The spiral nozzle is not recommended because the coarse yarns are too lively and have excessive torque. The K3KK, K4KK, K8KK, and K4KD are normally used. When the K4KD nozzle is used, the yarns go into rope-dyed warps.
Lively, coarse denim yarns tend to kink and snarl at the next process. To overcome this tendency, the soft twist tube can be used. However, it should be noted that this tube tends to slightly increase the yarn bulk and hairiness.
The opening roller wires used for denim yarns normally are standard for cotton i.e. OB 20, OB 20 – DN, or OU 25 D. These wires produce a uniform yarn with good evenness.
"Ring Like" denim yarn is a relatively uneven yarn created by irregular fibre opening. This effect can be produced by using a special opening roller that can be made available through the technical department.
Drapery and Upholstery Yarns
Drapery and upholstery yarns are frequently spun from synthetic fibres, nylon, polyester, acrylic and viscose in 100% form or as blends with a variety of fibres to obtain a special texture or optical effect:
Fibres tend to over 1.5″ long and of relatively coarse denier. The hardened steel 56 mm rotors with 57- degree grooves are frequently used, – (65 mm for special applications). For 1.5″ fibres the 40 SB rotor is suitable.
Yarn counts are in the range Ne 3/1 to 6/1.
Care has to be given to controlling the feeding of the sliver. If the sliver is too cohesive and will not open easily, the sliver feed is irregular, and spinning is unstable. Attention must be given to prevent the sliver from slipping between the feed roller and the feed plate. The fluting of the feed roller should securely grip the sliver.
The opening roller should have a wear-resistant coating or be of the wear-resistant pinned ring type.
The nozzle has to be selected depending upon the type of fibres being spun. In some cases, the K4K nozzle is used, and in others instances, for 100% polyester, the smooth flat steel nozzle SGF is used.
Many times, the spinning components for these products have to be selected by the business unit technical department.