Last updated on September 29th, 2023 at 10:09 pm
The days are gone when bra was only considered to support your breasts. From necessity to luxury, bras have traversed a long path. From those tacky looking tunic kinds to lacy, velvety and finally wonder bra, bras are a style statement now. They add beauty and also serve the purpose. A well fitted bra can do wonders to that look and feel of yours, while a shabby one can make you morose. Check out the list below to get an idea of what you are missing.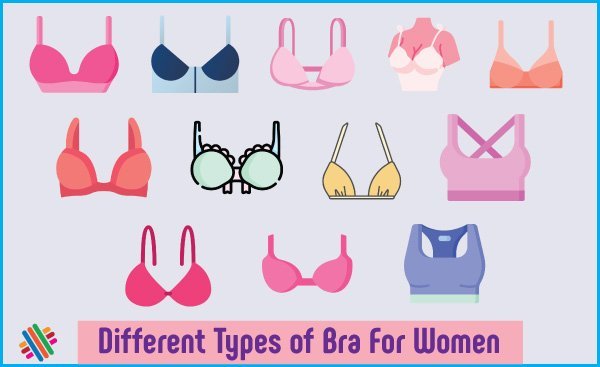 Nursing Bra
Every mother to be needs maternity bras to handle her growing breasts. A nursing bra is a maternity bra but with the added engineering of drop down cups so that baby can be nursed without Mom having to take her shirt off. Breast feeding becomes easy with this bra type.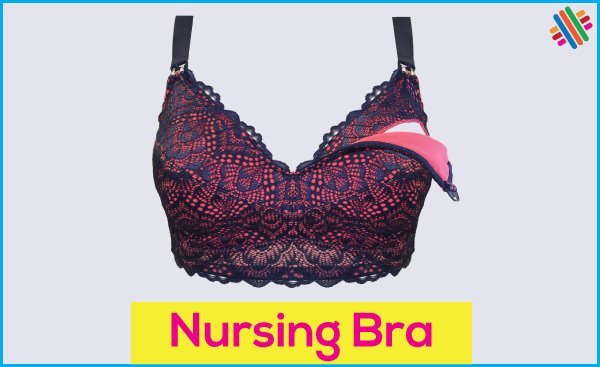 Strapless Bra
A strapless bra is a bra that doesn't have shoulder straps, and these bras normally are lined with silicone or rubber stripes instead, often using foam cups for added support. It's these support systems, as well as sometimes the additional use of underwire, and the overall structure of the bra that keeps you contained in the bra without sagging, falling out or bouncing around.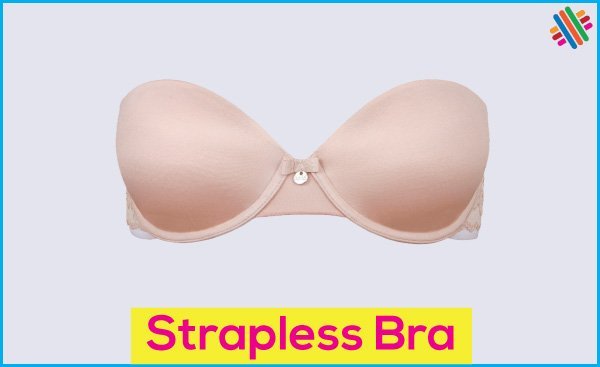 Strapless bras come in a variety of types, and can also be backless strapless bras in addition. You can find a padded strapless bra, seamless strapless bra, strapless plunge bra, and more.
Strapless bras are ideal for strapless dresses, and also lend themselves to bridal wear and tank tops or spaghetti straps. Whatever the occasion, your strapless bra should always make you feel confident because you are relying on the bra so much for support.
Push up Bra
Pushes up bras are typically more popular among average to smaller cup sizes because of their bust enhancing, cleavage creating properties. However, a fuller busted woman can still benefit from a push up bra because of the lift and cleavage they show in almost any type of shirt, dress, blouse or outfit.
Push up bra works by holding the breasts up, lifting and pushing them together with an adequate amount of separation to create cleavage.
You will find many other techniques in push up bras, such as molded foam built into each cup and padding inside the pockets of the cups that give you a visually enhanced look. This padding is often removable so the "add cup size" can literally be taken in and out at your convenience.
There are also many other styles of push up bras, including water bras and gel inserts, however push up molded cups remains the most popular of the choices.
Sports Bra
Sports bras protect ligaments, eliminate bounce that is both cumbersome and embarrassing during work outs, and also prevent breast tissue damage. It's imperative to not only wear a sports bra while working out, but to wear one that is comfortable and supports women.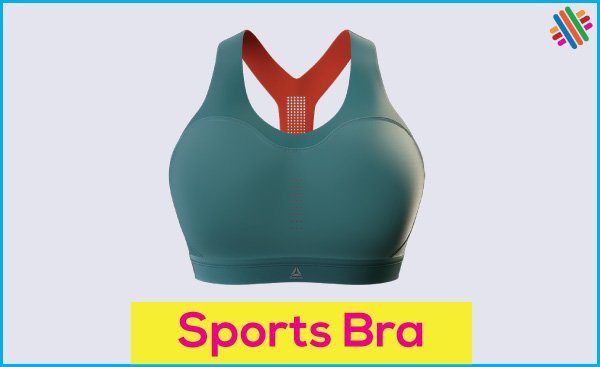 Even moderate activity like cycling, long distant walking and free weights put a strain on women's breasts. The stress that exercise puts on women's breasts can cause long term damage, sagging, and discomfort.
Training Bra
Training bras do not give much support but it will show you what a real bra would do. They have elastic and stretchy fabric. They do not have a strap that can become tighter.
Soft cup Bra
Soft cap bras give more support. They have straps and can be made tighter. They have no wire.
Soft cup Tee Shirt Bra
These are invisible in tee-shirts. They have straps and can be made tighter. They give lots of support. They have a strap in the back have to put together.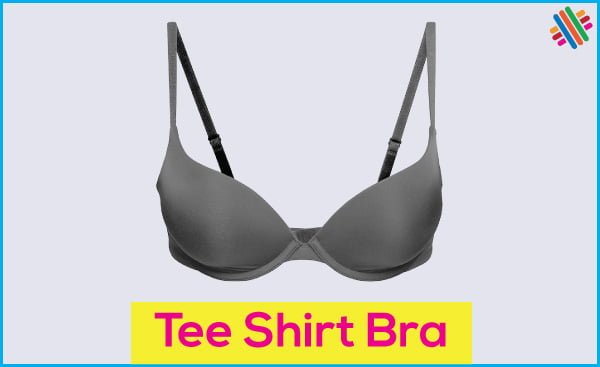 Balcony Bra
These bras reveal more of the cleavage and normally wide. It is a sexy style of bra with low neckline that goes straight across the bust. It has a wide set strap for an open neckline. After wearing tops the straps cannot be seen from front.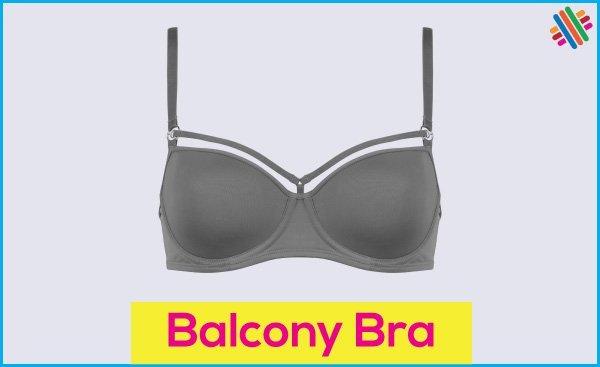 Open Cup Bra
This one is like a typical underwire bra, just with the cups above removed.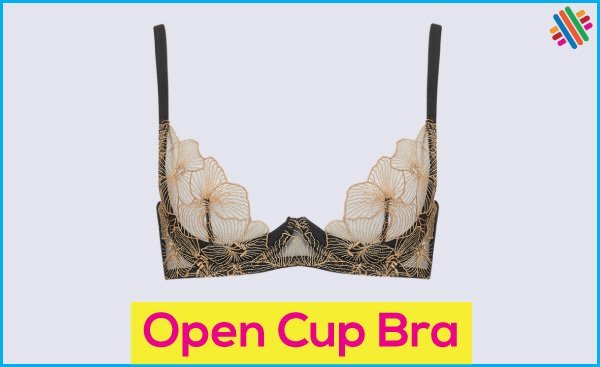 You can still have the lace or stain accents on the sides of the brand. Women's breasts are still relatively supported by the wire underneath. Woman won't want to wear this under regular cloths out in public due to its revealing nature.
Sling Bra
Here, you get something similar to the underwire style, but there's a little more material. The bra almost appears to have the lower half of the cups still present. The top edges are outlined with material in a triangle shape. This type is a bit more modest than the underwire bra, but not much.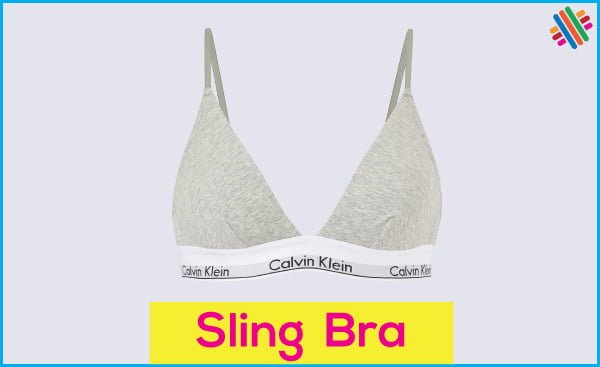 Nipple-less Bra
This is probably the most modest of all the open cup styles. Cups still intact for the most part, they are open by a slit right at nipple level.
Demi cup Bra
A half-cup style, the demi cup bra lifts and supports without leaving women completely bare. The bottom portion of women's breasts will still be covered, leaving the upper half uncovered.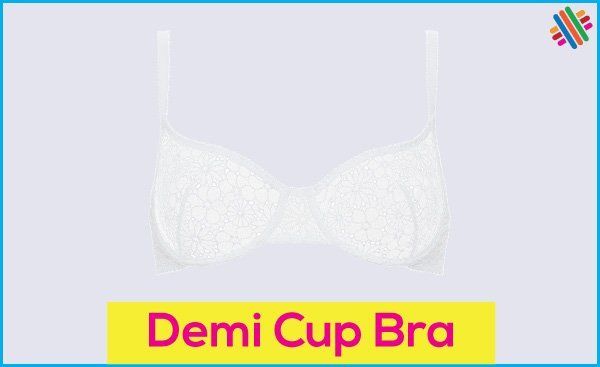 Properties of Demi cup Bras
Super soft cups.
Moderate lift.
No-show lace.
Adjustable straps.
Additional lining.
Two hook clasp.
Micro Bikini Bra
These bras look like teeny tiny bikinis with slits cut in the center of each cup for nipple exposure.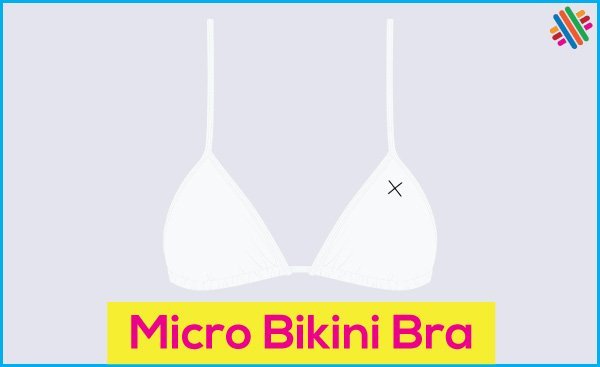 Full Cup Bra
Full cup bra covers the entire breast. This is one of the most comfortable bras.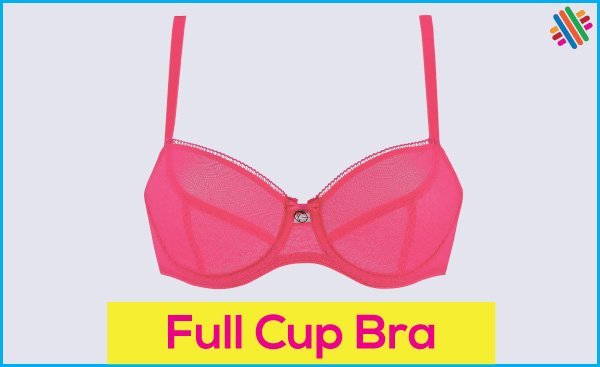 Adhesive Bra
A bra which is adheres to the breasts. It has no straps and gives a little support to the breasts. There are two types. There is the disposable paper ones that use a strong adhesive and the reusable ones that use silicone that can be washed and reused.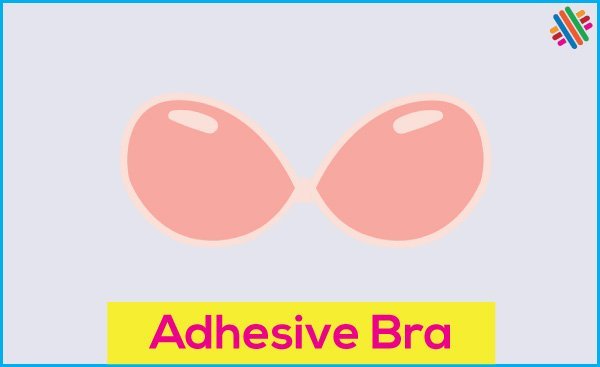 Bridal Bra/Corset
A bridal bra/corset mold and shape the upper body into a desired shape to fit the wedding dress. We can also add that, it promotes good posture and can be more comfortable as the weight of the breasts is carried by the whole corset rather than the brassiere's shoulder straps.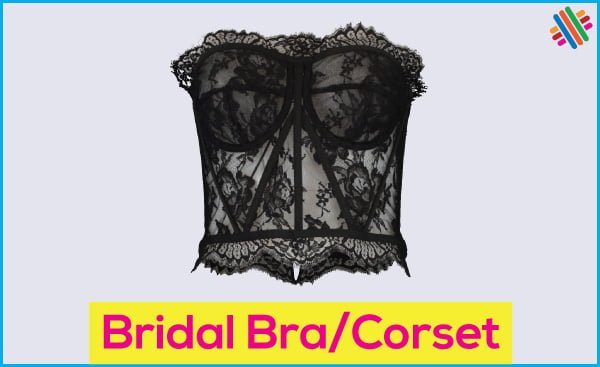 Front Closure Bra
Bras that have closures, usually hooks and eyes, on the front rather than at the back. These bras lie completely flat at the back under clothing. Some features a racer back style back which is great for wear with tank tops and for lending a no-slip effect to the straps.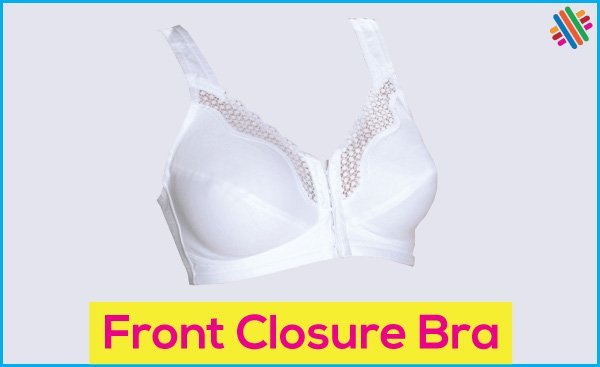 Contour Bra
Contour bra is designed to help give shape and definition to your chest.
A contour bra has molded cups – and, the cups are also lightly padded, usually with a very thin layer of foam material.
Posture Bra
Posture bras are bras that are mainly designed to support the weight of women's breasts and provide relief from shoulder strain, neck strain and muscle tension headaches. Because they're designed with support in mind, posture bras are great for full-busted women who find that the weights of their breasts are not comfortable.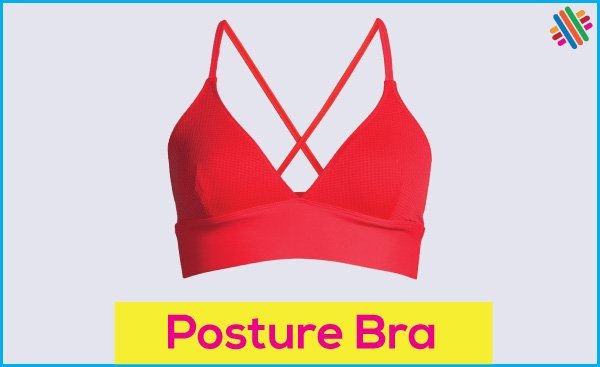 Plus size Bra
A plus size bra is a bra that is mainly designed to accommodate a more generous body type. Its included features are a wider band, proportional bra cups with more coverage, wider straps and other design features that make life easier for full-figured women. A plus size bra is also designed with a more curvaceous body in mind, which means it should fit better than a standard bra that has simply been made in a larger size.
Longline Bra
A longline bra is an extended coverage bra that starts at women's breasts, and typically goes down their stomach to end a few inches above your belly button. Their lengths may be different, but they all extend down below where a traditional bra band would stop.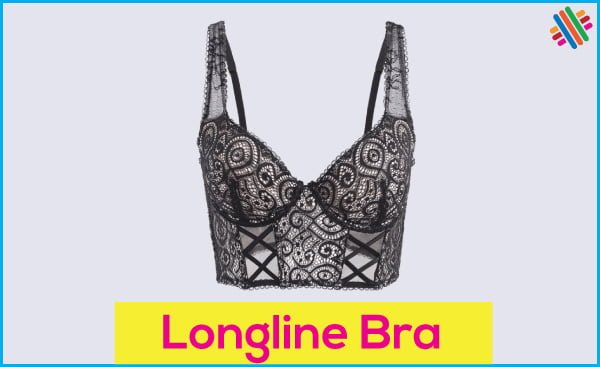 Longline bras are great for women who want more support for their busts, and they're often worn under formal and evening wear.
Lace Bra
Women's lingerie collection isn't complete without a Lace bra. Whether it's classic and elegant or sexy and sheer, a bra with lace cups is always beautiful. Lace bras are usually sheer or feature a lace top lined with an opaque backing fabric. A lace bra can have just touches of lace details and lace trim, or are completely sheer with full lace construction. Depending on their personal style they can get a lace bra that's simple and classic or a bra with lots of eye-catching detail.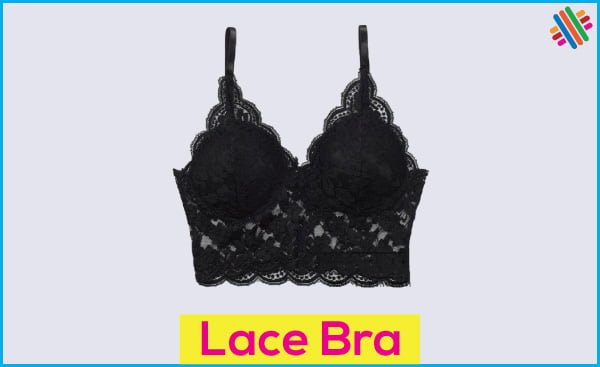 Minimizer Bra
This bra is commonly sought after by large-breasted women who wish to minimize the appearance of their breasts by a cup size or two.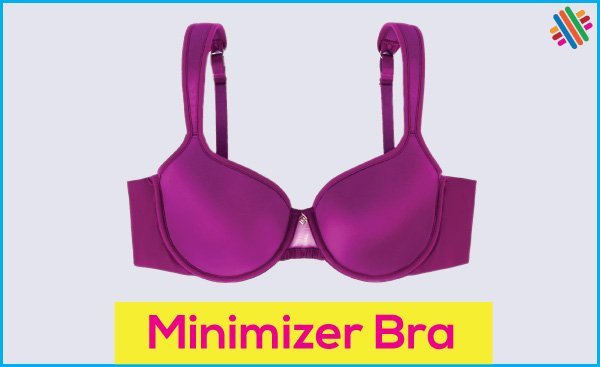 Belly Dance Bra
It is commonly considered that a belly dancing bra size is the same as normal bra size. This is not necessarily so.
Bullet Bra
A bullet bra is a type of women's undergarment first worn and popularized in the 1940s and remained popular until the 1960s and 1970s. This garment takes its name from the conical shape of the cups made for this type or brassiere, which resemble the tips of bullets. These bras were especially popular during the pin-up era of the mid 20th century, and many models of that time were seen in these types of bras. While the bullet bra ultimately lost popularity due to changing manufacturing techniques and fashion trends, there are still some fans of vintage lingerie who appreciate these garments.
Padded Bra
A padded bra is a bra whose cups contain padding, or pockets for padding. The padding inside the bra cups is intended to add fullness to the bust line, and enhance the appearance of women's bust. Padded bras can make women's breasts look larger, and they can help make breast tissue appear fuller and firmer. Many women use padded bras to compensate for uneven or disproportional breasts.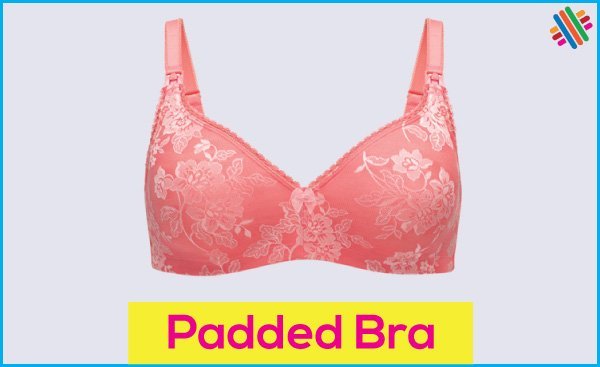 There are mainly two types of padded bra: either with removable inserts, or with padding sewn into the cups of the bras. If the padding is sewn in, it tends to be graduated thicker at the base of the cup to provide lift and give the breasts a more natural, rounded look.
Racerback Bra
A racerback bra is a style of bra where the straps cross each other or meet in a "T" shape across the back. This style is commonly used in fitness and sports bras, but can really be found in every type of bra, from everyday underwire bras to lacy formal ones. They usually have front closures due to the special back design, but they may have back closures or simply slip on over the head.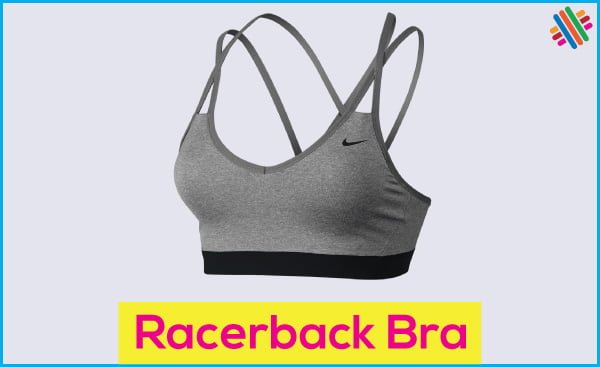 Molded Bra
A molded cup bra is a bra whose cups are heat-molded to a round, seamless shape. Because molded cup bras are seamless, they're great for wearing under t-shirts or anytime you don't want seams to show. These types of cups contour your breasts into a flattering, rounded shape, and sometimes they have padding to help prevent nipple show-through.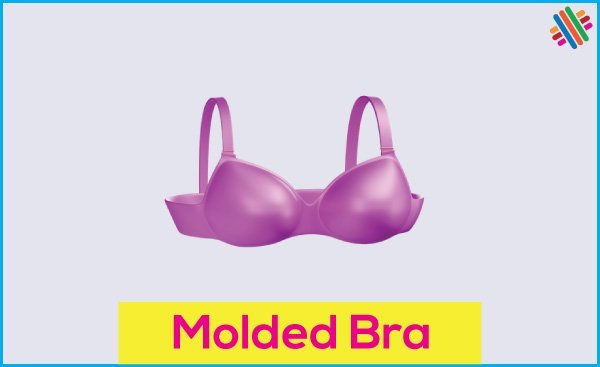 You may also like: Men's vs Women's underwear: Find the differences