Last updated on August 12th, 2023 at 10:25 pm
Definition of Reactive Dye
Reactive dyes are a class of colored compounds that chemically bind to fibers like cotton, rayon, or linen to impart color resistance to washing and fading. To apply reactive dyes properly, we need a process with controlled conditions. Usually, they are used in an alkaline bath with sodium carbonate or sodium hydroxide. This high pH helps the dye react and bind with the fibers.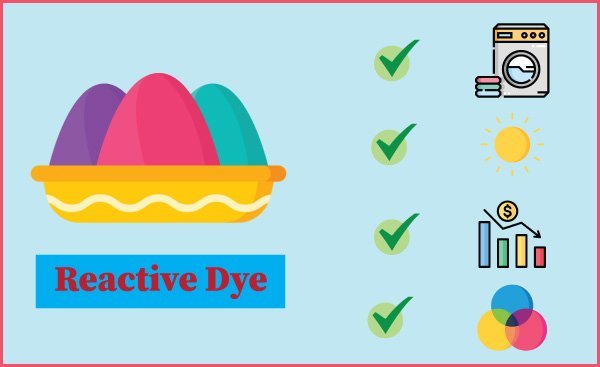 Why it is Reactive Dye?
The term reactive signifies that the dyes react rapidly with an inert fiber like cotton and produces stable co-valent bond formation with an excellent color fastness. So, this dye stuff is called reactive dye.
Significance of Reactive dye
The significance of reactive dye is given below:
This dye stuff reacts as a react group which attach with reactive parts with fiber and produces co-valent bond formation.
It is easily soluble in water.
It can be used for coloration of cellulose and protein fiber.
It gives a variety of color shade.
It is used in alkali medium.
Its color fastness properties are very good.
Reactive dyeing process is easier.
Classification of Reactive Dye
According to chemical structure:    
Hydrogen
Vinyl 
According to Reactivity:  
High reactivity – NaHCO3
Moderate reactivity – Na2CO3
Low reactivity – NaOH 
According to using temperature:
Cold brand: 40ᵒC – 50ᵒC
Hot brand: 90ᵒC – 95ᵒC
Trade names of Reactive Dye
| | | |
| --- | --- | --- |
| Trade Names | Company | Country |
| Procion – m | I.C.I | U.K |
| Cibacorn | Ciba – Geigy | Switzerland |
| Reactone | Ciba – Geigy | Switzerland |
| Drimarene | Sandoz | Switzerland |
| Procilan | I.C.I | U.K |
| Procinyl | I.C.I | U.K |
These dyes are especially good at making vivid, intense colors that pop. Brand names you see in the above table. The downside is they can fade faster in sunlight than other dye types.
Reasons for Popularity
Reactive dyes are so popular due to the following reasons:
Good washing fastness (Rating 4 – 5).
Very good light fastness (Rating 6).
Lower cost.
Simple dyeing method.
Good reproducibility.
Low dyeing temperature (Below 100ᵒC).
Ability to produce bright shade.
Easily applicable to cellulosic fiber as well as protein.
All kind of shade is found.