Last updated on August 15th, 2023 at 12:06 am
The textile industries dye polyester yarn or fabric use disperse dye for its versatile color. The dyes are hydrophobic, so the dispersing agent is required to spread the dye onto the yarn or fabric surface. Here high temperature and pressure are also required to fix the dye particles into the fibre molecules.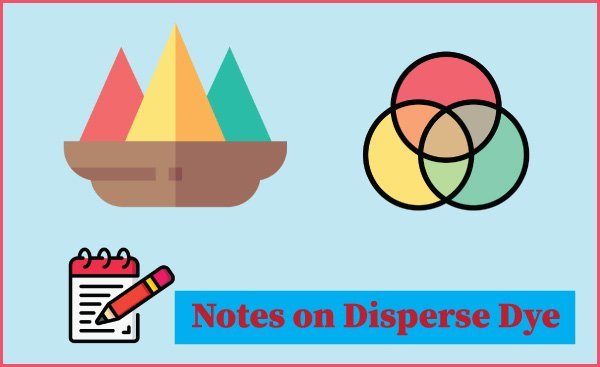 The dyes hold up well against washing and light exposure. But they aren't excellent at resisting rubbing, so additional treatments like reduction cleaning are needed if that's a concern.
Functions of Carrier in Disperse Dyeing
An ideal carrier should rapidly available at an economical price.
Sufficiently effective in increasing dye take up.
Free from unpleasant odor.
Non – toxic.
Easily removal after dyeing.
Non – volatile in steam.
Does not cause shrinkage of the material.
They make dye film on the surface of the fiber.
They increase the solubility of dye.
It increases swelling of fiber.
They may act as molecular lubricant.
5 Commercial Name of Disperse Dyes
| | | |
| --- | --- | --- |
| Name | Manufacturer | Country |
| Terasil | Ciba-Geigy | Switzerland |
| Foron | Sandoz | Switzerland |
| Palani | BASF | Germany |
| Dispersol | ICI | UK |
| Duranol | ICI | UK |
Trade Name of Dispersing Agent
| | |
| --- | --- |
| Trade Name | Name of the Company |
| Dispersant WS | Indokem Ltd. |
| Setamol WS | BASF India Ltd. |
| Lycol OI | Sandoz (India) Ltd. |
| Lucokem AK | Kemicolor Industries Pvt. Ltd. |
| Dispervat 60 | Shri Ambuja Petro Chemicals Ltd. |
Amount of Carrier for Different Shades
| | |
| --- | --- |
| Shade | Carrier |
| Light/Pale | 2 gm/l |
| Medium | 3 gm/l |
| Dark | 4 g/l |
Commercial Name of Carrier
| | |
| --- | --- |
| Trade Name | Manufacturer |
| Dilatin DBI | Sandoz (India) Ltd. |
| Ternol | Mazda Industrial chemicals Ltd. |
| Palani Carrier PE | BASF |
| Tumescal OP | ICI |
| Solvent OP | Franco |
Factors of Dyeing of Nylon at High Temperature
Temperature
Electrolytes
Acid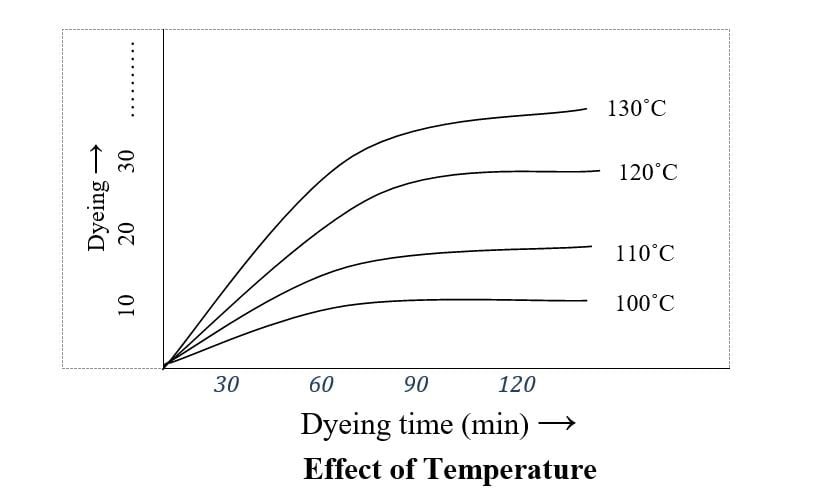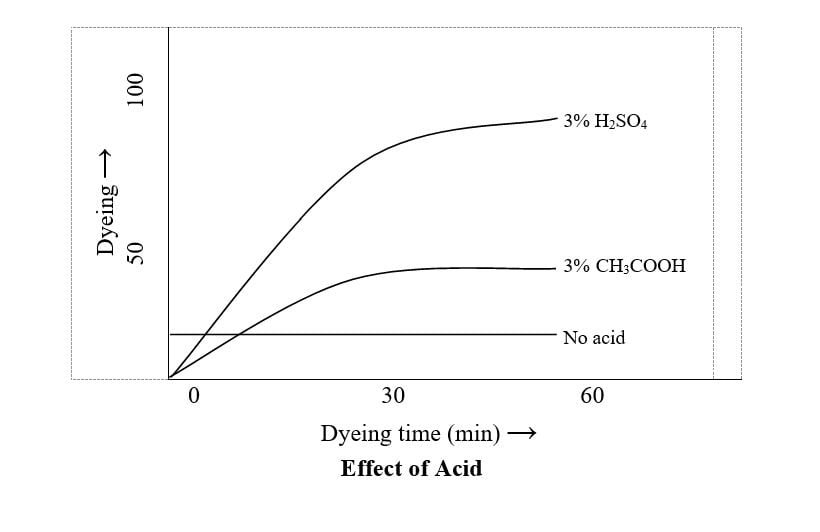 General Principle of Dyeing of Two Fibers
Single bath method.
Double bath method.
Single bath Method
This method used for synthetic fiber. Here two dyes are taken at a time. In this method, less use of water, reagent and time.
Double bath Method
This method used for blended fiber. One bath is used for synthetic fiber and another is used for natural fiber. In double bath method, the shade will be good.
Dyeing Procedure of Poly-Cotton Blend
In case of blended fiber, the polyester part is always dyed by Disperse dye and cotton can be dyed by Direct, Reactive, Sulphur or Azoic dye.
A = Terasil (Disperse Dye)
B = Solo phenyl (Direct Dye)
Recipe:
For polyester, salt → 2 gm/L [(NH4)2SO4]
For cotton, electrolyte mtl → 5 gm/L [NaCl]
pH → 4.5 – 5.5 with CH3COOH
Disperse dye as Terasil → 2%
Direct dye → 2%
Salt [(NH4)2SO4] → 2 gm/L
NaCl → 2gm/L
pH → 4.5 – 5.5/8 – 9
Temperature → 130˚C/90˚C
Time → 30mins/1 hour
Dyeing Scheme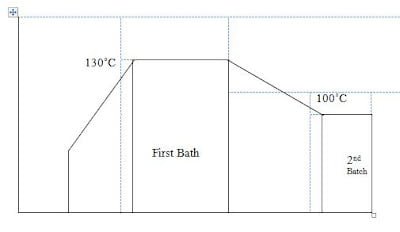 Working Procedure
In an airtight pot disperse dye (Terasil) and direct dye (Solo phenyl) are taken and prepare the dye bath with above recipe at 50˚C for 10 minutes. Then the temperature raised at 130˚C for 20 – 30 minutes. This is done in the first bath. Then the temperature decreased at 100˚C for 10 minutes. After that for direct dye exhaustion NaCl is added at previous temperature for 40 – 50 minutes.
After treatment
Tinofix WS → 1 – 2%
CH3COOH → 1%
Time → 20 minutes
Temperature → 30˚C
[2nd method: It is known as High Temperature and pressure method. It is done in Jet dyeing m/c. A little amount of carrier used. 3rd method: No carrier used.]
Advantages of HT & HP method
Normally no carrier is required in this dyeing method.
Time of dyeing is short comparatively than carrier dyeing.
Fastness properties of dyeing are superior.
Dye stuff absorption or dye take up percentage is higher.
There is no possibility of tensile strength losses due to use of neutral or slightly acid medium.
Yarn irregularities are covered and level dyeing is obtained.
A wider range of dyes are also available.
Advantages of thermosol dyeing process
This process is only used for continuous method.
No carrier is used and hence problem associated with carriers do not arise (occur).
Excellent dye utilization (75 to 90%) is achieved.
Simultaneous heat setting and dyeing can be carried out.
The dyeing is unaffected by pre – heat setting.
Dyeing time is very short.
Non – toxic.
[Note: Heat setting – To keep the natural fiber in twisting stage the arrangement is needed called Heat setting.]
Test method of Disperse Dye
First we take a test tube which contains slightly alkaline water of 2% caustic soda. Now immerse the dyed or printed sample. Now treat the alkaline liquor up to the color bleeding limit & timing. After bleeding that solution will be cold & added a few percent (2% – 3%) ether solution. After adding the ether solution the bleeded colors of that solution are almost at bleeded stage. Now neutralize the bleeded solution with 2% Acetic acid. After adding of acetic acid, the bleeded color solution will be almost clear. It will indicate the sample which is used to test purpose that sample is dyed or printed with disperse dye.
Comparison of Carrier, HT and Theromosol Process
| | | | |
| --- | --- | --- | --- |
| SL No. | Carrier Process | High Temperature Method | Thermosol Method |
| 1.0 | Carrier is required; no thickener is used. | Neither carrier nor thickener is used. | Carrier is not used but thickener is used. |
| 2.0 | Lower dyeing temperature (80˚C -100˚C). | Higher dyeing temperature (125˚C – 140˚C). | Very high dyeing temperature (180˚C – 220˚C). |
| 3.0 | Costly as carrier used. | Cheap | Costly due to this process required special arrangement. |
| 4.0 | Toxic and unhygienic process due to carrier. | Non – toxic and hygienic (clean) process. | Non – toxic and hygienic process. |
| 5.0 | Removal of carrier. | Not applicable. | Not applicable. |
| 6.0 | No change in shade. | No change in shade. | Change in shade due to sublimation. |
| 7.0 | More shrinkage (decrease). | Most shrinkage. | Less shrinkage. |
| 8.0 | Less production. | Less production. | High production due to continuity. |