Last updated on June 18th, 2023 at 06:16 pm
Home textile is a branch of technical textile comprising application of textiles in household purposes. Home textiles are nothing but an internal environment, which deals with internal spaces and their furnishings. Home textiles are mainly used for their functional and aesthetic properties which provides us the mood and also gives mental relaxation to the people.
Definition of Home Textile
Home textiles can be defined as the textiles used for home furnishing. It consists of a various range of functional as well as decorative products used mainly for decorating our houses. The fabrics are used for home textiles consists of both natural and man-made fibres. Sometimes we also blend these fibres to make the fabrics stronger. Generally, home textiles are produced by weaving, knitting, crocheting, knotting, or pressing fibers together.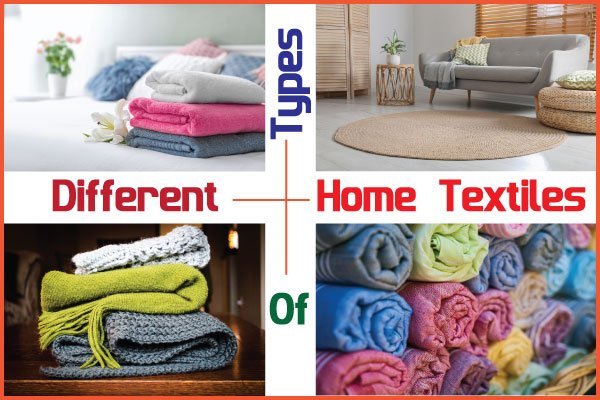 Different Types of Home Textile Products
A considerable portion of home furnishings consists of textiles. A number of these furnishings are typical in households and are made according to certain general methods of construction and composition. The basic
items may be grouped as Sheets and Pillowcases, Blankets, Terry towels, Table cloths, and carpets and Rugs.
Sheets and Pillowcases
References to sheets and pillowcases are generally related to fabrics woven with a plain weave of cotton, or more often, cotton/polyester blended yarns. If they have easy care, no-iron properties, they are likely to be so labeled. It may be noted that sheets and pillowcases are also made to a laminated extent of linen, silk, acetate, and nylon; the constructions vary from plain to satin weave or knitted.
Sheets and pillowcases are identified according to types based on thread count: 124, 128, 130, 140, 180, and 200. The higher the count, the closer and more uniform the weave; the more compact the weave, the greater the resistance to wear.
Sheets and pillowcases are generally labeled. But one can always examine them for quality. By holding the fabric up to the light, one can determine whether it is firmly, closely and uniformly woven. It should look smooth. Lengthwise and crosswise threads should be of the same even thickness, rather than thick or thin in spots. There should be no weak places, knots, or slubs, and the yarns should run straight and unbroken.
You may like also: The 15 Best Types of Shorts for Men and Women 
Sheets are made in two types: flat and fitted. Both types are made to fit five typical size mattress: crib, twin, full or double, queen, and king. Pillowcases are generally produced in sizes to fit pillows of standard, queen and king size.
Blankets
Blankets are made of various constructions and compositions, which provide different degrees of warmth, softness, and durability. They are usually woven, but can be knitted or stitch-knitted or by flocking fibres onto a polyurethane foam base. The yarns may be composed wholly or of blends of cotton, wool, nylon, acrylic, or polyester.
Blankets may be classified into three basic types: conventional, thermal, and flocked polyurethane. Their characteristics are somewhat different in appearance, texture, warmth, durability and care.
Conventional blankets are usually woven with soft-twist yarns, in the filling and higher twist yarns in the warp. The yarns may be of wool, acrylic, polyester, or blends of these fibres. Blends containing nylon are also used. The fabric is heavily napped to produce a thick, close, fuzzy surface. Thermal blankets are either woven in a variation of the plain weave, such as a honeycomb pattern, or knitted in a manner that produces an open lightweight construction. The soft-twist yarns may be of cotton, wool, acrylic, polyester, or a blend of any of these fibres. The fabric is not napped. Flocked polyurethane blankets are composed of polyurethane foam base covered with fibre flocking, usually nylon, held in position with an acrylic adhesive. They are very soft, resilient, and sometimes spongy. They tend to have a misty appearance, particularly in the lighter colors, due to the flocking. They are relatively light in weight.
You may like also: The 10 Best Types of Leggings With Images
Terry Towels
The primary function of a terry towel is to absorb moisture from wet skin. It must, however, be strong enough to withstand the strain of the rubbing and pulling, twisting and tugging of the user, and of constant laundering. Terry towels are made either of all-cotton, or a combination of cotton and polyester. While polyester provides increased strength, lighter weight, faster drying after laundering and less shrinkage, all-cotton towels provide greater absorbency.
One should not purchase towels merely by a brand name because the name identifies only the manufacturer, not a particular quality of terry towels. A company may manufacture many different grades and qualities of terry towels under the same brand name.
Terry towels are divided by size into five groups, guest, hand, bath, extra large, and beach.
Table Cloths
Table cloths are generally made of cotton, linen, rayon, polyester, or blends of any combination of these fibres. They are produced in various ways, designs, and patterns. Among the most popular are damask and lace constructions. Of the damask, linen is the most expensive and has set the mode or style frequently imitated with the less costly fibres. Although linen damask generally requires greater care of laundering and ironing than such easy care finished cloths as are made from cotton/polyester blends, linen damask tablecloths continue to enjoy a high status because of their beauty, luxuriousness, and durability.
Floor coverings have been made from textile fibres for more than five thousand years. Throughout civilization, rugs and carpets have formed a part of the history and culture of races and nations. Well chosen rugs and carpets serve as a colorful foundation for the decorative plan and color scheme of all rooms in the modern home including kitchen, bathrooms, patios and pool edges, as well as for schools, office buildings, and hospitals. Carpets also serve as heat and sound insulators. As floor coverings are among the more costly items in a house furnishings budget, careful consideration must be given to fibre, color, decorative character and design, size and construction to obtain the best value of any price level.
The term "rug" and "carpet" are sometimes used synonymously, but the form or the size in which these coverings are manufactured differs. Rugs may vary in shape as well as in width and length. The factors that account for differences in price are the type, quality, and quantity of fibre used, as well as the amount of twist in the yarn, the number of plies in the yarn, and the basic method of construction. Machine-made carpets may be tufted, woven, needled or knitted.
You may like also: Types of Button In Clothing