Last updated on September 2nd, 2023 at 11:05 am
Definition of Ring Spindle
Spindle is the heart of ring frame. A spindle is regarded as a production unit of a spinning mill. The capacity of a spinning mill is expressed by the number of spindles in the mill. On an average the spinning mill of Bangladesh have 25,000 spindles. This may be up to 1, 00,000. Spindle is a combined unit makes up with spindle blade, wharve, and lock/guard pin, bolster, bolster case etc.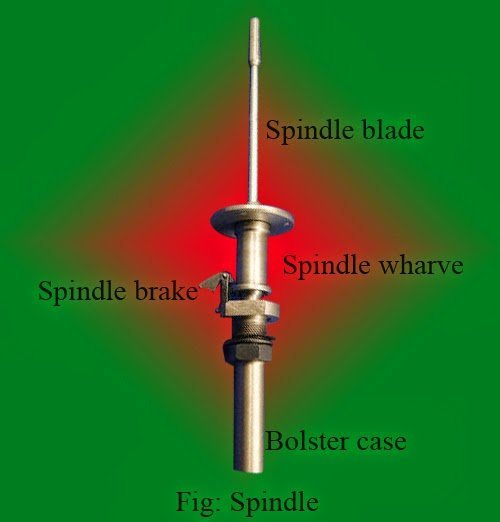 Essential Qualities of a Spindle
Spindle must be perpendicular to the rail bar on which they are mounted. Both the spindle and the ring should be concentric to one another.
The spindle blade should never be allowed to run with defective insert or bolster.
It should not vibrate during running.
It should run with minimum friction.
Should have precise construction with minimum tolerance to ensure smooth and vibration free running with variable loads on the bobbin as the yarn is wound on it under tension.
It should be cheap and durable.
It should be made up of corrosion resistance and light material.
It should be well balanced.
Functions of Spindle
To hold the bobbin tightly to prevent slacking during its revolution.
To help in yarn winding on to bobbin.
To help in twisting yarn.
Capacity of ring frame mainly determined by the number of spindle.
Inverter Drive for Spindle
In this system, the inverter changes the electrical frequency of AC motor. In an inverter drive spindle if we plot bobbin dia against spindle speed we will obtain the following graph –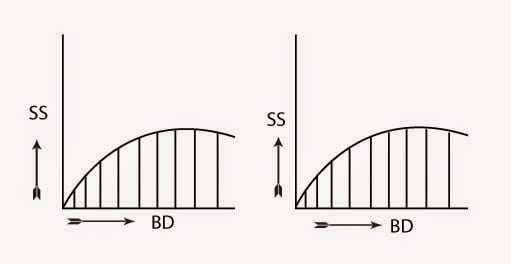 Normally, this curve is divided into 9 parts. In first and third part the spindle speed remain less, but there angle of winding is small as bobbin diameter. So, end breakage increases. In next fourth to seventh parts spindle speed increases. Again in 8th to 9th parts spindle speed goes down.
In inverter drive motor rpm can be found out by the following formula –
Motor rpm = 120F/P
Where,
P = No. of poles
F = Motor frequency
The main advantages of this drive system are that, here the increase or decrease in speed occurs in a step less manner and the speed at which maximum production is obtained can be found out easily.