Last updated on September 26th, 2023 at 11:59 pm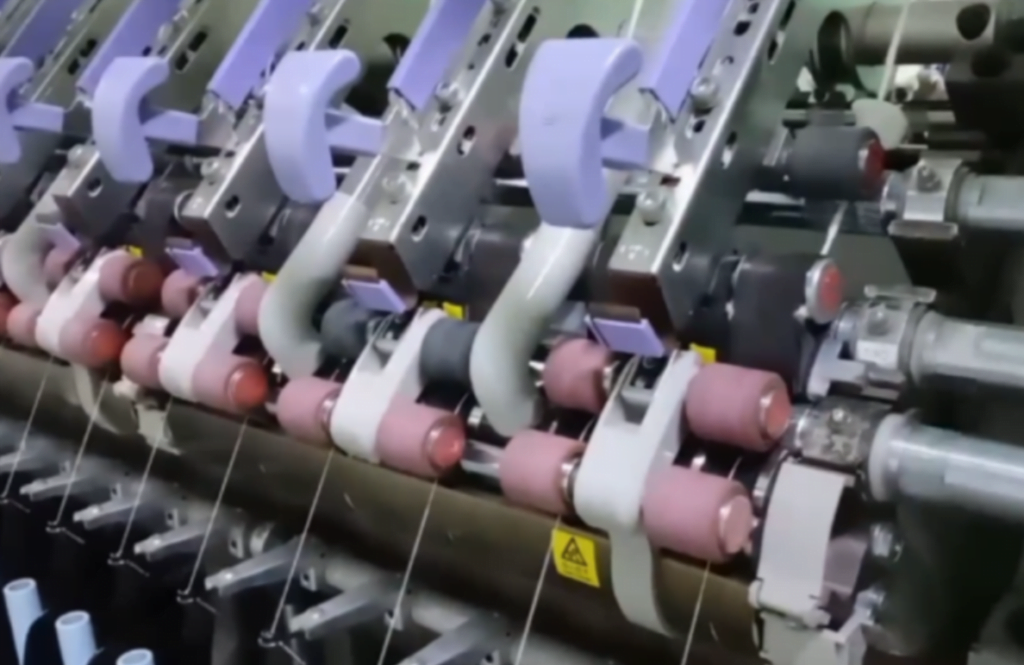 Ring  
The functions of ring are:
The ring guides the circular run of the traveller.
The ring act as a high speed bearing surface for the travellers.
One may also conceive the behavior of the ring as a track for the traveller.
Traveller
It performs the following functions:
Twisting of the drafted strand of fibres as they are delivered by the front roller to produce a yarn.
Winding of yarn onto the bobbin.
Maintain winding tension of the yarn by the frictional resistance between the ring and traveller.
It acts as a second guide for the yarn on the way to be wound on the bobbin.
It performs the function of building motion to wind the constant length of yarn delivered by the front roller. In speed frame bobbin r.p.m changes with the increase of bobbin diameter but in ring frame the bobbin r.p.m remains constant and the traveller r.p.m increases with the increase of bobbin diameter.
It also performs many other functions involving highly complicated problems of higher physics.
Creel
The function of the creel is to hold the roving bobbin over a roller beam within a convenient height to easily handle the roving. The creel must permit free running of the roving bobbins with slight tension on it.
Spindle
The spindle holds the bobbin somewhat loosely but tight enough to prevent any slippage, so that the bobbin can be lifted out of the spindle with little exertion.
With the help of the ring and traveller the spindle inserts twist in the yarn being delivered by the front roller.
It also carries out another important function of winding the twisted thread on the bobbin with the help of ring and traveller.
Roving Guide
The guides are mounted at the right angle to the flat bar called traverse bar. The object of the guide is to feed the roving correctly at the bite of the back roller and the traverse motion moves the strand almost over the entire length of the bite and this prevents the drafting rolls from being grooved at a particular place.
Lappet Motion or Thread Board Traverse
The main function of the thread board traverse is to maintain the balloon size within the controlling range. To keep the balloon length within the controlling limit, the thread board is necessarily be made to traverse relative to the ring rail. For 8" lift bobbin the traverse of the ring rail is more or less confined within the range from 1" – 1.5" and higher traverse for higher lift of the machine.
The slow traverse of lappet-rail also facilitates the easy passage of the yarn from the front roller to the bobbin.
You may also like: Causes of Faults Found in Ring Frame Yarn