Last updated on August 17th, 2023 at 11:25 pm
Jute is called the "Golden Fibre" of Bangladesh due to its golden-brown color and its importance & sustainability. Jute is one of the most affordable natural fibers and is the second one after cotton according to its production quantity. Jute yarn is used to make hessian fabric, coffee sacks, cotton bale covers, shopping bags, carpets, rugs etc. It is also used to make geotextiles.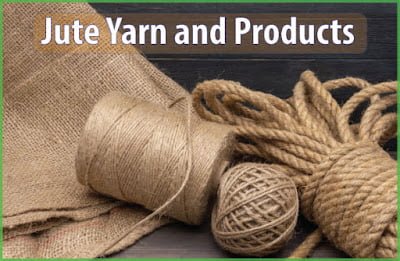 Different Types of Jute Yarn
The composite mills traditionally manufacture the following types of yarns-
Fine yarn of 120-224 tex (3.5-6.5lb/spy) to be used for carpets and various non-traditional end products like decorative fabrics.
CBC yarn of 224-293 tex (6.5-8.5lb/spy) for using as carpet backing cloth or very fine cloth.
Medium coarse yarn of 241-414 tex (7-12lb/spy) for:

Hessian warp 241-310 tex (7-9lb/spy),
Hessian weft 241-414 tex (7-12lb/spy),
Sacking warp 276-345 tex (8-10lb/spy),
Other type of end products like canvas.

Coarse yarn of 483tex and above (14lb/spy and above) for sacking weft and coarse end-products like matting.
Piled yarns or twines of different counts.
Flow Chart for Traditional Jute Processing