Last updated on August 28th, 2023 at 11:42 am
Jute is a pure natural cellulosic fibre. Its staple length is so long. It is golden in color. So its processing system is different from other natural fibre like cotton or wool. Its processing mechanism is not so difficult. This process helps to pack the jute slivers properly. 
The packing arrangement step is crucial in many stages in the spinning section of jute because proper feeding for the next stage depends on the last stage packing. Though the mechanism is straightforward, this bears great importance. In this article, we will discuss the working procedure of packing arrangement of jute in brief.
Working Procedure of Can Turning and Trumping Arrangement of Jute
The slivers needed to be packed neatly in the cans and should have the highest packing density. Therefore, their arrangements are necessary. The cans are placed on can-turning plates at the front of the machine. These plates revolve 360o  in one direction and then reverse. The alternate rotation of the plates and hence the cans prevent any twist in the sliver, as the formation of twist in the sliver resists drafting actions to the fibres in the subsequent operation to follow.
You may also like: Batch and Batching of Jute
In addition to these can-turning plates, there is a series of can trumping (packing) arms, one for each delivery on the frame. These carry expanded metal feet or packing blocks at their bottom ends, the feet projecting into the cans. When the delivered sliver from the drawing frame reaches a certain height inside the sliver can, the packing block begins to press it. As the trumpets move up and down, it packs the sliver down into the can and allows greater quantities to be inserted.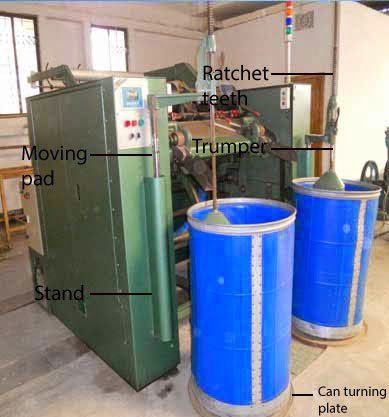 When more and more sliver enters the can, the trumpet rises automatically to allow space to deliver the sliver until the can is whole. The packing block rod is retained by a projection engaging a spring-loaded rack. After an empty one has replaced a whole can, the spring-loaded frame has released a catch from the top portion, and the trumpet returns to its lowest position.
You may also like: Properties of Jute Fibre