Last updated on August 4th, 2023 at 09:02 pm
The Jig machine is one of the oldest ways of dyeing fabric in open width. In this machine a batch of fabric is rolled backwards and forwards from one roller to another through the dye liquor. The direction of movement is automatically reversed as the machine reaches the end of the fabric roll. The duration of the dyeing process is monitored by the number of passages or ends through the liquor. Machines open to the atmosphere can accommodate a roll of 500 to 1000 meters in length, but more modern enclosed machines can operate with a roll of 5000 meters. An enclosing lid helps to reduce heat losses and consequent temperature differences between the edge and the centre of the roll. Such differences lead to listing a reduction in the dye uptake at the edges of the fabric.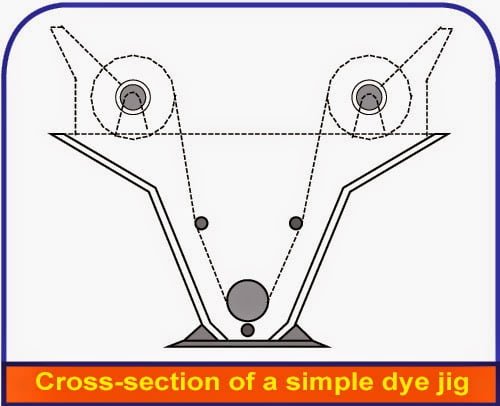 Pressurized Jigs are available for the more difficult hydrophobic fibres. These operate at temperatures of up to 1300 C, but beam dyeing is usually preferred for high-temperature dyeing. A liquor ratio of around 5:1 is the lowest used in conventional Jig machines. The method is well suited to the dyeing of fabrics that are readily creased, such as taffetas, poplins, suiting's and satins, but less well for knitted goods because they distort so easily.
The mechanical action on the fabric is obviously limited in Jig dyeing. Consequently the exchange of liquor inside the interstices of the fabric as it passes through the dye bath is less efficient than with machines in which liquor is circulated more forcibly through the goods. The Jig is relatively inexpensive to install and convenient to use; since it operates at low liquor ratio, it is economical on both water and energy consumption.