Last updated on August 4th, 2023 at 08:33 pm
Fully-automatic flat screen printing is not continuous yet. Rotary-screen printing on the other hand is continuous. Rotating screens are used which are automatically fed (by means of pumps) with paste from inside. Driving the screens can be done at either side.
The value of continuous rotary-screen printing first became apparent in the 1960s. The hollow screens, each applying the appropriate motif, are arranged sequentially as in roller printing, but they are aligned over a moving horizontal blanket that carries the fabric between the two. As the fabric moves forward the screens rotate and apply the color. One arrangement for the delivery of print paste is shown in cross-section in the following figure: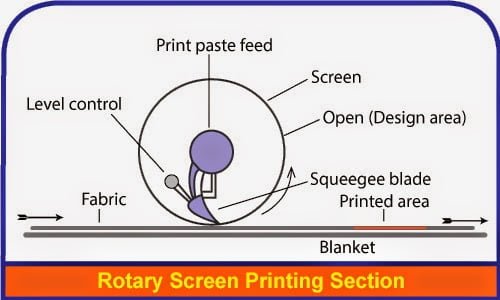 The squeegee blade is flexible to accommodate any variations in pressure required to force the paste evenly through the mesh of the screen across the width of the fabric. In some models the squeegee is replaced by a metal rod held in position by a magnetic field. This is more suited to heavier fabrics, since the mechanism imposes a higher limit on the minimum amount of paste that can be delivered. In general the rotary-screen printing machine requires a lower pressure between roller and fabric than is used with engraved rollers.
As with all screen printing, some control of delivery can be obtained through variation in the mesh size, a large mesh being appropriate for fabrics made from coarser fibres or areas of solid color, whilst a finer mesh is better for producing fine detail or for fabrics made from fine fibres.
The advantages of rotary-screen printing machines over engraved-roller machines include faster production rates, greater ease of setting up and a lower dependence on experience for successful operation. Computer aided design techniques for printing screens are now increasingly widely used.