Last updated on August 28th, 2023 at 01:05 am
The textile and apparel industry comprises a complex network of interrelated sectors that produce fibers, spin yarns, fabricate cloth, and dye/finish/print and manufacture apparel. Computer technology is one of the most important tools contributing to the significant advancement of this industry. CAD (Computer aided design) is industry specific textile design system using computer as a tool.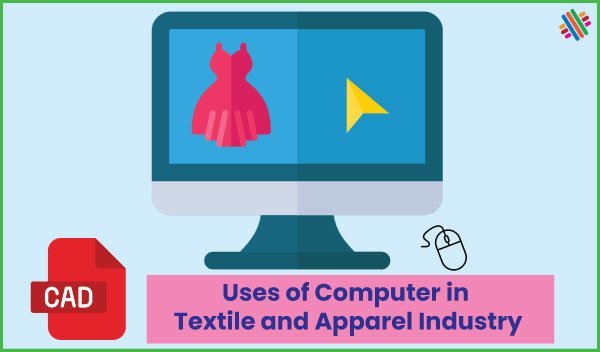 CAD is used to design anything from an aircraft to knitwear. Originally CAD was used in designing high precision machinery, solely it found its way in other industries also. In 1970′s it made an entry in the textile and apparel industry.
You may like also: Rising Of Textile And Apparel Industries In Vietnam
In fact, according to national Knitwear Association of US, of 228 Apparel manufacturers—
65% use CAD to create color ways
60% use CAD to create printed fabric design
48% use CAD to create merchandising presentation
41% use CAD to create Knitwear designs
Design choices and visual possibilities can be infinite if the designer is given the time and freedom to be creative and to experiment using the computer. Today automation is not only used for substituting the labor, it is also adopted for improving quality and producing quantity in lesser time. However, a CAD system is only as good (or as bad) as the designer working on it.
Types of CAD Systems
Textile design systems
Knitted fabrics
Printed fabrics
Illustrations/Sketch Pad Systems
Texture Mapping: 3D Draping Software
Embroidery systems
Textile Design Systems
Woven textiles are used by designers and merchandisers for fabrics for home furnishing and to men-women-children wear. Most fabrics whether yarn dyes, plain weaves, jacquards or dobbies can be designed and in fact are invariably used abroad using a CAD system for textiles. Similarly embroideries are also developed at CAD workstations.
Knitted Fabrics
Some systems specialize in knitwear production and final knitted design can be viewed on screen with indication of all stitch formation. For instance a CAD program will produce a pullover graph that will indicate information on amount of yarn needed by color for each piece. Another example of the new technology in the industries using a yarn scanner, which is attached to the computer scans a thousand meters of yarn and then simulates a knitted/ woven fabric on-screen. This simulation will show how the fabric will look like if woven from that yarn.
Printed Fabrics
The process involves use of computers in design, development and manipulation of motif. The motif can then be resized, recoloured, rotated or multiplied depending on the designer's goal. The textile design system can show color ways in an instant rather than taking hours needed for hand painting. New systems are coming which have built-in software to match swatch color to screen color to printer color automatically i.e. what you see is what you get.
Illustrations/ Sketch Pad Systems
These are graphic programmes that allow the designer to use pen or stylus on electronic pad or tablet thereby creating freehand images, which are then stored in the computer. The end product is no different from those sketches made on paper with pencil. Different knit and weave simulations can be stored in a library and imposed over these sketches to show texture and dimensions.
Texture Mapping: 3D Draping Software
This technology allows visualization of fabric on the body. Texture mapping is a process by which fabric can be draped over a form in a realistic way. The designer starts with an image of a model wearing a garment. Each section of the garment is outlined from seam line to seam line. Then a swatch of new fabric created in textile design system is laid over the area and the computer automatically fills in the area with new color. The result is the original silhouette worn by original model in a new fabric.
Embroidery Systems
The designs used for embroidery can be in corporate on the fabric for making garment. For this special computerized embroidery machines are used. Designers can create their embroidery designs or motifs straight on the computer. All they need to do is design color and stitch to different parts of the design.
Apparel Industry and Computer
Digitizing systems
Grading systems
Marker making systems
Cutting operations
Marketing integration using computer
Internet and information explosion
Digitizing Systems
Digitizer put original patterns into the computer for use and storage. It can be done by defining the X, Y coordinates of series of selected points around the pattern. These basic patterns can be manipulated with the help of a computer, for example in case of trousers, darts can be moved, pleates can be created. In this way new designs can be created on screen from pre-existing pattern.
Grading Systems
After a sample size pattern has been put, it has to be graded up and down on size. Certain points on the pattern are considered as "growth points" or places at which the pattern has to be increased or decreased to accommodate changing body size. At each growth point the operator indicates the grade rule to the computer. The system will then automatically produce the pattern shapes in all the pre-specified sizes. Say if we define pattern for size 30, it can be easily graded for size 32/34/36 and so on.
Marker Making Systems
Computerized marker making systems help in laying the pattern part together more economically than an operator could hands. This ensures minimum wastage of fabric. On plain fabric this is relatively simple but on striped fabric also automatic matching is done by the computer.
Cutting Operations
Pattern generated by marker making systems can be directed to automated cutting machines which are operated without the help of human hands.
Marketing Integration Using Computer
Designer is in direct contact with the customer and also the manufacturer to be aware of the latest trends and also needs and demands of the customer.
Internet and Information Explosion
NIFT, Calcutta is linked to internet with TCP/IP account and students have continuous access to the sites of the top designers, trend forecasting agencies, fashion houses and fabric suppliers. This has helped both the institute and the students immensely keeping them updated with the latest trends.