Last updated on September 20th, 2023 at 12:02 am
The Principles of Fashion
The fundamentals for fashion identification, fashion forecasting, fashion study, that concerns with the history of fashion, the propagation of fashion and the techniques related to fashion merchandising lies on the following five principles of fashion: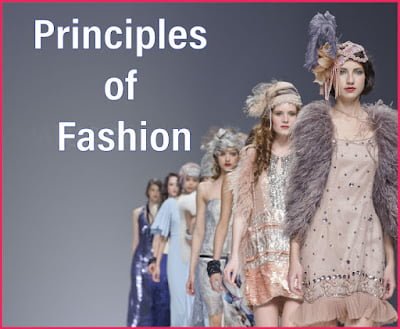 1. Consumers establish fashion by accepting or rejecting the Styles offered
The consumer is the end-user of the product, and they decide when the particular style is no more attractive and what style will be beautiful for the next period. A customer is a person who purchases the product or services. The customer chain – retail store is a customer of apparel manufacturers. The apparel manufacturer is a customer of fabric manufacturer that selects and rejects the designs at each stage, among the number of inventions created and offered by the designers. So it is not that the designer creates the fashion, but it is the consumer and the customer chain that forms the fashion.
2. Fashions are not based on Price
The price of apparel or product is not the indicator that the product is the current fashion. Though the new fashion items are sold at a high cost, this may not be considered a sign for unique fashion items. Sometimes the latest fashion item is made available at moderate price lines once it is identified as successful fashion.
3. Fashions are evolutionary in nature; they are rarely revolutionary 
The evolution of fashion takes place gradually, step by step, from one style to another style. Fashion hardly changes within a short period. For example, the lengths of the skirt increases or decreases gradually at a time, season after season. This principle is accepted and understood by fashion designers, and they always consider the current fashion while creating new designs and styles. Only two times in the history of fashion has changed within a short period. During the French revolution, fashion changed overnight, and the other was during 1947 after World War 2.
4. No amount of sales promotion can change the direction in which fashions are moving
The sales promotional methods adopted by the retailers and manufacturers can not alter the fashion interest of a consumer. They cannot force the consumers to buy an item that they do not like, and the sales promotional efforts cannot extend the life cycle of a product.
5. All fashions end in excess
A fashion will attain its end of life once it reaches its extreme level in styling. People get bored with fashion, and they started to look for a different style or look, which may be a new fashion.
You may also Like:
1. The 10 Best Types of Leggings with Images