Last updated on August 25th, 2023 at 11:49 pm
Finishing is the most import part in the Textile Industries because total quality of the dyed fabric depends on finishing. In this section fabric GSM, width, shrinkage etc. are controlled. But sometimes the subsequent faults are found after finishing.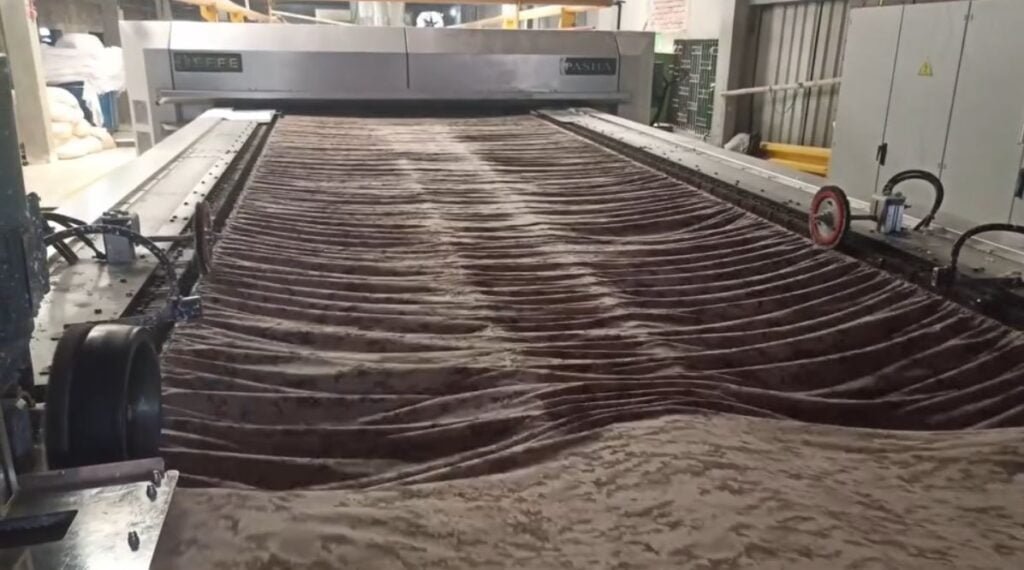 Wet Squeezer Marks
Causes
These marks are caused due to excessive pressure of the squeezer rolls on the wet fabric.
Remedies
Use the padding mangle only for the application of the softener.
Use a hydro extractor (centrifuge) for the extraction to avoid the squeezer roll marks.
After extraction open the fabric manually to prevent crease marks in the damp fabric.
GSM Variation
Causes
Roll to roll variation in the process parameters of the fabric like overfeed and widthwise stretching of the dyed fabric on the stenter, calender and compactor machines.
Remedies
Make sure that all the fabric rolls in a lot are processed under the same process parameters.
Bowing
Causes
Uneven distribution of tension across the fabric width while dyeing or finishing the fabric.
Remedies
Bowing can be corrected by reprocessing the fabric by feeding it from the opposite end.
Skewing
Causes
Improper feeding of the fabric while compacting.
Remedies
Use a drop needle line as a reference line to keep the grain lines straight while feeding the fabric slowly on the compactor machines.
You may also like: Dyeing faults and remedies
Shrinkage
Causes
Shrinkage is primarily due to high tension during the knitting, dyeing and the finishing processes.
Remedies
Allow the fabric to relax properly before it is cut out.
Give maximum overfeed to the fabric during the processing on the stenter and compactor machines.
Over Compaction
Causes
Excess shoe pressure.
Excess overfeed (compaction) given to fabric with respect to potential shrinkage.
Remedies
Potential shrinkage test.
Correct setting of machine.
Re-compaction with lesser over-feed.
Fabric width variation
Causes
If the stretched width is vary from roll to roll while feeding the fabric in the stenter and compactor.
Remedies
The stretched width of the fabric should remain constant for each roll during finishing in the stenter and in the compactor.