Last updated on August 18th, 2023 at 09:29 pm
Definition of Winding
Winding is one of the most important operation, which is mainly occurred in spinning section. Besides, it is also important in fabric manufacturing. In fabric manufacturing, directly winding is not so much important, but re-winding is so important. The creation of large yarn packages that can be easily unwound, is called winding. This makes using the yarn on subsequent machines both easier and more economical.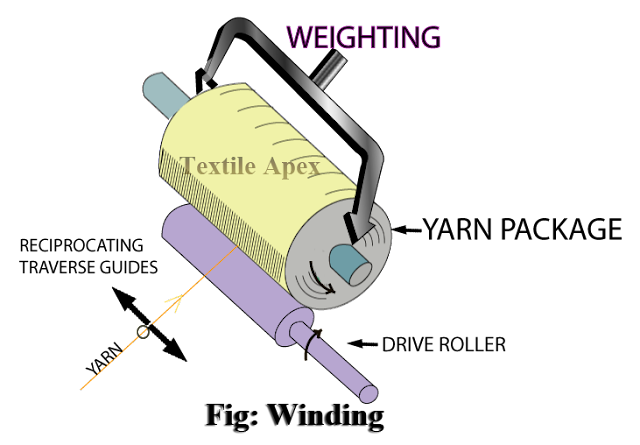 So we can say that, the process of transferring yarns from ring, bobbin, hank into a suitable package is called winding. It may be electrical or mechanical.
For warp winding → Cone, cheese, flanged bobbin. For weft winding → Pirn, cop.
Objects of Winding
To transfer yarn from one package to another suitable package, this can be conveniently used for used for weaving process.
To remove yarns fault like hairiness, naps, slabs, foreign matters.
To clean yarn.
To increase the quality of yarn.
To get a suitable package.
To store the yarn.
Requirements of Winding
The requirements of winding may be summarized as follow:
The fault level in the yarn must be reduced to an acceptable level.
The yarn must not be damaged in any way in the winding process.
The yarn must be wound in such a way as to permit unwinding in the following process with a minimum of difficulty at the required speeds.
The package size, shape and build must be the most technologically suitable for the particular end use.
The package size should be controlled to meet the particular economic requirements.
The winding operation must be geared to give the best possible economic performance of the whole process of fabric manufacture.
 Types of Winding
Precision Winding.
Non-Precision Winding.
Precision Winding
By precision winding successive coils of yarn are laid close together in a parallel or near parallel manner. By this process it is possible to produce very dense package with maximum amount of yarn stored in a given volume.
Features
Packages are wound with a reciprocating traverse.
Patterning and rubbing causes damage of packages.
Package contains more yarn.
Package is less stable.
The package is hard and compact.
The package is dense.
Rate of unwinding of package is low and the process of unwinding is hard.
The unwound coil is arranged in a parallel or near parallel manner.
Non-Precision Winding 
By this type of winding the package is formed by a single thread which is laid on the package at appreciable helix angle so that the layers cross one another and give stability to the package. The packages formed by this type of winding are less dense but is more stable.
Features
Only one coil is used to make this package.
Cross winding technique is used.
The package density is low.
Minimum number of yarn is wound.
The package formed is soft and less compact.
The stability is high.
Flanges are not required.
The rate of unwinding is high and the process is easy.
The packages formed have low density.
You may also like: A Guide to Pirn Winding