Last updated on September 4th, 2023 at 12:42 am
Definition of Garments Washing
It is a technology by which outlook, size, comfort, and fashion of garments or apparels are modified and given old garment effect is called garment washing. Varieties type of chemicals or materials may be needed to do the specific wash.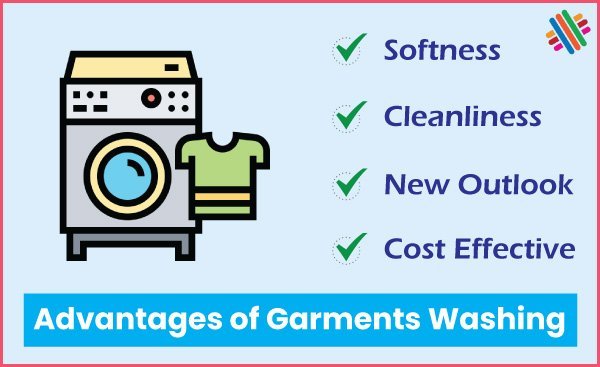 Objects of Garments Washing
To develop softness of fabric–
Size materials in garments are washed out by washing. For this reason hardness of the fabric is removed. In some cases, an additional softener is used to soften the fabric.
To introduce fading effect –
Dye or pigment in the garment is washed out by washing which introduce fading effects in fabric.
To create new fashion –
The washing process of garment brings a different outlook (faded, color tinted etc.) of garments which are used for creating.
Advantages of Garments Washing
Removal of starch, making the garments soft feeling.
Application of softener at the last stage of washing increase the softness property of garments.
Any dirt, oil spots, stains developed in the garments during manufacturing also removed.
Shrinkage occurs in garments during washing, resulting in accurate size of the garments.
Washed garments could be used directly after purchase from stores or shops.
Partial discoloration of garments produces a new outlook to the garments.
Different types of washing produce the different effect of out looking.
A similar outlook could also be produced by different types of washing.
Comparatively lower capital investment to set up a garment washing plant.
Operational Parameters
The machine never be loaded more than 50% of the total volume of materials or liquor.
The maximum rpm of the cylinder is 30 to 40, and unidirectional movement (with reverse motion) is assisted by the setting of the timer in the control panel.
Liquor level gauge is used to adjust liquor height in the cylinder.
Steam pipe is used to raise the liquor's temperature, and steam is not directly supplied because steam may change the liquor ratio.
Bars used in the perforated cylinder help apply rubbing action, avoid rope formation of the garments, and ensure a uniform washing action.
Auto stop and auto-reverse motion in the control panel helps garments to wash uniformly.
You may also like: Ultimate Guide to Washing Fastness Test Methods