Last updated on August 6th, 2023 at 11:41 am
Linen is the flax yarn and fabric. Prior to development of cotton, linen held the place as king of fibres. But the inventions of Arkright, Har-greaves and Crompton and others in cotton spinning gave a death-blow to linen industry which now occupies a position next to cotton.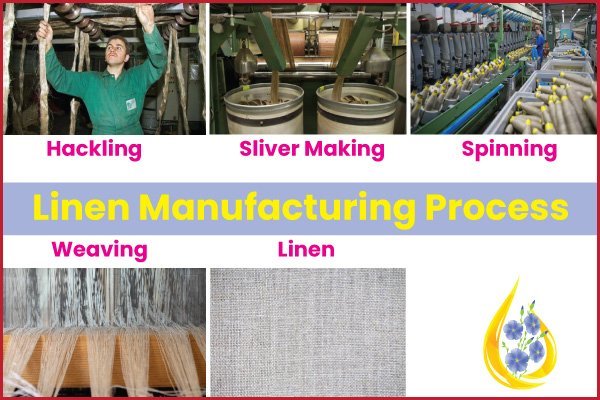 Manufacturing process of linen
The flax fibres are received in bundles from flax-mills, the preparation of yarns from flax-fibres consists of the following stages:
Hackling
Preparing and
Spinning
The processes are:
Hackling: It is the disentangling of fibres and combing them out, laying the fibres smooth and parallel, and splitting these into ultimate filaments.
Preparing: From fibres to perfectly leveled and uniform and continuous ribbons called slivers.
Spinning: Spinning from roving gives lower counts, dry spinning higher counts and the wet spinning machinery is similar to cotton spinning.
Reeling after spinning
Drying the wet hanks
Bleaching
Flax Spinning
Line spinning and
Tow spinning
Line spinning
Picking and roughing, and sorting to size.
Hackling or combing separating the tow.
Sorting according to quality.
Spreading-into gill boxes and drafting into slivers.
Drafting.
Wet spinning by roller drafting.
Tow spinning
Blending or mixing
Carding on rollers.
Drawing and doubling in gill box.
Combing: Heilmann comb.
Drawing and doubling-drafting to roving.
Dry spinning.
Linen Weaving
The various operations like winding, warping, dressing, beaming, drawing-in etc. are essentially similar to cotton weaving.
Linen Fabrics
Linen fabrics have several advantages over cotton. The cloth is much smoother and more lustrous and presents a wooly surface. It also does not soil easily and retains or absorbs moisture. It is cool, clean and healthy for bed sheets and cloths. It is therefore ideal for shirt fronts and collars and it is almost the only material fit for lace making.
Linen fabrics are numerous both in varieties and difference in qualities, appearance and applications. Lined fibre stands second to cotton in competition for crown.
You may also like: Physical and chemical properties of Linen