Last updated on August 22nd, 2023 at 12:37 am
Feed Systems
Feed systems relate to the combination of the needle, throat plate, and pressure foot and feed dogs that control the feed of the material from stitch to stitch whilst regulating the relationship between the sewn plies. Some examples are given here-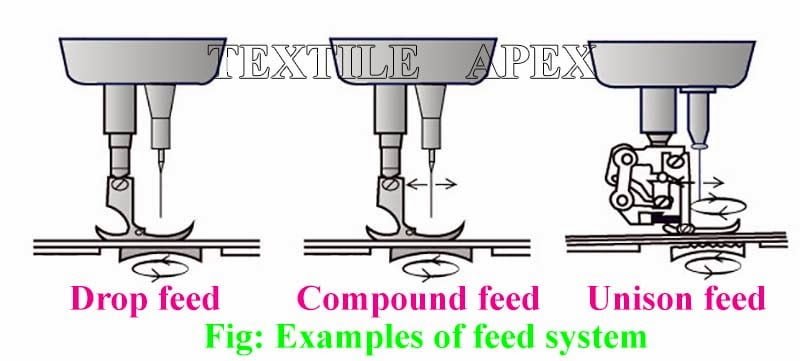 Drop Feed
This is the standard feed system for regular sewing machines where there is little or no likelihood that the ply alignment will be distorted during sewing.
Compound Feed
With this feed system, the needle and feed dog movements are synchronized to ensure that the plies retain their correct alignment during sewing. This system is used for sewing slippery materials such as velvet and also for edge stitching.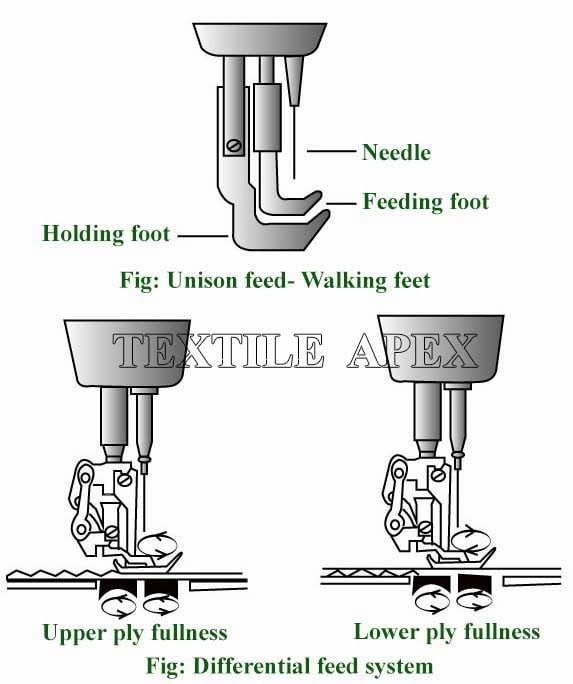 Unison Feed
This system is also known as a 'walking foot' system because the pressure foot has two independently driven sections: the holding and the feeding feet. These two sections alternately advance and hold the plies in alignment, an important requirement when sewing bulky seams in heavyweight materials.
Differential Feed
These systems have two independently operated feed dogs, one behind and one in front of the needle. The feed dogs can be regulated to create fullness on the seam's upper or lower ply, for example, easing the back shoulder seam onto the front shoulder seam.
Several mechanisms are used as auxiliary feed systems where there are special feed requirements, such as embroidery machines and automatic long-seamers used for closing the leg seams of trousers.   
Basic Functions
To advance the fabric in the feeding zone of the sewing machine.
To decide the length of individual stitch that is SPL.
To form the individual stitches properly.
The Necessity of Sewing M/C Feed Mechanisms
Appearance and performance.
To avoid seam puckers.
To avoid any stitching defect.
To feed the fabric in the sewing m/c uniformly.
You may also like: Common Sewing Machine Problems and How to Fix Them