Last updated on August 10th, 2023 at 12:41 pm
Textile fibre is the primary raw material of Textiles. Fibres are twisted into yarn, and yarns are then woven into fabric. And then, fabrics are used to make clothing items. For the winter season, woolen clothing is more comfortable, but cotton will be the best choice for the summer. So, you should have basic knowledge about fibre and the classification of fibre. In this article, we will let you know about different types of fibres and their varieties.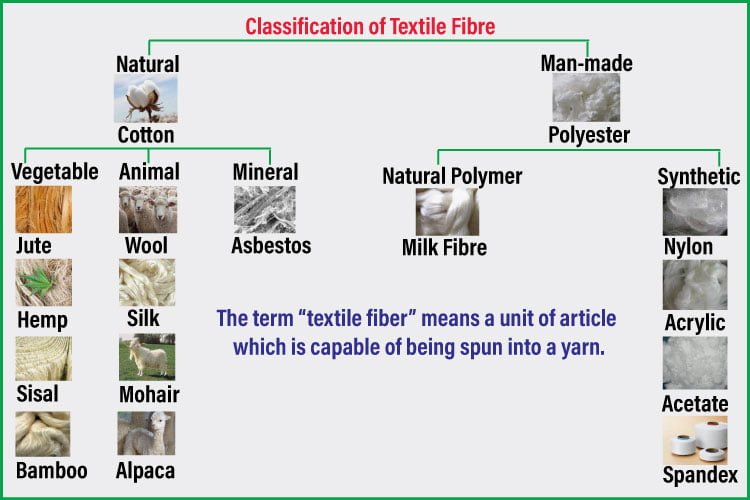 The fibres used in modern textile manufacture can be classified into two main groups –
Natural and
Man-made
Natural Fibre
The natural fibres are those, such as cotton, wool, jute, silk and flax, which are provided by nature in ready-made fibrous form. The man-made, on the other hand, are these in which man has generated a fibre for himself from something which was not previously in a suitable fibrous form.
Natural fibres can be subdivided into three main classes, according to their nature of their source.
Vegetable
Animal and
Mineral
Vegetable Fibres
These include the most important of all textile fibres – cotton together with Flax, Hemp, Jute, and others which have been produced by plants. They are based on cellulose, the material used by nature as a structural material in the plant world.
Animal Fibres
These include wool and other hair-like fibres, such as silk, produced as filaments by cocoon-spinning creatures. These animal fibres are based on proteins, the complex substances from which much of the animal body is made.
Mineral Fibres
These are of limited importance in the textile trade. Asbestos is the most useful of this class; it is made into special fire-proof and industrial fabrics.
Man-Made Fibre
Man-made fibres can be sub-divided into two distinct classes, according to the source of the fiber-forming substance from which they are made.
Natural polymer and
Synthetic
Natural Polymer Fibres
Natural polymers are those in which the fibre-forming substance has been made by nature. Vast quantities of cellulose, for example, are available to us in the plant world. Only a small fraction of this cellulose is used by nature for making fine structures such as cotton. Most of it is used as a structural material, for example in the trunks of trees and the skeleton framework of stems and leaves. This cellulose is largely useless to us a direct source of textile fibres; it is in fibrous form but is contaminated with other substances.
In the last half-century or so, we have learned how to manipulate this natural cellulose into a form suitable for use as textile fibres. It is the source that became known as artificial silks.
In these natural polymer fibres nature has done the work of creating a substance (cellulose) capable of taking on a fibrous form. Man has merely taken a further step by using this cellulose as raw material for a fibre.
In a similar way, it has been possible to use materials made by animals as a source of man-made fibres. The proteins used for so many structural purposes in the animal world are often capable of forming these. Nature has produced the proteins without necessarily using them for fibres. Man has then taken these proteins and manipulated them into a fibrous form. So we have natural polymer-fibres made from the proteins of peanuts and milk, maize, and soya beans.
Synthetic Fibres
These are those in which man has performed the entire operation of fibre-production without allowing nature to manufacture the fibre-forming substance. Nylon, Terylene, and Orlon are fibres made by man from simple chemicals such as those derived from coal or oil. These chemicals have been made into materials capable of forming fibres, and these materials have then been manipulated into a fibrous form. Man has carried out the entire operation. Nature has had no hand in the production at all. They are truly synthetic fibres.