Last updated on August 16th, 2023 at 02:18 pm
Blow Room
The section where the supplied compressed cotton bale turns into a uniform lap of particular length by opening, cleaning, blending or, mixing is called blow room section. It is the first step of spinning. The section consist a number of different machines used in succession to open and clean the fibres.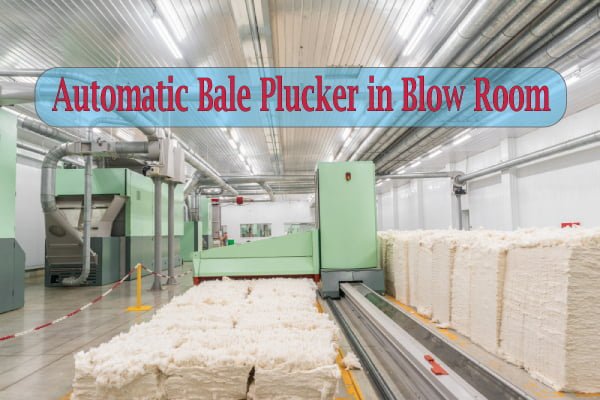 Objects of Blow Room
Opening: Opening of compressed cotton bales and cotton bales are made into small tufts.
Cleaning: To eliminate dust, dirt, broken leaf, seed particles, grass and other foreign impurities from the fibre.
Blending/mixing: To produce a comparatively good quality cotton fibre by mixing different types of cotton together.
Lap forming: (a) To convert the opened and cleaned fibre into a sheet of particular width and uniform weight/unit length is called lap. (b) To give a cylindrical shape to the pre determined lap by winding it in the lap pin and to make it suitable for the next process carding.
Basic Operations Involved in the Blow Room
Opening: Opening is the first operation in the blow room carried out to the stage of flocks in the blow room and to the stage of individual fibres in the cards.
Cleaning: To remove the impurities, foreign materials and the raw materials as clean as possible.
Dust removal: To remove the dusts which are completely enclosed in the flocks.
Blending: To achieve the required quality of yarn by blending different kinds of cotton into a particular ratio.
Even feed of the material: To produce a lap of uniform weight per unit length or, to process the maximum quality which is suitable for carding.
Actions of Blow Room
Action of opposite spike (Opening)
Action of air current (Transport Cleaning)
Action of beater and grid bar (Cleaning and opening)
Action of regulating motion (Uniform output)
Process layout of yarn manufacturing system with a modern blow room line