Last updated on September 5th, 2023 at 11:35 pm
Quality assurance is an important part of knitted fabric production system. We should maintain the proper guideline of the production process to assure the quality of knitted fabric for the buyer acceptance of the end products.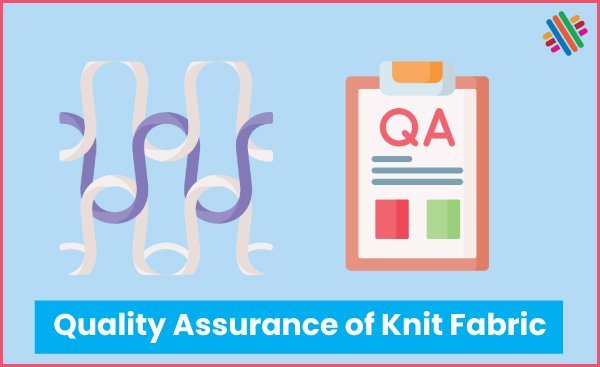 The process can be discussed as below:  
Quality Assurance Procedure
Quality assurance procedure may be divided into two major parts:
Online quality control
Offline quality control
Online Quality Control
Online quality control comprises with the raw material quality control and the process control.
Raw Material Control
As the quality product depends upon the raw material quality so we must ensure the best quality of raw material with an economical consideration.
The fabric must be without faults, with proper absorbency, whiteness as per requirement of the subsequent process.
The chemicals should be with a known concentration with a higher degree of purity.
All the m/c's engaged should be higher a precisions.
Process Control
The method chosen for process must be provided with the necessary accurate parameters. Here the specific gravity, water level, pH, time, temperature at each stage is checked.
Lab-dip Preparation
In any dye house, a laboratory equipped with required machines and equipment is essential. It assists in product prediction, minimization of time consumption and waste reduction.
Prior to the bulk production, laboratory plays a vital role in shade matching and detecting the characteristics of the dyes and chemicals to be used in the larger scale of production.
For preparing lab-dip, lab-dip machines are used. There are mainly two lab-dip machines in laboratories.
At first, recipe % of standard sample is measured by CCM (Computer color matching) system. Then by taking that recipe lab in-charge produce lab trail and match with standard according to buyer requirements. After approving to this sample, this sample is sending for bulk production with the recipe.
Offline Quality Control
The final product should pass against the norms given by the buyer. The following tests are generally done-
Finished Dia test
GSM test
Shade check
Light fastness test
Rubbing fastness test
Pilling test
Perspiration test
Finished Dia test
In knit dyeing finishing, finished diameter is very important factor. It should be kept as the buyer requirement. It is measured simply by a measuring tape. Finished diameter is controlled at compacting m/c.
GSM Test
GSM is the most important factor. There is a GSM cutter. The sample cut by this is weighed in the electronic balance. The reading (in gm) from the balance is multiplied by 100 to get the value of GSM.
Shade Check
The shade achieved is to be checked several times while in process and at finished state to ensure the customers demand under recommended light sources.
Equipment used: Verivide light box
Manufacturer: James H. Heal & Company ltd.
Country: England
Light source: D-65, TL84, F, UV
Light Fastness Test
There are 44 test tubes in light fastness tester. At first, 105 gm k2co3  is taken and mixed with 100 cc water and solution prepared. 3 cc solutions from that are taken per test tube. And the sample is to be setted in the test tube. Lastly, power is on and it is kept for 72 hrs. Are xenon is the light source of light fastness tester. Lastly, the sample is measured by grey scale.
Shrinkage Test
For the shrinkage test, following recipe is followed:
Sample size: 50 cm × 50 cm
Detergent: 5 g/l
Soda: 2 g/l
Temperature: 50ºc
Time: 30 min
At first, the sample of 50 cm × 50 cm is marked at 35 cm × 35 cm by a marking pen, and then washes it in washing m/c with detergent and soda at 50ºc for 30 minutes. After washing, the fabric is dried and measured to find the difference in the dimension. The change in length and width is measured in percentage.
Wash Fastness Test
The test fabric is sewn with multi-fibre such a way that two multi-fibre strip remain at the both side of the test fabric. Then they are washed with the following recipe:
Liquor ratio: 1:20 (5 gm fabric + 100 cc water + 0.50% ECE detergent + 0.10% sodium perborate + 25 steel balls)
Wash:  60ºc × 30 min
Then the multi-fibre is detached from the test fabric. It is dried and wash fastness is assessed by grey scale.
Rubbing Fastness Test
Rubbing fastness test is determined by crock meter. The test fabric is clamped in the plate of the crock meter. A standard fabric is used for rubbing the test sample. 10 cycles are given manually by a handle. Then the standard fabric is assessed with the help of the grey scale. The scale is graded from 1 to 5, 1 being the poorest and 5 being the best.
Pilling Test
Generally,  pilling test is applicable for fabric with synthetic fibre. This test is carried out in ICI pilling box. A sample of 10 cm × 10 cm is sewn round a rubber tube. Then the tube is placed in the ICI pilling box and the door of it is closed. Then the meter is set for 10,800 cycles. After the cycle is completed, the fabric is assessed by a special grey scale. The grey scale is provided with ICI pilling box.
Perspiration Test
For Perspiration test Firstly, 10 gm  sodium chloride, 01 gm di-sodium hydrogen-orthophosphate 2-hydrate, 01 gm sodium dihydrogen-orthophosphate dehydrate, 0.5 gm histidine monchydrochloride are mixed with 1 lt. water. The sample which will be examined should immerse in that chemical solution. Here samples dimension is equal with perspirometer. After immersing, the sample is setted one after another. Then perspirometer will be kept 4 hrs at 40ºc in mini-dryer. After that, the sample will be outered from perspirometer and setted in mini-dryer at 60ºc for 30 min. Then the fabric is assessed by a grey scale.
List of Equipment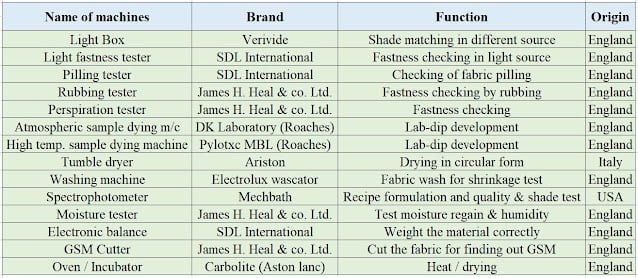 You may also like: Dimensional Changes of Fabric After Home Laundering (AATCC 135)